On October 11, I played the Speed Chess 2018 ¼ finals. Organized by chess.com, this knockout online tournament format is 90' 5/1, 60' 3/1, and 30' 1/1 (bullet). With Magnus Carlsen not willing to play this year, I was paired against the second best player in the world at online chess, Hikaru Nakamura.

Although the American looks to be losing ground in classical chess, he clearly remained the favourite in our match. The more so as I had already lost three times against him in this format! The fact is that I know the guy quite well, but it didn't mean I shouldn't be at 100% to entertain hopes of success. Hikaru's greatest strenght is instinct. He knows what to do in almost any position. He has played tens of thousand games online. He always calculates accurately, which is more and more important as the rythm accelerates.
I knew my best chance would be in the 5/5 portion, where you have time to think. And even though Hikaru is a monster in bullet, I thought I could stand a chance there also, as it is based on instinct. I viewed my weakness as being the intermediary 3/3, which is a bit in between and looked easier to handle for him.
However, the match began quite well, withs lots of theoretical fights. I played the Italian as white, probably a bit too much, as I never got the positions I was hoping for. With black, I liked the Grunfeld positions I reached in the rare 7.Bg5 line of the Exchange variation he kept on playing again and again. And at one stage, it didn't work so well for me anymore! Yet halfway, the score was still even, 9-9.
Unfortunately, I couldn't keep the pace, while he was beginning to raise his game. Thus, in the heart of the 3/3 portion, I collapsed and I lost four games in a row. I knew I would have to reach the bullet segment at least with an equal score to keep chances of winning the match, but this very bad series definitely prevented me from any further hope.
At the end, I went completely downhill, and finally lost 13.5-21.5, a result which, I believe, doesn't exactly reflect how the match went.
Here are a few interesting fragments!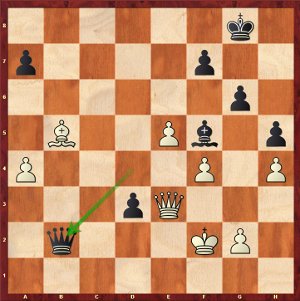 Black is better, but after 33.Ke1, the game still goes on. However, after 33.Kg3? chosen by Hikaru, black has a forced win: 33…d2 34.Be2 Qc1 35.Qf3 Qe1+ 36.Kh2 Qxh4+ 37.Kg1 Qe1+38.Kh2 Bg4 39.Qa8+ Kg7.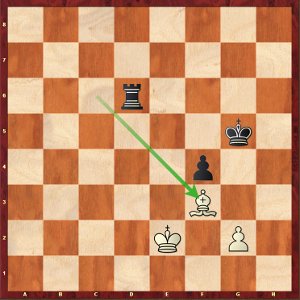 This endgame was declared drawn after 50 more moves without capture nor pawn move were played. Black was never able to progress from the diagrammed position. However, tablebases show that he was given one opportunity, after white played the faulty, but so natural 61.Bf3?. The machine indicates 61…Rb6 with a forced mate in 52 moves, or 61…Kf5 in 54 moves, all other moves leading to a draw ! Poor me, I played 61…Kh4?. Not so easy to be mortal!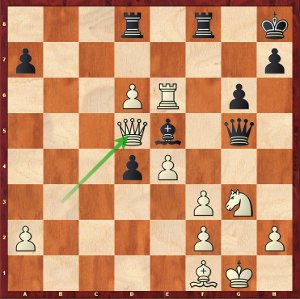 Obviously, at such speed, you will always see blunders. Here, after 25…Rfe8, the game would have been going on. After 25…Bf4?? 26.Qxd4+, it stopped right away…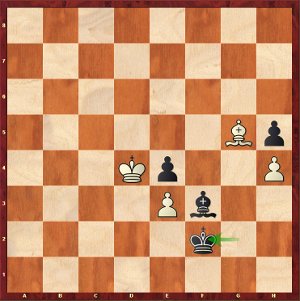 Sometimes, as you can see in a football match when a team leads the score and the end is close, it tries to « gain time ».
That's what Hikaru did in the bullet game of the diagrammed position. Playing on till the 50-move rule applies…
Anyway, Hikaru remains the favourite in my view, even if he will have to outperform Aronian in the semi finals (the other semi final being So-Duda, Ed.-).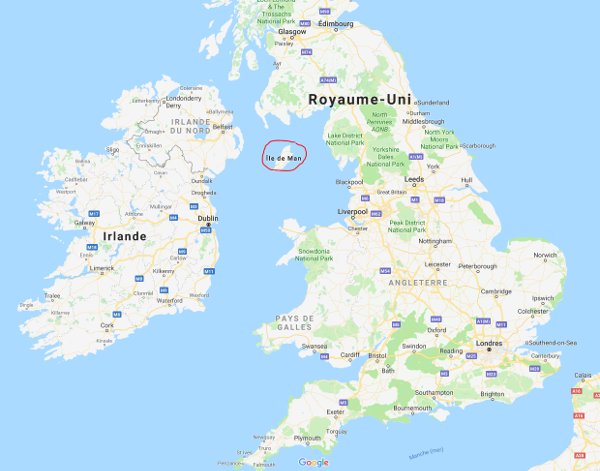 I now have my eyes set on my next tournament, the Isle of Man International Open, which will feature an impressive lineup, with ten players ranked 5-14 in the world, and only Yu Yangyi missing among them!
I will be flying to Douglas, the small island's capital, on Friday. The tournament begins on Saturday, October 20. The island is a nice place to go to, even if in the coastal city of Douglas, good weather is not always there!
From a sporting point of view, I would like to capitalize on my good form of the last 3-4 months, which was better than at the beginning of the year. It means I clearly want to join the fight for first. But I also look forward to winning Elo points, as from January 2019, calculations for the 2020 Candidates Tournament qualification spots will begin. Ideally, I would earn around fifteen points in Isle of Man and during the Shenzhen tournament in China, which begins a few days later. Even if, while I'm writing, there's nothing clear yet about the qualificaction rules FIDE will ultimately choose for the forthcoming 2019-2020 World Championship cycle.
[otw_shortcode_quote border="bordered" border_style="bordered" background_pattern="otw-pattern-1″]Bienvenue à ParisEverybody knows that Maxime and Levon Aronian are good friends, even if they regularly cross swords on the board. On Isle of Man, they will be rivals, as they will be in December, for the 2018 Grand Chess Tour Finals.
Two days before to leave for Douglas, Maxime received a phone call from Levon. « Hello, guess where I am! ». Flying from Erevan, Levon ultimately decided to pause in Paris, before reaching Isle of Man![/otw_shortcode_quote]
Maxime's games:

Official site: https://www.chess.com/news/view/nakamura-still-too-strong-for-mvl-in-speed-chess