In the heart of the Irish Sea, between Liverpool on the English side and Belfast, the Northern Ireland capital, you will spot the small Isle of Man. A very well-known island for chess players though, as a very strong International Open takes place there every year, in the majestic Villa Marina complex of Douglas, the main town.
With a prize fund of £138,000 £ and a first prize of £50,000 in the main tournament, numerous Elite players are regularly joining in. I myself took part in the tournament in 2014. I was supposed to come back in 2017 but unfortunately, I went too far in the World Cup last year to be able to rush to Isle of Man on due time. 😉
I arrived on site the day before round one, via Birmingham. First thing I did was to set up my daily routine, which is not necessarily always the same. In Douglas, I had decided to go to bed early, and also to wake up early. Most of the time, I went running on the town's « Promenade » after breakfast.
This year, Magnus and Fabi were missing. I'm sure they would have been there, if not for the unfortunate setback of a World Championship match a few days later!
Despite their absence, the tournament remained extremely strong, with most of the Top 12 players participating. Thus, in such a high-caliber field, there was no warm-up game, and as soon as round one, I had to face a 2450 rated player. There's no way you can take such a game too lightly…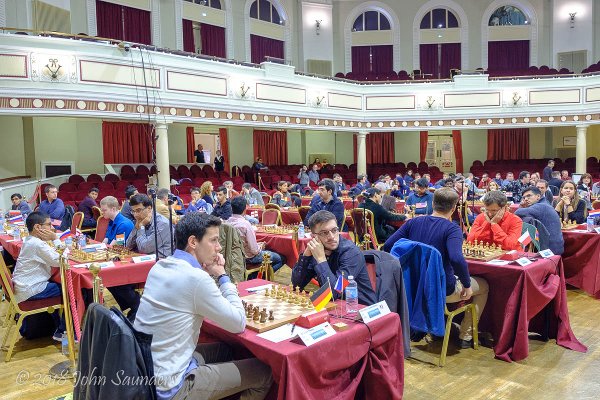 MVL-Lubbe (2447) 1-0
Fitted with a heart rate monitor (see end of article), I had a convincing first game, with a few funny moments, including when I was able to take advantage of his secluded pieces on the Queenside.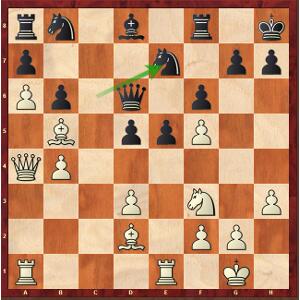 After his 21…Ne7, I had the opportunity to play 22.Nd4! Rg8 (22…exd4 23.Re6 Qc7 24.Rc1!) 23.Be8!. If he had tried 22…Bc7 23.Ne6 Nxf5, a bit worrying variation was 24.Nxf8 e4 25.Kf1 Qh2 26.Ne6, and I stopped there, thinking I should probably be winning somehow; which is obviously the case.
Puranik (2547)- MVL 0-1
A game played the day I turned 28, just before a party in a restaurant, attended by about twenty persons.
Of course, I declined the classical early Najdorf draw (6.Be3 Ng4 7.Bc1 Nf6), and I was able to get a slightly more pleasant ending, though an objectively drawn one. He ended up paying dearly for his misplaced a5 pawn in the Rook ending.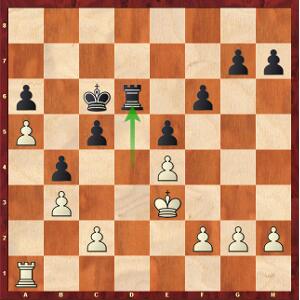 MVL-Tari (2618) 1-0
I took up an idea played by Mamedyarov against me a couple of weeks ago. And I had analyzed almost everything in the line he played. Even the idea 15.Ba3 and 16.Qd2 was on my board at home! So I just had to calculate the variation leading to the position after 21.Rfe1 (threatening 22.Rxe6), winning a pawn by force, after which it is just curtains.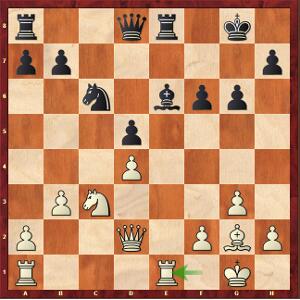 This kind of game is always pleasant, even if it doesn't happen that often.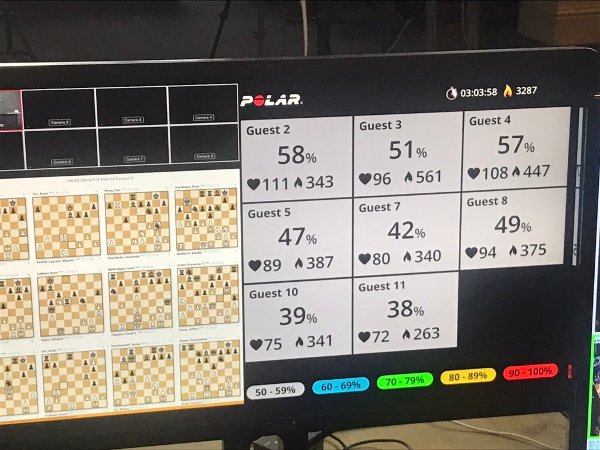 Xiong (2656)- MVL 1/2
I couldn't remember all the details of the opening, but I think I did rather well anyway. However, in the Queenless middlegame, I played a move that looked promising (15…Kd7), but which turned out to be inaccurate as the King happened to feel uncomfortable there in the upcoming moves.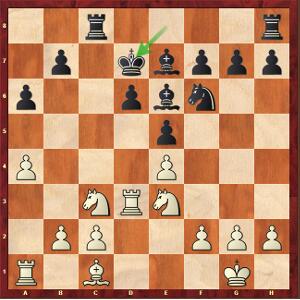 Therefore, I had to suffer much more than expected. I should probably have chosen a defensive plan based on …Nd7 followed by …g6 and …f5. However, he didn't take advantage of it in the following moves, mistakenly exchanging both a pawns, which was a great relief on my position.
MVL-Parligras (2623) 1/2
The opening went very well, and I quickly gained a nice edge. But quite strangely, I was never able to find the coup de grâce. I thought a lot at critical moments, mainly when I could take his e5 pawn in different ways. I still believe the path I chose was correct, even though, by some miracle, it remains highly complicated to convert; indeed, I don't think there was any clearcut winning variation. From a practical point of view, maybe I didn't take the best decisions, and it is very well possible that other paths would have been more difficult to handle for my opponent.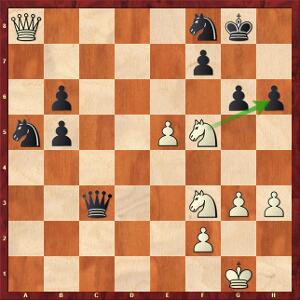 Notably here, I thought that the variation 32.Nxh6+ Kg7 33.Nxf7 Qc1+ 34.Kg2 Kxf7 35.Qa7+ Kg8 36.Qxb6 Nc6 37.Qxb5 would give winning chances with three pawns for the piece. Unfortunately, this was not to be, and Parligras could even have drawn the endgame more easily, without any useless fear.
Jumabayev (2605)- MVL 0-1
In the e3/Be2 variation of the King's Indian, I had a special preparation which worked pretty well, based on the pawn sacrifice 8…e4!?. I knew this line would give plenty of compensation to black, and above all, an easy position to play.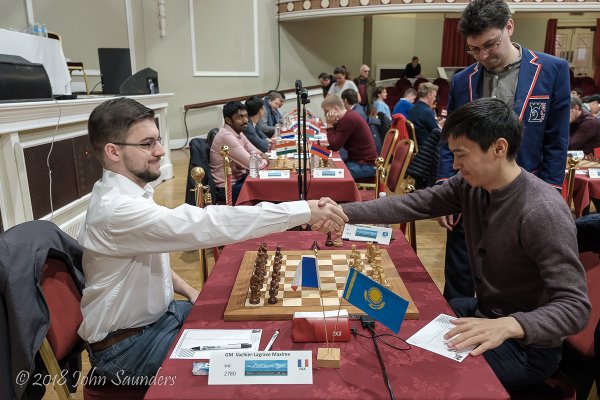 But I wasn't able to calculate the numerous variations with the precision required, and I chose to rely on my gut feeling, contrary to what one could believe when seeing my thinking time!!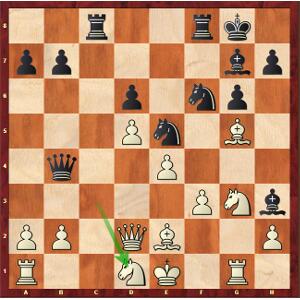 On move 22, I decided to repeat moves twice with 22…Qa4, as I was not sure at all about 22…Nxd5!?. After 22…Qa4 23.Nc3, I still had the possibility to decline the draw by sacrificing the exchange (23…Rxc3!?), but once again, I was not confident enough about the variations. Another move also exists, but I have to admit it never crossed my mind: it is the machine's move, the quite incredible 23…Qa6!?, with a huge tactical mess based on the fork on f3. But in the end, I went for the worst move of all, which was to decline the draw AND play 23…Qd7?!, as after 24.Bh6!, I'm once again asked to prove that there is enough compensation for the pawn.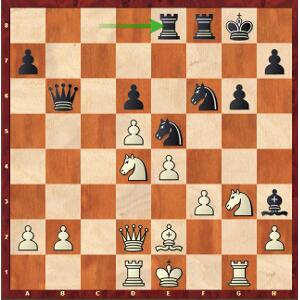 To do so, I gave a second pawn, and reached the diagrammed position. After 29.Qc3 Rc8 30.Qd2 Rce8 31.Qc3 Rc8, I was about to come to terms with the draw, when my opponent suddendly decided to deviate from the threefold repetition arising directly from 32.Qd2. Instead, he tried his luck with 32.Qa3?, missing my answer 32…Rc2!, after which the position becomes terribly difficult to play for him in a practical way.
A game in which it was not desirable to decline draws!
MVL-Naiditsch (2721) 1/2
We quickly reached a critical position arising from an Anti-Berlin.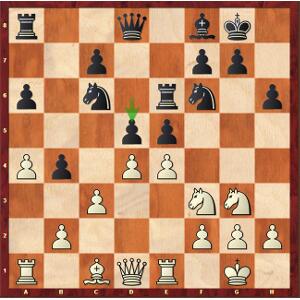 Here, I had a lot of options, starting with 16.c4 right away, which I ended up rejecting because of 16…dxe4 17.d5 Re8!. 16.exd5 Qxd5 17.c4 was also attractive, but 17…Qxc4 18.dxe5 Nd5 looked ok for black. Finally, I focused on 16.dxe5 Nxe4 17.c4!, which seemed highly appealing. Of course, I anticipated his piece sacrifice 17…Nxe5 18.cxd5 Nxf2, on which he spent no less than 47 minutes, and which was clearly the best practical choice. The computer shows a forced draw for black though, but it is so surreal, have a look: 17…Bc5 18.Be3 Nxe5 19.cxd5 Nxf3+ 20.gxf3 Bxe3 21.Rxe3 Nxf2!! 22.Kxf2 Qh4 23.dxe6 Qxh2+ and white's King can't escape the perpetual! It's obvious this computer-like variation wa s beyond our scope, and in my ignorance, I suspected that we would reach the following position after 19.Kxf2 Ng4+ 20.Kf1 Rxe1+.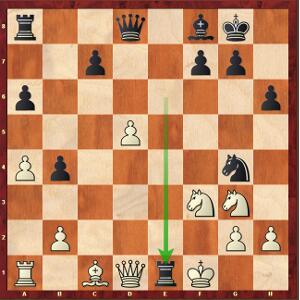 I had previously thought that I would inevitably find a line leading to an advantage from the diagrammed position, taking back on e1 either with the Queen, or with the King. So I went into a long think, as I knew the choice would be critical.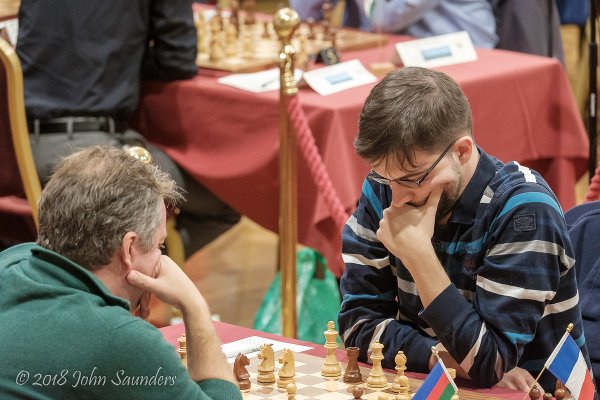 But as I kept thinking, I realized how much the position remained complex and scary. And the problem was that I couldn't find any secure variation for me after 21.Kxe1 Bc5. Not only was I unable to find a win, but I also couldn't see a clear equality! Therefore, I focused on 21.Qxe1, and I understood that after 21…Qxd5 22.Qe4, he could force the draw with 22…Qd1+ 23.Qe1 Qd5, while I even contemplated the possibility that he could play for the win by 22…Qb3!?. I also vaguely considered 21.Qxe1 Qxd5 22.Qd2, but I didn't see how I would untangle my pieces. Ultimately, we both decided that the repetition was the best path…
A brief, but intense fight!
MVL-Wang Hao (2722) 1/2
I was a bit surprised by Wang's choice of the Russian Defense, and I decided to play a line which is maybe not the best. But I hoped it would allow me to press without risk. And that's what happened, on the basis of my game against Caruana in this year's Norway Chess tournament.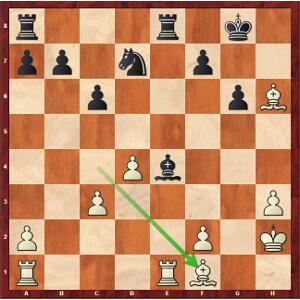 Indeed, Wang deviated first with 21…c5, instead of Fabi's 21…Bf5. The Chinese's move is a bit riskier, but thanks to a precise defense, he maintained the equilibrium. Maybe it's not blatant, but his position was really hanging by a thread, in particular when he had to accept exchanging his c pawn for my a pawn in the ending.
And ironically enough, it's a Knight manoeuver towards f5 which allowed Wang Hao to stay afloat, as had been the case for Caruana, in an identical structure on the Kingside.
Grischuk (2769)- MVL 1-0
The decisive last round game, as almost always in an Open field. I had to win with black in order to keep hopes of winning the tournament. I had no doubts at all about Sacha's intentions, all the more as he was trailing half a point behind me. So I decided to play a normal game, that is a Najdorf. 😉
The position quickly became ultra sharp in a line of the Poisoned pawn declined.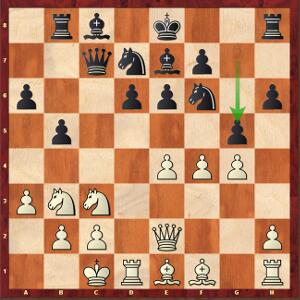 I thought it would be difficult for him to justify his pawn sacrifice 15.f5 Ne5 16.h4, but I soon realized that the position remained highly complex. I believe we played a high level middlegame, until we reached the following endgame position: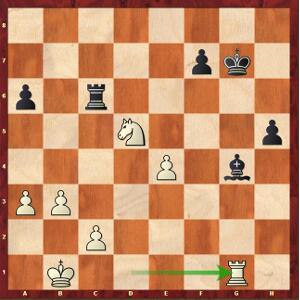 I made the first mistake here, unfortunately quite a serious one. With 38…Re6? 39.Nf4 Rxe4 40.Nxh5+ Kg6, I thought I could earn an easy draw, thanks to piece activity and my passed f pawn: there's no way I could have thought of losing this endgame!
But the truth is that the position begins to be extremely difficult to defend, while with the simple 38…Kh6!, my h pawn would have guaranteed enough counterplay. When I realized my mistake, I had a real slump, and I didn't play the remainder of the game in the best state of mind.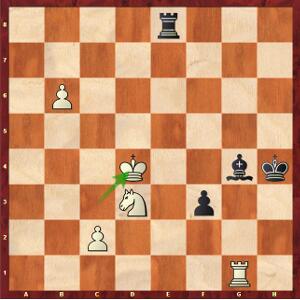 White has just played 59.Kd4, and I had already calculated the R vs pawns ending arising from 59…Bf5? 60.b7 Bxd3 61.cxd3 f2 62.Rf1 Kg3 63.Kc5 Kg2, simply forgetting that white now plays 64.Rb1 and black resigns, rather than 64.Rxf2+? Rxf2 65.d4 Re3, when white's King is back on time!
In the diagrammed position, I should have taken time to check variations, instead of blitzing the planned 59…Bf5?. Then I would have understood that 59…Rd8+! still offered great drawing chances, as white's King lacks secure squares where to dide. By no means would the half point been guaranteed, but it would have been up to white to prove that he's able to make further progress.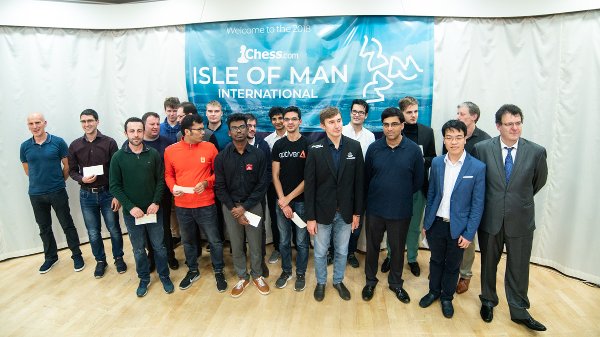 The Polish Wojtasek won the tournament in the end, after beating Naiditsch in the tie-break. Both of them share the treasure!
His success as #10 seed is only half surprising. As is the success of the Russian Kashlinskaya, #6 seed, among Women. What is really amazing however, is the fact that these two winners are married together!
I will end up saying that from a sporting point of view, my stay in the nice British island will leave me mixed memories. Unfortunately, as is often the case, the last round result overcomes the previous ones…
No time to mull over this last game though, as when you read these lines, I will already be in China, where the Shenzhen tournament begins as soon as November 4!
[otw_shortcode_quote border="bordered" border_style="bordered" background_pattern="otw-pattern-1″]Heart beatVolunteer players of the Isle of Man tournament, among them a few members of the world Elite, had agreed to take part in a scientific test, and to have a heart rate monitor fitted in the arm. The purpose was to gather measures, and to compare them with those of other « physical » sports. The calories loss was also measured by the monitor.
Maxime accepted the challenge, and had the monitor fitted during several of his games in Douglas. [/otw_shortcode_quote]
Maxime's games:

Official site: https://iominternationalchess.com/