I have just arrived in Sochi for the World Cup, on the same plane from Moscow as my new compatriot Alireza Firouzja 🙂 . I traveled to Russia directly from Zagreb, where I had played the third stage of the Grand Chess Tour. I don't have enough time to go into details about this tournament that I had the pleasure to win, so I'll limit myself to general remarks.
First of all, I enjoyed coming back two years later to a nice city I know well, with the Euro semi-finals and final as a backdrop – even without Croatia and France, unfortunately. I was also happy to play again in Rapid and Blitz, just after my half-hearted performance in Paris.
I started the Rapids quite badly, with an opening loss to Mamedyarov, which turned out to be my only defeat. I recovered well by beating Anand right after, and later in the tournament, Duda.
I had to deplore a few blunders over the course of the competition, but it's hard to avoid them completely in Rapid, let alone in Blitz. But I didn't make that many, and I can think of four from memory. My one-move loss of a Rook against Mamedyarov in Rapid, even though the position was already difficult. The Rapid against Duda, which I won after forgetting an elementary combination that lost a pawn 🙂 . And in the Blitz, the first one against Giri, where I left a pawn hanging again, and the second one against Nepo, where, from a totally equal position, I managed to be lost within three moves, even though I finally saved the half-point.
But these few absences were compensated by a great resilience, which I had missed a lot at certain decisive moments in previous tournaments. It was very important for me to regain these qualities of defense and resilience, which allowed me to lose only 2 games out of 27 in the tournament, whereas I could have easily lost five or six, and it would not have been the same story in the final rankings!
I am very satisfied with the Blitz, with a result of +8 and only one loss. I think I did the job, with some good games, especially on the first day. In the end, on the second day, I mostly tried to keep control when I saw that I was in the lead – thanks to Nepo who was losing one game after another 🙂 . After that, I was able to preserve my lead and win the tournament one round before the end, despite Anand's final sprint.
For me, the crucial moment was against Duda in the third from last round. He was also playing his heart out because he had to win. And so we had a very spectacular fight, of which I ended up winning!
In the next game against Garry, I thought I was going to earn a half-point as I didn't expect him to lose on time in an elementary drawn endgame; especially since he had 13 seconds left, plus the increment! Clearly, it hurt my heart a little to beat him in those conditions, the more so as I had already won the first blitz against him by miraculously surviving a nightmarish position.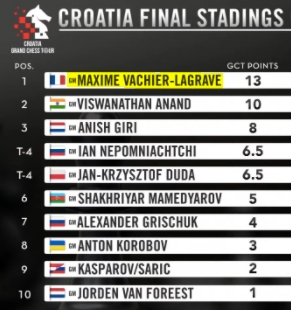 The attraction in Zagreb was also the return of Anand and Kasparov in front of the board, with, admittedly, radically opposite destinies 🙂 .
Garry, who only played the blitz portion, finished with a dismal 2.5/18.
One of his problems is that he was always looking for a fight in every game, despite his preparation in the openings clearly being deficient. Because even if he still puts time into it – which I'm sure he does – you can't keep up with the preparation of the pros so easily. It played tricks on him in many games; especially at the beginning of the tournament, when he chose the 7…Qc7 variation in the main line of the Najdorf, which was very playable only 10 years ago, and which I used to play myself at the time; but now it just loses by force, and it's even more true in blitz 🙂 . It's sure that it's really hard to get pounded as he was, but I felt him very frustrated, without any reaction of pride, and lacking of fighting spirit in the difficulty. In his defense, he hadn't played for a long time and has many other activities. Obviously, when you are in bad shape, you can't survive against top players. I am sure that in other circumstances, he would have better results…
Concerning Anand, I have to say that I had some questions before the tournament, mainly since he hadn't played a live tournament for over a year.
He responded beautifully, I think! Not so much in the Rapids, where he was still a bit rusty; I could see that when he lost to me – a game that would prove to be completely decisive for the final victory! On the other hand, in the blitz games, his results did not desappoint, quit the opposite! The quality of his game didn't either, and I have as an example our first blitz game, where I put him under enormous tactical pressure, and he managed to calculate everything correctly and get through it. Honestly, even though there are probably some mistakes in this crazy game, I think it was maybe the best of the tournament. A second place in the final standings, at 51 and not having played for so long, I just say hats off to Vishy!
A word also about Nepo, Carlsen's future challenger, who I think will be satisfied with having tilted in the blitz portion of the tournament, to avoid doing so during the match 🙂 . He is putting his game together and I think that in the Rapids, he has shown an excellent level. He's always finding tricky moves, always causing problems; he's obviously confirmed the progress he's made in the last year, and his poor blitz performance doesn't change that.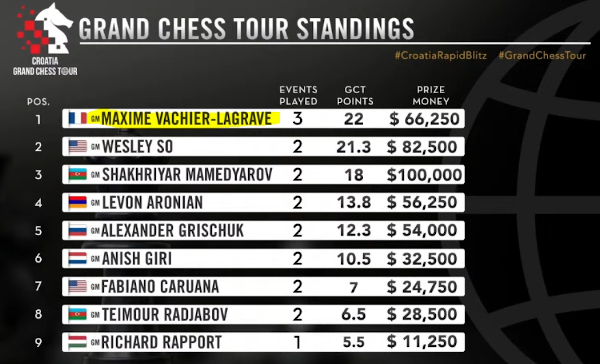 I am certainly in the lead of the Grand Chess Tour ranking for the moment, but it must be said that I am the only one to have played 3 tournaments, all the others are at 2!
Now it's time for the World Cup! I made myself comfortable in my hotel room waiting for my entry in the competition against Moradiabadi (2555), a player I had already met in 2006 at the Paris Championship (draw). Having cleared this hurdle, I will play in round of 64 the Russian David Paravyan (2625).
Maxime's games in Zagreb:
Between the two Grand Chess Tour tournaments in Paris and Zagreb, Maxime spent a few days in Châlons-en-Champagne, where the Top 12, the highest division of the French Team Championship, was organized. His team Asnières obtained the second place behind Bischwiller, as in the previous edition of 2019. A rare opportunity for him to meet some of his friends and French colleagues, and to renew with the conviviality of the team competitions. During these 5 days, Maxime will have been able to give his advices and analyses to his teammates, but also to play two games, with notably a long grind in the endgame against Laurent Fressinet, during the decisive match lost 1-3 by Asnières to Bischwiller.
Maxime's games at the Top12: