Since the World Blitz and Rapid Championships at the end of 2022, there have been no classical tournaments for the elite, except for Wijk aan Zee and the WR Chess Masters in Dusseldorf, in which I did not participate. For me, the next important events will start in May. It will have been eight months since my last classical tournament (Sinquefield Cup 2022)! This long period was obviously the opportunity to continue my preparation in order to be ready for the major objectives of the season, namely the Grand Chess Tour which starts in May in Bucharest, and the World Cup which will begin in Baku at the very end of July. By the way, I am not yet 100% sure to be qualified for this World Cup because of my modest #14 in the world rankings, but I have good hopes to succeed (it is the June Fide list which will decide).
The goal, as in any odd year, is of course qualification for the 2024 Candidates tournament, which we just learned will be held next April in Toronto; Canada would then become the 41st country I've visited, one more reason to qualify 😊.
The 10 classical games I played in the first quarter of 2023 were all in the German Bundesliga and the Austrian Bundesliga. The rapid and blitz games were played online, whether it was Titled Tuesday on chess.com, the Play In qualifier for the Champion Chess Tour, or the Pro Chess League. I played these competitions seriously, trying out new openings, as well as some ideas on my traditional lines. It's all part of the preparation to be on top in May.
Let's get back to those first classical games of 2023:
Bundesliga
From February 3rd to 5th, I played in Baden-Baden and scored 2/3 (win against Plenca 2423, draws against Kollars 2606 and Santos Latasa 2657). Little curiosity, during my game against Santos Latasa, we played exactly the same moves as in my previous classical game against Bluebaum, in November 2022; two consecutive identical games, that must be some kind of record, right?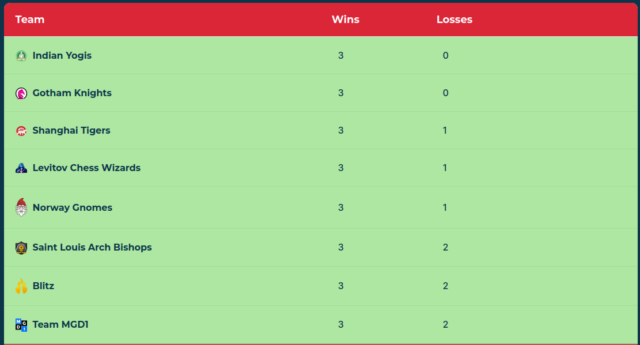 Pro Chess League
I participated in the five matches of the preliminary phase scheduled between mid-February and mid-March, in the friendly BLITZ team, coached by Kevin Bordi. I was accompanied by Sacha Grischuk, as well as Deimantė Cornette and Kateryna Lagno alternating on the women's board, and Alexandre Bacrot or Mahel Boyer on the youth board. This strong team could clearly hope to get past the pools, which we did after multiple adventures, as 3 of our matches went to the tie-break!
On an individual level, I played well, but not much more. I had little moments of absence in some games that were not necessarily well played, but that ended rather well. I tightened up my game in the last two matches, and the whole team rallied, which allowed us to qualify for the finals. Unfortunately, I won't be able to participate there, as I will be playing in Bucharest at the same time.
Bundesliga
Back to the Bundesliga, in Schonaich (suburb of Stuttgart) for a new weekend on February 25-26.
MVL – Sedlak (2461) : 1-0
A game that looked easy, because from the opening I had the opportunity to finish the game with style: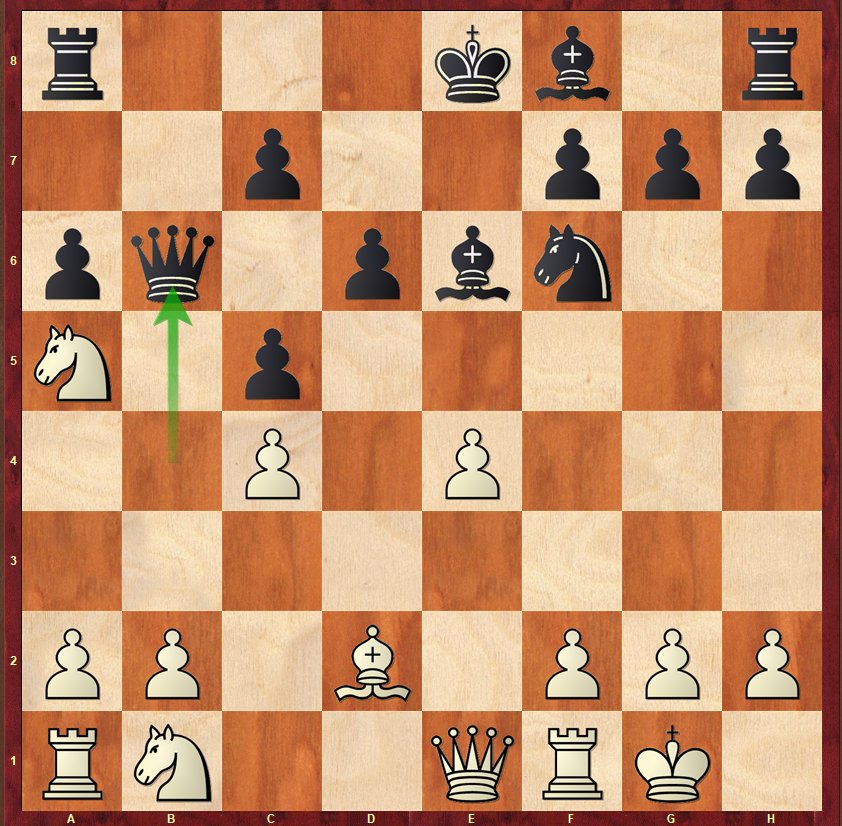 Here I could have played 14.f4! with the idea of Rf3-b3-b7, which was completely decisive because black has no time to develop by …Be7 and …0-0. I vaguely had this idea of bringing a Rook to b3, but I didn't think of the Rf1 passage because I played 14.Bc3 too quickly, which at the time seemed sufficient.
I missed a second, more difficult win in the following position: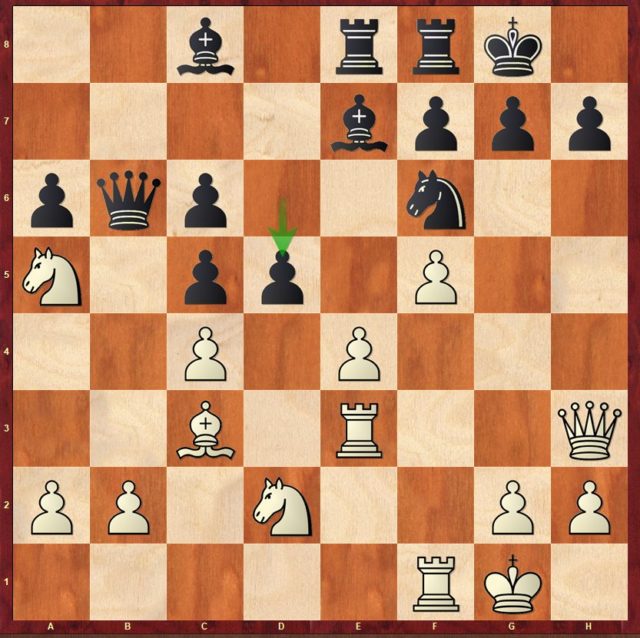 I didn't play 22.cxd5! because I didn't want to free his Queen, which after 22…cxd5 could use the sixth rank in defense. But giving the c4-square to my pieces and pinning the Nf6 on the Qh6 was much more important; the concrete variants show that I was winning, e.g. 22…cxd5 23.Rg3 d4 24.Qh6 g6 (Black doesn't have …Nh5 anymore like in the game after 22.Rg3? d4 23.Qh6 Nh5! 24.Qxh5 Bf6) 25.Ndc4 Qc7 26.e5! and black's position explodes after 26…dxc3 27.Rh3!.
After that double miss, my opponent played some good defensive moves and I had to get back to work. Unfortunately, I fell into a real black hole a few moves later.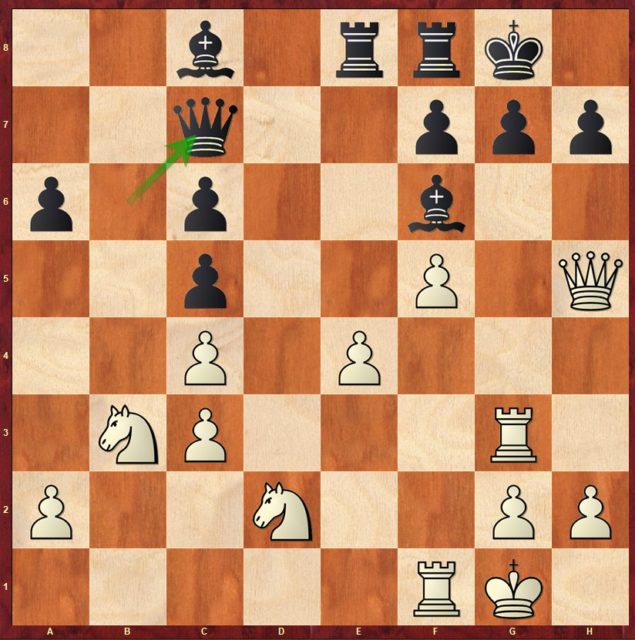 Of course, I had seen that 27.Nc5? allowed the pin 27…Qa7 28.Nb3, but I didn't realize that the e4-pawn was en prise, even during the 5 minutes my opponent took to play his move! Now, after this trivial 28…Rxe4, my position collapses. From then on, I did what I could to make it difficult for him while he had less and less time on the clock, and gradually succeeded, until he crumbled completely by missing a Queen fork losing a whole Rook. Not brilliant for a game that should not have exceeded 20 moves if I had been more diligent in the opening…
The next morning, I made a quick draw with black against Gawain Jones (2617).
During the following weekend in Baden-Baden (March 18-19), I first played Jorden Van Foreest with black.
Van Foreest (2684) – MVL : 0-1
I opted for the Svechnikov, but he surprised me with a very obscure line of the 7.Nd5 variation. 7…Nxd5 8.exd5 Nb8 9.g4!?.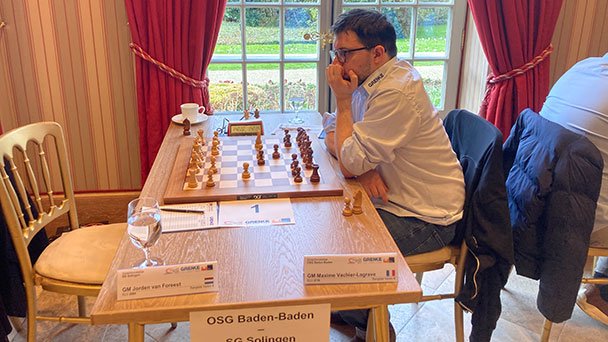 This was not in my plans when I had reviewed late morning 😊. This radical option resulted in a very hot game, where I may not have taken the optimal decisions, but he on his side made a very odd choice that brought us back into a very, very Najdorf-like structure; the last straw for me who had decided to give it up that day! By the way, after 9…Be7 10.Rg1, I could have played 10…a6 and then 11…b5 but I decided to start with 10…0-0.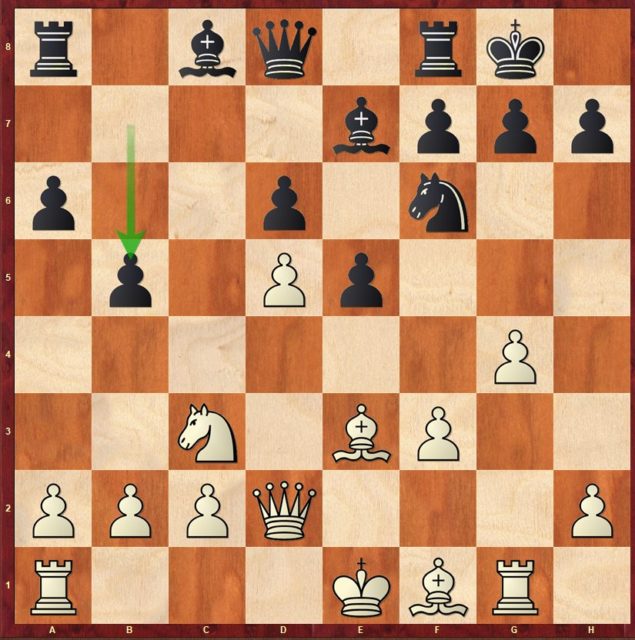 Jorden chose to play risky chess with the immediate 15.Ne4 Nxe4 16.fxe4 Bh4+ 17.Kd1, instead of 15.0-0-0 b4 16.Ne4. After the game, he explained to me that he had this Kd1 idea in his preparation, but in another position! He got confused, as happens to every chess player. I thought about it a lot, because I felt his choices were really weird, and I found some good moves to increase the pressure.
I was happy with 17…f6 18.a4 bxa4 19.Rxa4 Bg5, with the idea that 20.Kc1? fails to 20…Bxg4 21.Rxg4 Qd7 22.Rxg5 and black has two elegant choices; 22…fxg5 with an attack on the Bf1 and Ra4, or 22…Qxa4 threatening both the Rg5 and mate on a1! Jorden parried the threat by playing 20.Ra3 and after 20…Rb8 21.Kc1 a5 white did not fall into the trap 22.Bxg5? which does not work because of 22…Qb6!, this time with a double attack on g1 and b2.
As white threatened to consolidate their position, a bit short on time, I made the decision to break out the center.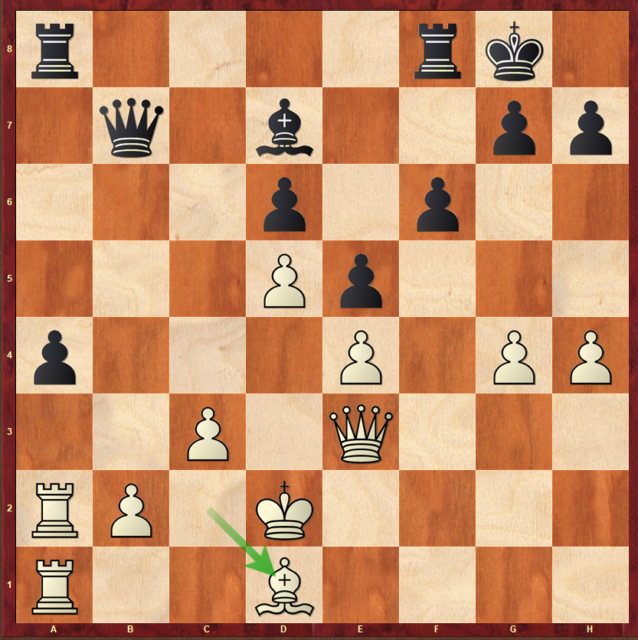 30…h5! 31.gxh5 f5. I thought it should be favorable to me, without of course being able to calculate all the lines. However, I found some precise moves: 32.h6 fxe4 33.Qxe4 Rf2+ 34.Kc1 Raf8! 35.Qg6 R8f7 36.b4 R2f6! 37.Qa3 Bb5! 38.Qe3? (38.c4? Bxc4; 38.Qe4 was not pleasing but was forced) 38…Qxd5 and black's pressure is too strong (0-1, 45 moves).
The next day, I drew against Navara (2685) and his Berlin.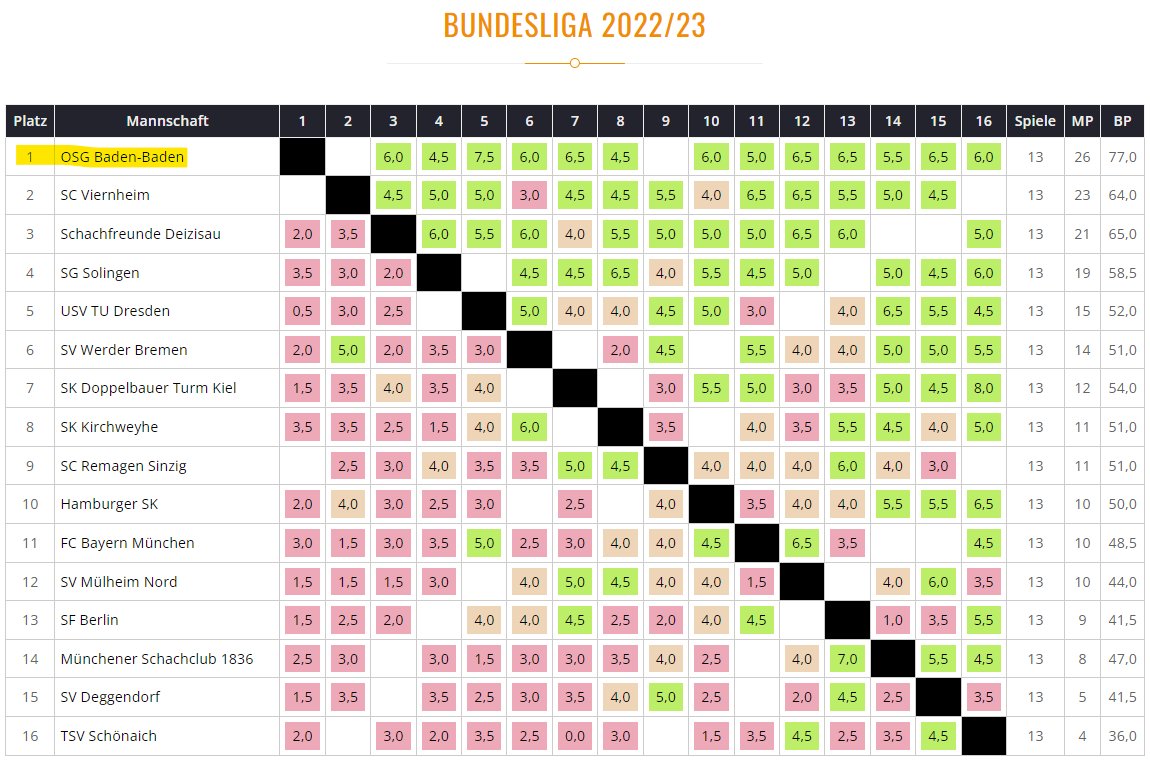 Austrian Bundesliga
The Austrian League consists of 11 rounds spread over three sessions. This was the second one, played in Graz (April 23-26). After the first 4 rounds, my team (Linz) was ranked behind Jenbach, a small town in Tyrol, which was in the lead after drawing against us. I played 3 games out of the 4, winning 2 with white and drawing with black.
I didn't have the opportunity to test new openings with white since I played an Anti-Marshall and an Advance Caro-Kann.
MVL – Baenziger (2413) : 1-0
The pairings were only revealed 30 minutes before the round. Surprise with the young Swiss IM showing up on the first board that day. We had all taken our computer (which we left in the car before the games 😊) to prepare between 3:30 and 3:58 pm – yes because beware, the local rule was zero tolerance, meaning that all players had to be imperatively present at the beginning of the game.
My opponent deviated a bit from his usual repertoire and opted for what Fabiano Caruana had played to me at the Grand Swiss 2021 (anti-Marschall 8.a4 Bb7). I had bits of memories but it turned out to be complicated to put the whole puzzle together again. He played the opening and the middle game very well, and the next position we reached was pretty close to equal.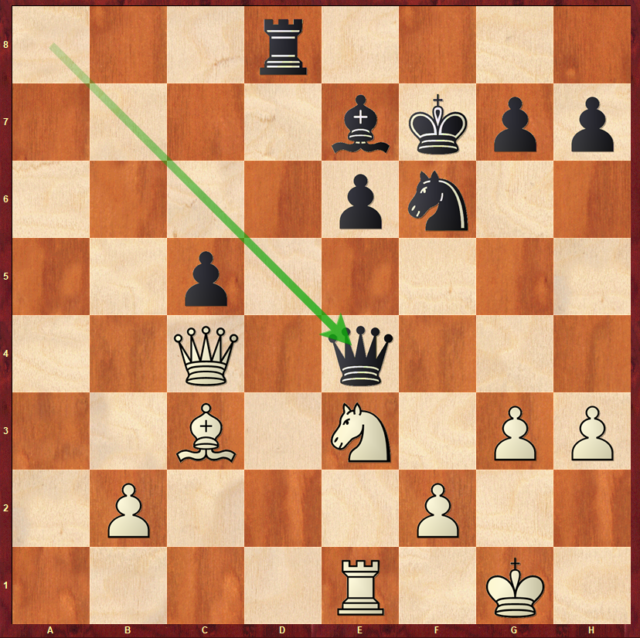 Here I hesitated to keep Queens on by 38.Qb3, which was probably the best move, but I thought I would have to trade Queens at some point, and I believed I would do so in favourable circumstances after the little combination 38.Ng4 Qxc4 39.Ne5+ Kf8 40.Nxc4 Kf7 41.Ne5+ Kf8 (if 41…Ke8, I had planned 42.Nf3 Rd6 43.Ng5 Kd7 44.Ra1 with strong pressure). The game continued 42.Nf3 which wins the e6-pawn (42…Rd6? 43.Ng5), but this is not the end of the story! 42…Nd5! 43.Rxe6 Nxc3 44.bxc3 Bf6? (after analysis, it turns out that 44…Rd1+! 45.Re1 Rxe1+ 46.Nxe1 c4! forces the exchange of both c-pawns and leads to a theoretical draw, even if in practice white keeps some chances).
The end of this game reminded me of an ending I played at the 2019 French Team Championship against Laurent Fressinet, where with Rook, Knight and 2 pawns, I had pressed against Rook, Bishop and 2 pawns (without success that time 😊).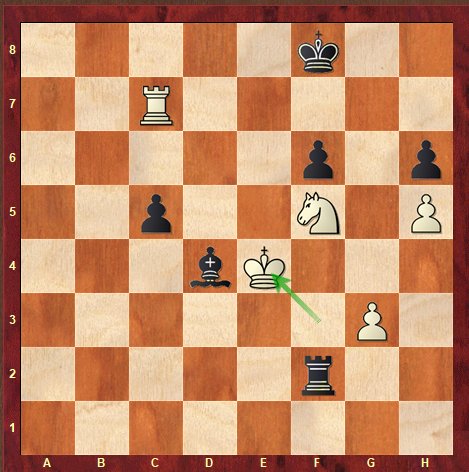 Let's get back to Austria!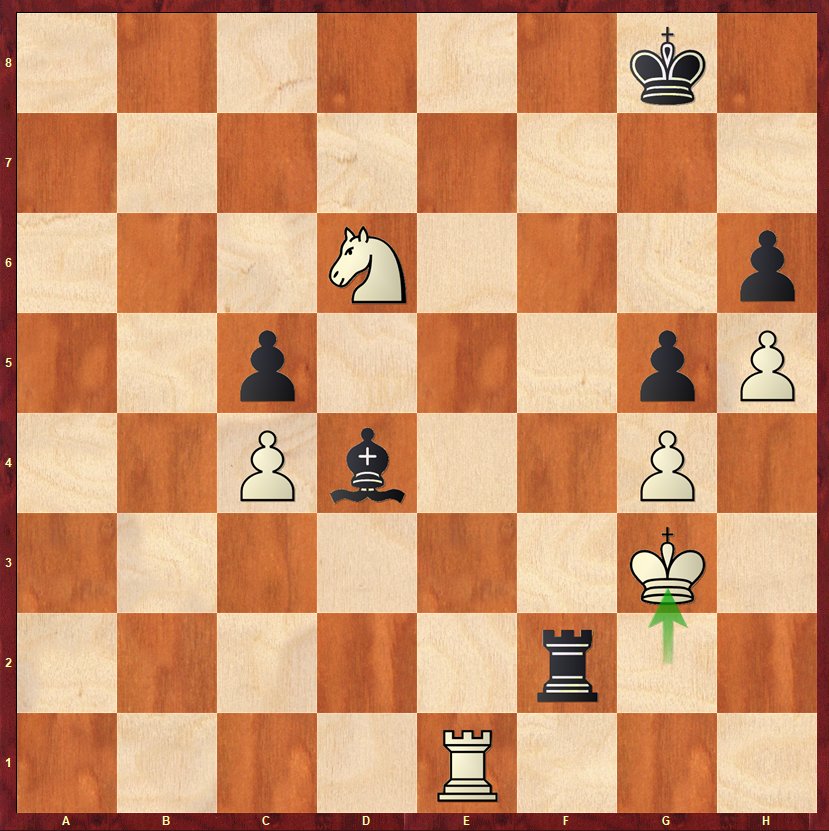 I knew that the h6-pawn would eventually fall; I just had to make sure to protect the c4-pawn to prevent black from getting counterplay. So I gave the f2-pawn on the previous move, which allowed me to work the Knight and Rook together.
Being short on time, such a position is horribly difficult for Black to defend, even though a computer would probably laugh at us and draw without difficulty. My opponent made a mistake with the passive 56…Rf6? which allows 57.Re8+ Kh7 58.Nf5 Ra6 59.Kf3 and black has to choose between two evils: allowing the King to reach e4 or the Rook to land on e6 (1-0, 64 moves). Back on move 56, the computer suggests 56…Rc2 to hold, but it was very complicated to find: 57.Re6 Rc3+ 58.Kg2 Kf8! (58…Kh7? 59.Nf5! picks up h6 and g5) 59.Rxh6 Be5, and even here it is not obvious to the human eye.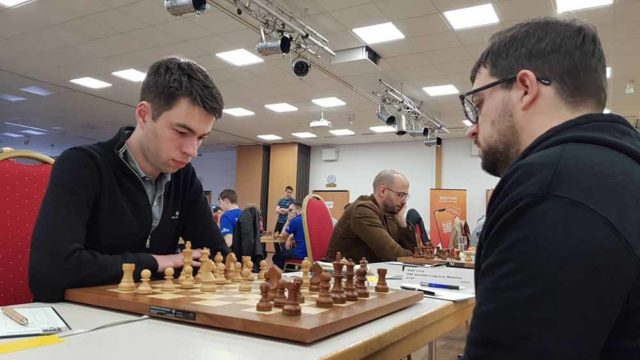 After a draw against Dragnev (2561) in which I used the Berlin with black, I played my last game against the German GM Baldauf.
MVL – Baldauf (2504) : 1-0
The funny thing is that one of the ways I prepared was by studying the game he had played 48 hours earlier against Markus Ragger. This is what actually happened, as he repeated the same line, but at the same time Markus Ragger was replaying the exact same line against Petr Haba, two rows back 😊.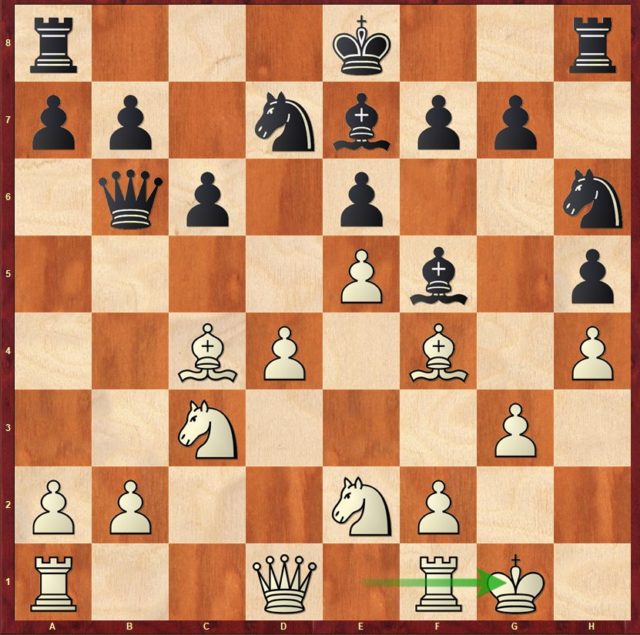 This lasted until move 11, where Baldauf played 11…Rd8 while Haba preferred 11…Bg6.
After 12.Qc1 Bg6, I did see 13.Bxh6! but I didn't understand how strong it was, with the idea of exchanging white-squared bishops afterwards. So I settled for 13.Bg5, which seemed pretty good and is also a thematic move. I overestimated my position after 13…Qb4 14.Bxe7 Qxe7 15.Nf4, although it's not that clear. Besides, after 15…Nf5, I took on g6 too lightly and immediately regretted it because I couldn't figure out how to maneuver to gain a clear advantage.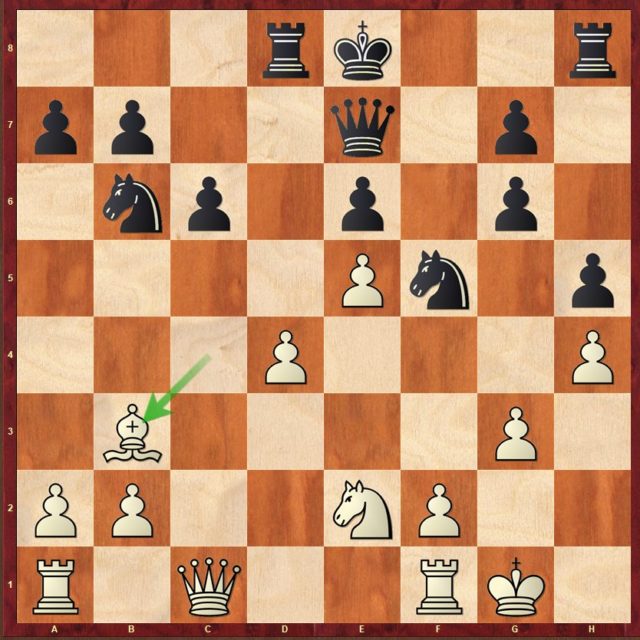 I ended up making a bet and giving the pawn on d4, hoping he wouldn't take it 😉 ! After 18…Nxd4 19.Nxd4 Rxd4 20.Qe3, he would have had to find the complicated move 20…Rg4!. My first idea was then to play 21.Kh2 Nd5 22.Bxd5 exd5 23.f4 to trap the Rook. But it doesn't work because Black can play …g5 at any time; it's a false lock.
And if I try to take the exchange with 21.Bd1, after 21…Qxh4 22.Bxg4 Qxg4 23.Rad1 Nd5 24.Qxa7 0-0, black will have serious counterplay with threats based on …h4 and …Nf4.
In the game, he didn't dare to take on d4 and chose 18…Kf7?!. Even if the computer considers that I am a bit better afterwards, it was not easy to progress. Fortunately, at one point he looked for activity, allowing me to sacrifice the exchange to get a very favorable ending.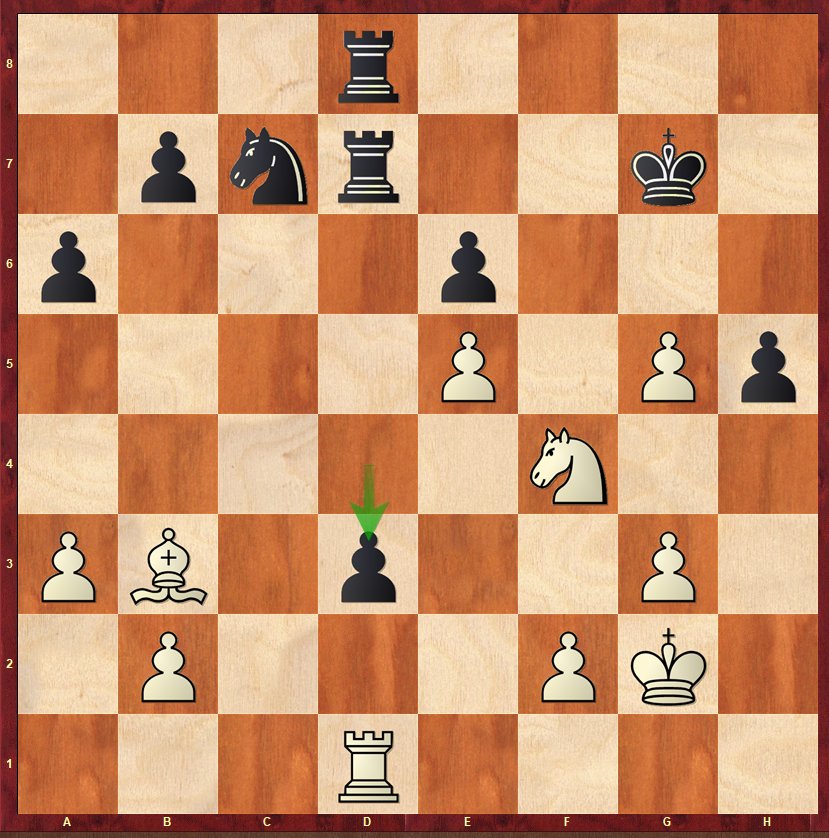 But here, the right decision was 32.Nxh5+! Kg6 33.Nf6 Rd4 34.f4 d2 35.Kf2 and Black is in bad shape because he can hardly value his d2-pawn. Unfortunately, I blundered with 32.Bxe6?. I had only considered 32…Rd4? as an answer, but obviously, eliminating my e-pawn with 32…Re7! was more judicious: after 33.Nxh5+, I still kept a small advantage, but my opponent could have earned a miraculous draw after 33…Rf8 34.Bc4 Rxe5 35.f4 Re2+ 36.Kf3 Rh2:
Here, 37.Nf6! was the most accurate, but I wanted to leave the Knight on h5 to threaten g6-g7; after 37…Rxb2, the game would have continued! So I opted for 37.g4 instead. After 37…Rd4, I had considered 38.b3 b5 39.Rxd3, forgetting the nice 39…Ne6! (the machine also gives 39…Rh3+), and I can neither take on e6 nor exchange on d4. Instead, Black played the terribly passive 37…Ne8?, and after 38.Rxd3 Rxd3 39.Bxd3 Rxb2 40.f5, I was able to digest this little moment of fear, and conclude with my kingside pawns (1-0, 45 moves).
Going into the final mid-April gathering, my team is at the top of the standings thanks to Jenbach's surprise loss in round 8.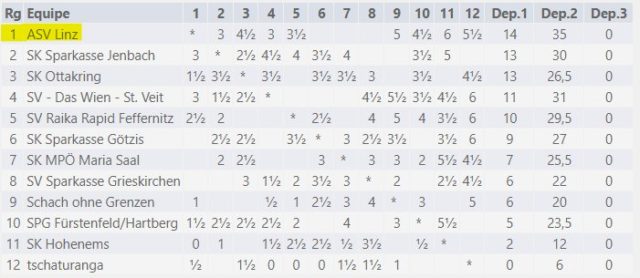 Next for me is the Chessable Masters from April 3rd to 7th, second stage of the Champions Chess Tour 2023 https://championschesstour.com . I qualified for the 2nd Division of this new format, missing a place in the Top 8 of the 1st division after a defeat in Armaggedon against Artemiev during the qualifying tournament played on March 13th.
In this single elimination tournament, but which includes a « Loser's bracket » as in many esport competitions, I will be facing Alexei Dreev in the first round.
Maxime's games in Pro Chess League:
Maxime's games in austrian Bundesliga:
Maxime's games in german Bundesliga:
On March 12, Maxime spent the evening on Sardoche's stream, https://www.twitch.tv/videos/1763187939 , to coach him live while he played a series of blitz games. The former League of Legends champion, who became a star streamer a few years ago, has developed a passion for chess and decided to take it to the next level by training intensively. In this perspective, he plays a lot online and invited Maxime to analyze his live games during an evening. These games were played on the Immortal Game platform of which Maxime is the ambassador since the end of 2021.
Cover image: licence CC 2.0 https://www.flickr.com/photos/53370644@N06/