Three weeks after the disappointment of the World Cup, I had the opportunity to return to competition in an atypical event in Düsseldorf that didn't offer much in terms of sporting challenges, despite a particularly strong field. I then followed this up with a very strong Grand Chess Tour-style Rapid and Blitz tournament in Kolkata.
DUSSELDORF: WORLD RAPID TEAM CHAMPIONSHIP
This new team championship was somehow put together from scratch, but it was a nice occasion to imagine some original, custom made team line-ups. I played in Dusseldorf for a team of friends, the ASV Alpha Echecs Linz, a sort of mix between Etienne [Bacrot]'s friends and players from the Linz club in Austria. My teammates were Etienne, Sacha [Alexander Grischuk], Parham Maghsoodloo, Arkadij Naiditsch. Marc Llari, the U8 world champion, was on the under-2000 board, which wasn't good news for our opponents 😊. Kateryna Lagno completed the team on the women's board. On paper, we had a very strong line-up. The competition took place over 3 days, and though intense, with four Rapid games a day, there were lengths, because of the mere half-hour between rounds.
The organization on site was very good, and many top players were present. Including the WR team, set up expressly to win, with So, Abdusattorov, Nepomniachtchi, Duda, Praggnanandhaa, Keymer, Yifan Hou, Kosteniuk (no less!), and Rosenstein, their under-2000 player, who did very well at times.
We clearly wanted to win too, but let's just say that for WR it was a bit different, it looked so important 😊. Unlike them, although we didn't take the competition lightly, there was no specific preparation.
WR dominated the competition, so there's nothing wrong with their victory; they simply had a tremendous team.
As for us, we lost five matches out of twelve, which is huge, even though four of them were lost by just half a point…
On a personal level, I think I had a decent result, but quite flat. In all the matches we lost, I drew, so my influence was limited. As far as the competition is concerned, I did my job, but nothing more.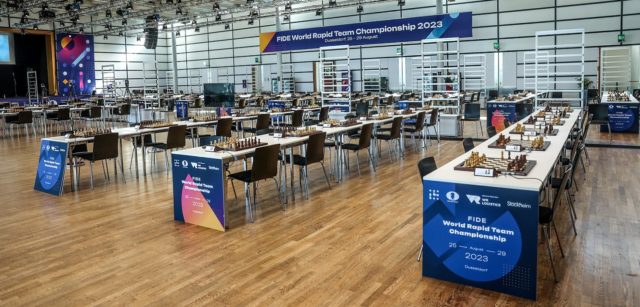 Here are two interesting moments in my games:
Mvl – Anand 1/2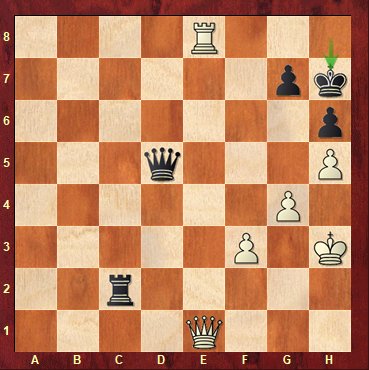 In this Queen and Rook endgame with an extra pawn on the same wing, I've already been spinning around for a while! Here, I avoided the Queen exchange 56.Qe4+ Qxe4 57.fxe4 because, despite real practical chances, I thought Anand would certainly save it. And I also felt he might crack under heavy pieces pressure, so I kept the Queens on with 56.Qe3, eying f4 to start creating threats on black's King. And he did indeed crack! 56…Rc4? (to prevent 57.Qf4), but unfortunately I didn't punish him because I missed the winning, yet not very difficult move, 57.Qb3! which pins the Rook and threatens 58.Qb1+. Black is unable to prevent this, for example 57…Rd4 58.Qc2+ Rd3 59.Re3 and wins. A wasted opportunity!
Eljanov – Mvl 0-1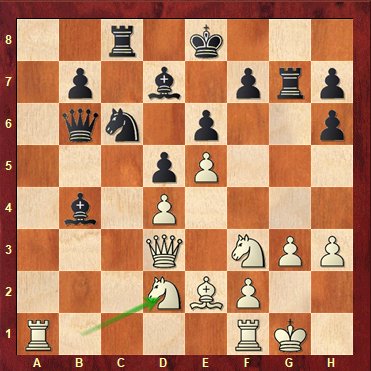 It was the last round and, in this position, I was very happy to uncork the 16…Nxd4!? combination, which I thought would win. The antidote to this move was quite pretty: 17.Nxd4! (instead of the losing 17.Qxd4? Qxd4 18.Nxd4 Bxd2 played by Eljanov) 17…Rc3 18.Ra8+ (18.Qb1? Qxd4) 18…Ke7 19.Nc4! (the move you had to see!). If 19…dxc4? 20.Qe4 then Qh4 wins, and if 19…Rxd3? 20.Nxb6 Rxd4 21.Nxd7 Kxd7 22.Rc1! followed by 23.Bb5+ and 24.Rc7 mate or 24.Re8 mate! So I have to play 19…Rxc4 20.Qf3 Rg6 21.Bxc4 Qxd4 (21…dxc4? 22.Rd1 and white's initiative is too strong) 22.Bd3 Qxe5 23.Bxg6 hxg6 and with three pawns for two exchanges, it's a happy mess, instead of the losing position white got in the game.
In the end, the team only finished in sixth place, but at least we had a lot of fun, and that's the main thing. It's better to finish sixth if we are to win next time, than to finish third twice! That's my philosophy 😊.
TATA STEEL INDIA
After a few days in Paris, I was off to Kolkata for a visit to my 41st country, a long way behind globe-trotter-in-chief Nigel Short, who has passed the hundred mark 😊. The trip went very smoothly, with me arriving at around 3am local time, the day before the tournament.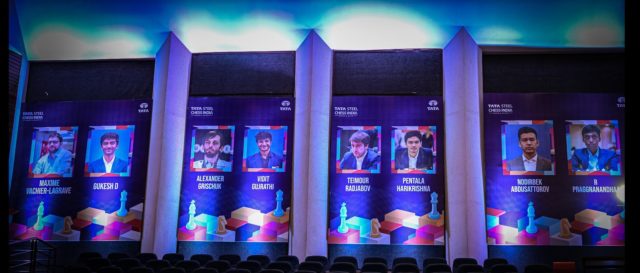 The selection of players was very interesting, very homogenous, with lots of youngsters who can all potentially become world champions later on! Although I think some names are more likely than others 😊. So I was expecting a very tough tournament and above all, with no easy games, no relaxing games, even if I did finally get one in the Rapid! [quick draw against Radjabov in the last round when the tournament win was already assured].
The Rapid games being quite intense, I did nothing but hotel/playing hall/hotel for three days: with just two training matches against Sacha in blitz, one before the start of the Rapid, and one before the start of the Blitz. In fact, he even said at the prize-giving ceremony that I'd been his « secret coach »! [Grischuk won the blitz tournament].
Here is a selection of my games:
Rapid
Round 2: MVL – Praggnanadhaa, 1/2
After a fairly normal first game, there was a little slip-up in the opening against Praggnanadhaa; however, we were heading for a draw in the endgame until the next moment: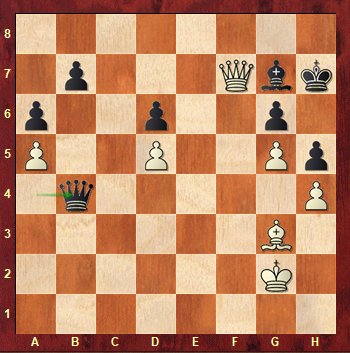 40.Kh3? (doing nothing was not a good idea, I had to counter-attack d6 with 40.Qe6!). With only the 10-second increment per move, none of us saw 40…b5! and either the b-pawn runs away, or 41.axb6 Qxb6, and it's the a-pawn that escapes. It's worth noting, however, that the machine's +8 evaluation doesn't take into account the practical difficulties that would have remained for the conversion! Instead, Prag repeated once with 40…Qg4+? 41.Kh2 Qb4 42.Kh3? before missing the target a second time! 42…Qxa5? 43.Bxd6 and he had to settle for a perpetual check as White had too much play with the Queens on and the passed d pawn.
Round 3: Vidit – MVL 0-1
The third game was a dangerous one! I was mostly expecting 1.d4, and 1.e4 surprised me a bit. I opted for a Najdorf, and as I was in experimentation mode in the openings (but less so than in the Blitz 😊), when I saw 6.Bg5, I chose to avoid the Poisoned Pawn variation. After 6…Nbd7 7.a3!?, I then recalled that Vidit had already played this slightly poisonous line in rapid games. Unfortunately, I couldn't remember anything on the board and had to improvise! In a situation that seemed unpleasant to me, I tried a tactical continuation that didn't work at all, simply forgetting that my Queen would ultimately be trapped. So I had to sacrifice material, hang on as best I could, avoiding the forced lines he would inevitably have calculated, to finally arrive in the following miserable position, where I'm a full Rook down, with counterplay on its way to total extinction: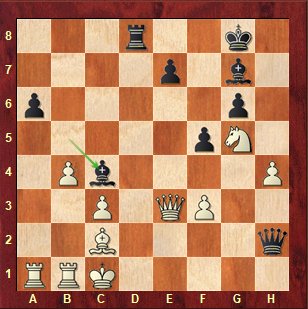 Just about every move wins, except the one Vidit chose with, admittedly, rather little time on the clock! 34.Kb2?? Rd3! and not only did it backfire, but to make matters worse for the Indian, I now even had a forced win after 35.Qe1 ! I had to play 35…Rd2! but no matter how hard I looked, I couldn't find it. Admittedly, I had all the ideas of the position in place, but what was just missing was the Queen's retreat to d6; for instance 36.Qxd2 Qxd2 37.Ra3 Qd6 (other moves also win), but above all 36.Rc1 Qd6! (the only move this time!) 37.Ra4 Bxc3+! 38.Kb1 (38.Kxc3 Qd4 mate) 38…Rxc2 and wins. Instead, I played 35…Rxc3? 36.Qxc3 Bxc3+ 37.Kxc3 and the endgame is really messy. 37…Qxh4 and 38.Rg1 aren't the best moves, the machine teaches us, but whatever! After 38…Bd5! Vidit didn't see the very pretty geometric pattern 39.Bb3? (39.Bd3 and white stays in the game) 39…Qh8+! 40.Kc2 Qh2+ 41.Kc3 Qe5+ winning the Bishop after 42.Kc2 Qe2+ 43.Kc3 Qe3+.
A very happy turn of events that allowed me to end a complicated first day on a high note.
At the start of the second day, my opening choice (the Scotch) perfectly worked, even more so than I'd hoped…
Round 4: MVL – Keymer 1-0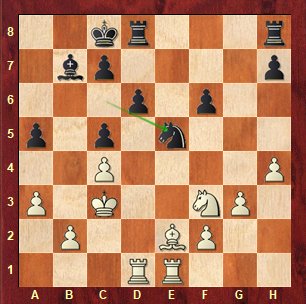 Although this endgame from the Scotch isn't particularly advantageous, it does allow white to continue posing problems, especially after my move 23.Ng1! which I was quite happy with. I was convinced that he wanted to play 21…Bg2, to prevent the Nh3-f4 manoeuver. But he missed what was indeed the best move. After 22.f4 Nc6 23.Bg4+ Kb8 24.Rd2?, black advantageously saves the piece with 24…Rhg8!, while 22.Bh5, leaving the passage to the Knight via e2, doesn't particularly work either because of 24…f5, and if 25.Ne2?! Bf3! 26.Bxf3 Nxf3 and Black even gets the upper hand.
Keymer preferred 23…Rhg8 and let me maneuver my d5 Knight in order to exchange it for his Bishop, then we reached the following position: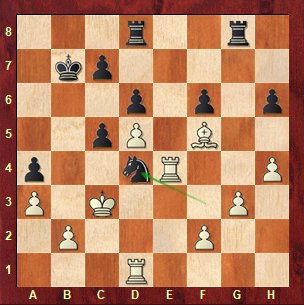 Here, sacrificing the exchange with 31.Rdxd4! was a no-brainer for me. I don't even call it a sacrifice, as I have all the open files and passed pawns. After 31…cxd4+ 32.Rxd4 c6 (32…Ra8 33.Rb4+) 33.dxc6+ Kxc6 34.Rxa4, I didn't know if it was winning because I thought the position might have been objectively defensible, but in practice Black is certainly going through hell!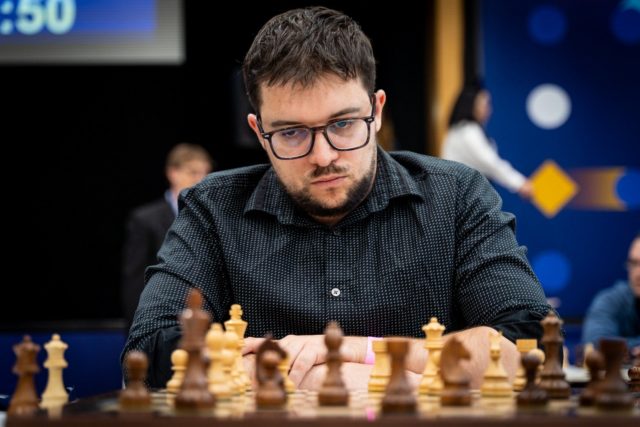 Round 6: MVL – Abdusattorov 1-0
After a bad opening from black, I got a clear advantage. I then tried to leave as little counter-play as possible. Nevertheless, I sensed that I could be missing more effective follow-ups at times, but without identifying them.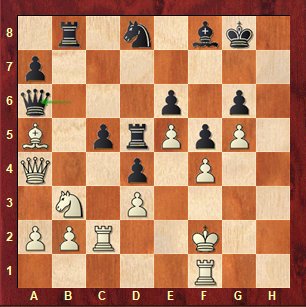 For example, here, the machine indicates that 28.Qe8! would have been clearly winning, unlike my choice of 28.Qc4, which it only gratifies with a slight plus, even though I was almost certain to have a decisive positional advantage there! But it's interesting to note because even if I'd seen 28.Qe8, I know I wouldn't have played it anyway! Indeed, I would have had to calculate the variations after 28…Kg7 29.Nxc5 or 28…Qxd3 29.Qxg6+ Bg7, which are not at all obvious to a human in a quick game.
After Keymer, Gukesh [solid draw with black] and Abdussatorov, I was playing round 7 against a fourth great world hope in a row, the Indian Erigaisi! [Maxime won with black].
Therefore, before the 8th round against Harikrishna, I was one point ahead of the field.
Round 8: Mvl – Harikrishna 1-0
I knew I was going to have a potentially complicated last game [Black against Radjabov], so I still wanted to play for the win, but without taking the risk of losing. Despite a quiet opening, I managed to put on quite a bit of pressure, especially as my teammate from Asnières hadn't necessarily been very precise.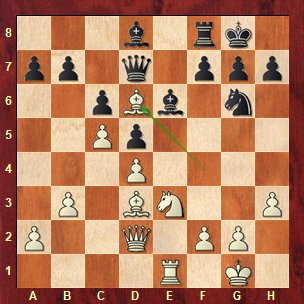 Here I already have a small advantage, but after 24…Be7, Black's position remains solid. But he played 24…Re8?. There were too many pieces on the e-file, and I didn't pay attention to the possibility of 25.f4! which wins outright! Black is completely powerless against the threat of 25.f5, because if 24…f5 25.Nxf5!. After 25.Nf5? Bf6 26.Ng3 h6? I again had the opportunity to play 27.f4!. I don't know how I missed it, because when I opted for the Nf5-g3 maneuver, my idea was to play f4! Even though this time Black has 27…Bxd4+ in-between, he remains totally helpless after 28.Kh2, which threatens both 28.Bxg6 and 28.f5; and if 28…Nh4 29.f5! anyway, banking on the Queen's being overloaded. Instead, I played 27.Nh5? Bh4 28.Qc2, after which he did a lot of thinking, and uncorked 28…Bf5?, a thunderbolt I hadn't seen coming at all. I immediately had the feeling that it couldn't work and quickly came up with 29.Rxe8+ Qxe8 30.Bxf5 Qe1+ 31.Kh2 Bxf2 32.Qb1! which completely refutes black's line! I can't say I was really shaky in the conversion, but I may have made the task a tiny bit too complicated for myself.
A quick draw to finish against Radjabov enabled me to win the tournament with 7/9 and a 1.5-point lead over him.
A morale-boosting victory…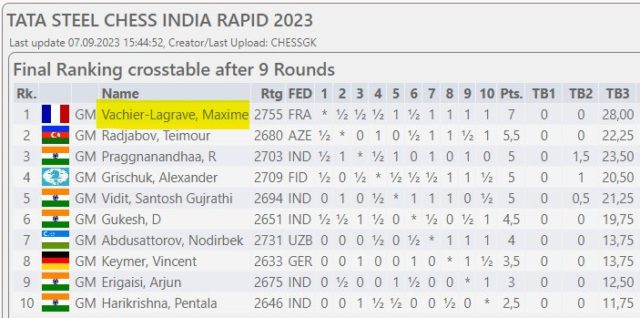 Blitz
The very next day, hostilities resumed with the two-day, 18-round Blitz tournament.
I got off to a very bad start [0/3, then 1/5], I was probably not fully awake! This bad start compromised my chances of winning the tournament, even if towards the end of the second day I began to dream of a remontada, before finishing in a bit of a shambles [finally 5th with 9.5/18]. But in any case, over these two days, I wasn't really into it, which confirms my problem of irregularity in blitz. It was not an issue at all a few years ago! Now, however, I no longer have this problem in online blitz games – it's the world upside down! I've probably become a stronger blitz player online than on the board 😊. So that's a focus for the traditional end-of-year Blitz World Championship.
Finally, I must add that the level is much higher than it used to be. I can no longer be as dominant in blitz as I used to be, for example in 2015 at the World Championship, or in certain tournaments where I was performing at over 3000 Elo. It's no longer possible, because the level of the others has risen, and also because my consistency is no longer the same. For example, here in Kolkata, I've made some blunders, some inexplicable things… It's true that I've dared to experiment quite a bit in the openings, because I wanted to gain in instinct, in feeling… But some games make me doubt the relevance of this choice 😊.
Congratulations to Sasha [Grischuk], who played very well and dominated the blitz tournament.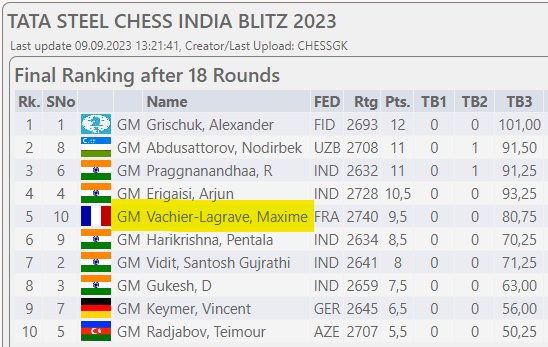 PARTIES MVL
Maxime's games in Düsseldorf:
Maxime's rapid games in Kolkata:
Maxime's blitz games in Kolkata:
The Paris suburb's town of Asnières is one of the epicenters of chess in France. It is home to the French Chess Federation, and its club is the reigning French champion. The municipality and its mayor, Manuel Aeschlimann, actively support the game of chess, including its educational aspects, through the town's elementary schools.

To symbolize the city's attachment to the King of Games, several chess champions have already given their names to streets or alleys there (rue Vladimir Kramnik, rue Alexandra Kosteniuk, allée Anatoli Vaisser).

On September 13, Asnières reached a new milestone with the inauguration of the « Parc Maxime Vachier-Lagrave »! Located at the heart of a new district, it offers 8,000 m² of green space, facing the Seine. In addition to children's playground equipment and a « meadow area » soon to be operational, benches and chess tables line the edges, reminding us why the park bears its new name…