After having played only 4 classical games in almost 4 months (during the World Cup), and almost 5 months after my last tournament (Bucharest, early May), I returned to the slower time control in Albania, for the European Club Cup.
I'll come back to this, but first let's take a look at the two online tournaments that kept me busy during the second half of September, as they offered their share of thrills!
Speed Chess Championship
Speed Chess, which returns every year on www.chess.com, is a highly enjoyable match format, with 90 minutes of 5+1, 60 minutes of 3+1 and 30 minutes of 1+1. Playing in this way for several hours against elite opponents is great training, and generally produces a fairly legitimate result, even if some matches are decided in the last few bullets! The only drawback for me is that I sometimes find the matches a little slow; especially if there's already a huge margin after two hours of play, the last hour is of little use. Instead, I'd recommend organizing matches with sets. Apart from that, Speed Chess is the most spectacular of all online tournaments, with all the best players taking part.
This year, I put in relatively convincing performances against Gukesh and Sarin, in the round of 16 and ¼ finals (21.5-8.5 and 19.5-11.5 respectively). Things turned to my advantage against Gukesh early on, when I started with a 5-0; inevitably that helps, despite a few games that could have gone wrong. Against Sarin, it was more or less the same pattern; after two or three games that were a bit tricky, I took the lead and never let it go.
In the semi-final, I faced the scary Hikaru Nakamura, who I've never beaten in this format. I've already beaten Magnus, I've already beaten Wesley So… Well, I've beaten quite a few!
But Hikaru hurts me every time! For the first 45 minutes, I was on cloud nine, and it was a masterclass on my part! Except that I realized during the break that it was going to be hard to keep up this level of intensity. Perhaps it was a self-fulfilling prophecy, as the second half of the 5+1 saw some games that didn't go my way, and Hikaru came back into the match. My form picked up again in the 3+1, but unfortunately I completely imploded in the bullet section. He was too strong in that rhythm. In any case, I suspected that I'd have to have a certain lead before that 1+1 section to stand a chance. I was thinking at least +2, and even more probably +3. Despite the final defeat (11.5-16.5), I was still satisfied to have been ahead against Hikaru after the 5′ and 3′ segments, and overall happy with my level of play, building on my victory at Tata Steel Chess India.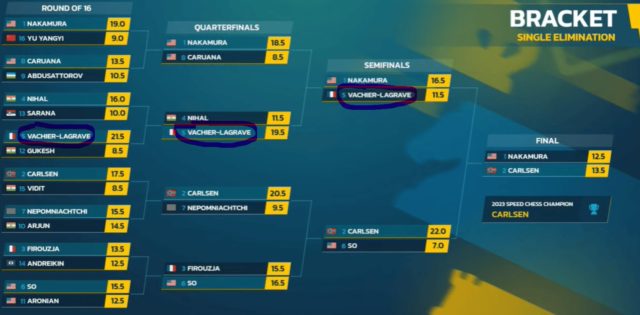 AI Cup
The final tournament of the Champions Chess Tour 2023 online circuit offered a real challenge for me; with only 8 qualifiers for the December finals in Toronto, and knowing that I'd only played in 1 of the first 5 tournaments, the margin for maneuver was pretty narrow. I had to qualify for Division 1, and certainly win it!
The Play-in (qualifying tournament) consists of a 9-round Open, immediately followed by two-player matches between the top-ranked, to determine the distribution in the three divisions. I was quite convincing in the Open, despite a moment of doubt when I lost a white game against Meier, even though I was almost winning. But I picked myself up immediately afterwards, winning the next two games quite clearly, and that enabled me to qualify for the match where I was clean against Duda (1.5-0.5). This earned me a place in Division 1 for a short week's competition, and as I was feeling in good shape, why not take the opportunity to continue playing well, against some of the biggest names on the circuit!
The ¼ final against Alireza led to some very hard-fought games, particularly the third one, which I ended up winning after tactical sequences worthy of the Najdorf 6.Bg5 😊.
In the fourth game, I was in control before I made a blunder that put him back in the game, Then followed another one that led to this 4-Queen engame being miraculously saved when I wasn't the one to give the first check! This is the third time I've saved a 4-Queen engame 😊; but this one was so lost that I almost resigned just before he made an incredible blunder!
A match win that is not illogical, even if it came down to small details that tipped the balance in my favor, creating notable differences in the result (3-1).
I then played Mamedyarov in the semi-final, a match I handled well. After 2 draws, in the third game he messed up in the opening with black; punished by me, as it happened that I had watched this line of the Deferred Steinitz and had played it myself with black in the Top 16 against Andrei Sokolov. After 1.e4 e5 2.Nf3 Nc6 3.Bb5 a6 4.Ba4 d6 5.0-0 Bd7 6.c4, I knew the refutation of 6…g5?! 😊(7.d4 g4 8.d5!). Even if the conversion wasn't perfect, the position always remained very very difficult for him (1-0, 43 moves).
The last game, a Queen's Gambit Accepted, was a little less well mastered but it went ok with two or three little precise calculations, notably here :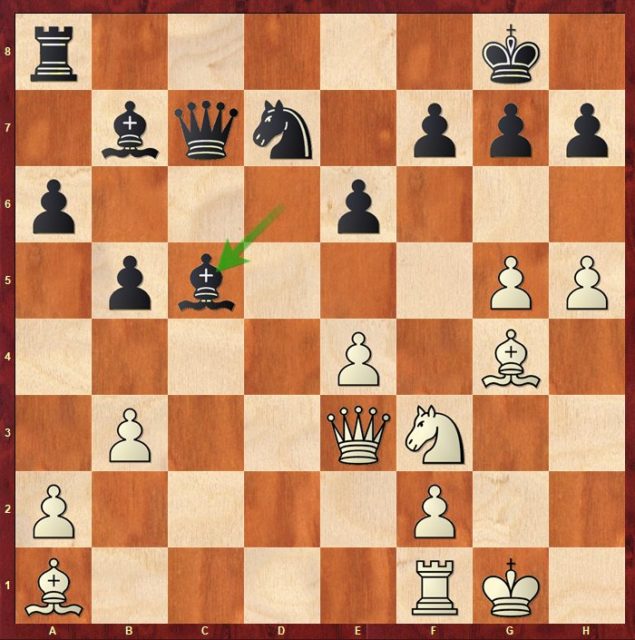 Mamedyarov fell headlong into my trap playing 27.Qc3? (27.Bd4 =), forgetting the very aesthetic 27…Nf6! (27…Qg3+? 28.Kh1 and 27…f6? 28.Bxe6+ of course lost on the spot) 28.Ne5 (28.gxf6 Qg3+; the threats 28…Qg3+ and 28…Bxe4 are devastating) 28…Nxe4 0-1.
Then I played Magnus in the final, and I think it was a very high level match from both sides. In terms of quality of play, I think it was one of the best matches I've played in a long time, and I have the impression that this feeling is shared by quite a few people. At least, by Magnus himself, since we discussed it recently in Albania and he confirmed that he shared this opinion.
Obviously there were a few mistakes, but in very complicated positions and with little time on the clock. We both came up with a lot of interesting ideas. The games were intense, with drama, everything was there! Obviously, it was disappointing to lose the match in the Armageddon tie-break (2-2 in regular time), but it was hard to be disappointed by my level of play! That said, the tournament wasn't over yet, since with the double elimination system, I was going to be relegated to the loser bracket to face Nepo…
Against him, I did pretty well in the first game where he chose his pet Petroff Defense. There were one or two small inaccuracies on his part, which I punished well after a very positional game. In the second game, it was my turn to be in trouble, and I even found myself losing. I had to play the « flying King » without really controlling the situation! But it was still very complicated and Nepo couldn't find the way to the win. Once again, the elements were on my side. But when you play well, that's often the case 😊.
As this loser bracket final was in 2 games instead of 4, I met up with Magnus again for a rematch in the Grand Final. With the thankless task of beating him a first time in the 4-game match, and if I succeeded, having to beat him a second time in a 2-game match!
I was aware that if Magnus maintained the same level of play as two days before, it would be a bit of a mission impossible for me. Of course, I knew I was back in top form, but Magnus is the ultimate test of where you stand! It's one thing to be in form against Top 20-25 opponents. Against Top 10 opponents, it's quite another. But against the undisputed number 1, it's something completely different…
I think I may have played a little less accurately in this Grand Final, but it wasn't too noticeable because I had a few oversights that were either not punished, or in fact weren't serious; for example, I forget a variation but in fact it's of no consequence because it doesn't work for this or that reason. I had a few oversights like that, but there was also a lot of fatigue because it was a long, hard week. As for Magnus, his level was much more erratic, particularly in terms of calculation. He made a lot of mistakes which I was able to take advantage of, particularly in the first game.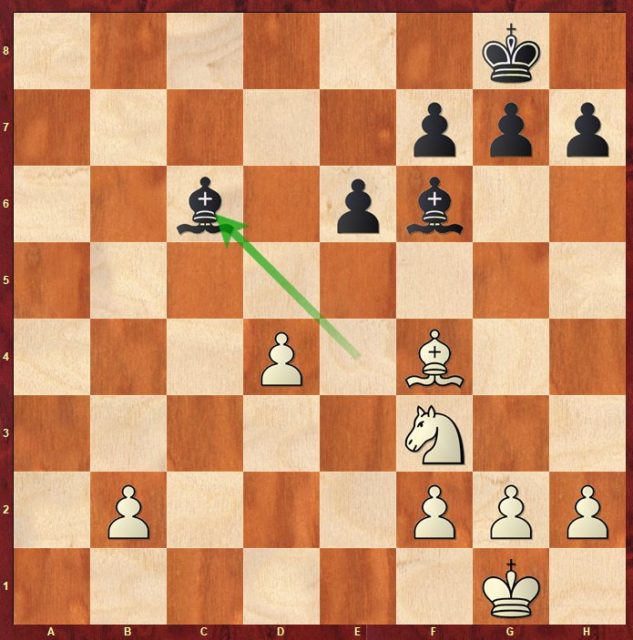 In the endgame of the first game, he explained to me that he had bluffed a little with 28.Bd6 instead of the natural 28.Ne5 or 28.Be5. He blamed himself, even though there was no reason for him to lose the Bishops' endgame after 28…Bxf3 29.gxf3 Bxd4 😊.
I was a little dominated for the rest of the match; let's just say it wouldn't necessarily have been a scandal if he'd equalised, especially in the third game. But once again, I got away with it thanks to a few miscalculations he made. I played a good Game 4 with black, which enabled me to win this match (2.5-1.5), and earn the right to play another one over two games to try to win the tournament… and qualify for Toronto!
The first game of the new final was marked by a long theoretical debate involving a Queen sacrifice in the Queen's Gambit Accepted 3.e4.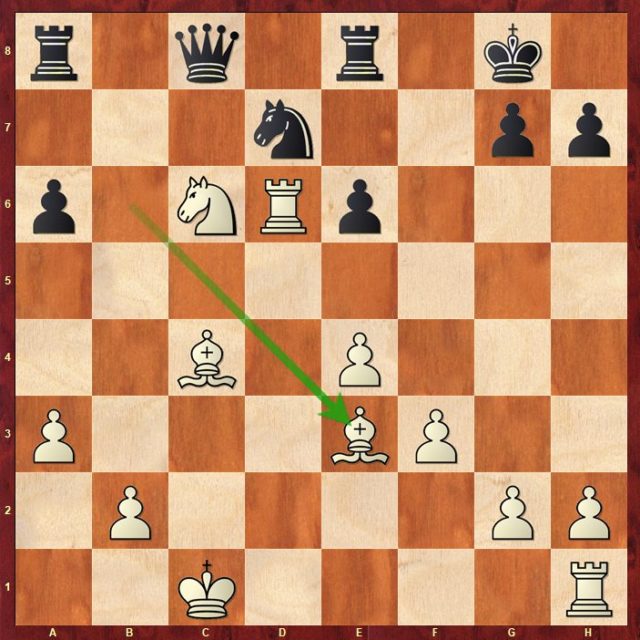 We'd both analyzed more or less up to that point, reaching a bizarre position with two Bishops and two pawns fighting my Queen! There was all the drama in the world in this game, which was clearly the best of the day. Despite a few miscalculations on both sides, it was still a game of fairly high quality (0-1, 47 moves).
In the second game, where I only needed a draw with white, I quickly gave him chances.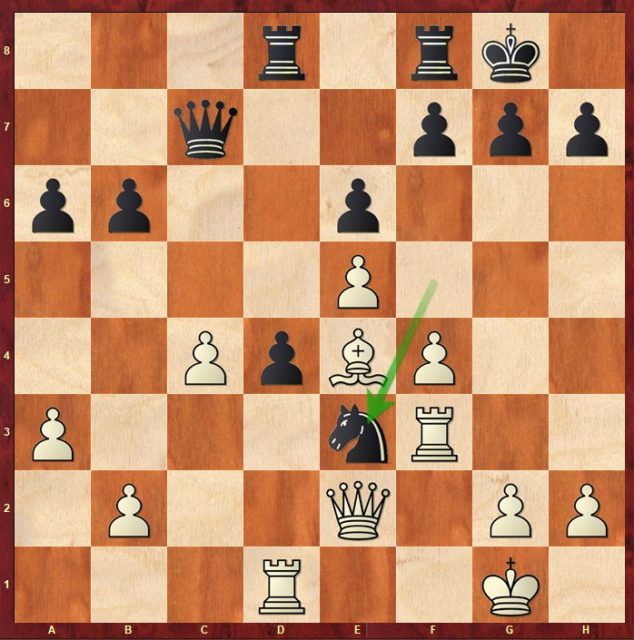 Here I considered that it would be unreasonable to remain passive and took the risk of radically changing the character of the position with 23.Bxh7+!?. I had a feeling it might not be completely sound, but it was speculative enough to try. I told myself I didn't really have a choice, as I didn't like the idea of playing it safe when I'm already slightly worse!
After 23…Kxh7 24.Rh3+ Kg8 25.Qh5, Magnus instantly uncorked the natural 25…f5?, but it was 25…f6! that had to be played!
I had anticipated 25…f6, but I thought that after 26.Qh7+ Kf7, it left me options like 27.Rg3 or 27.exf6 and I wasn't sure I'd lose (but not 27.Rh6? as in the game, because of the fatal nuance 27…Nxd1! 28.Qg6+ Ke7 and the f6-pawn obstructs the mate on e6!). What's more, 25…f6 didn't seem to me to win on the spot, there are still tries for white, even if the machine is implacable in its judgment: after 25…f6!, black has a decisive advantage! Incidentally, I found it odd that Magnus played 25…f5 a tempo, and also that after 26.Qh7+ Kf7 27.Rh6, he thought for 5 minutes before playing the catastrophic 27…Qxc4??, forgetting that after 28.Rf6+! Ke8 29.Qxg7, black is being mated despite the tempo available in defense: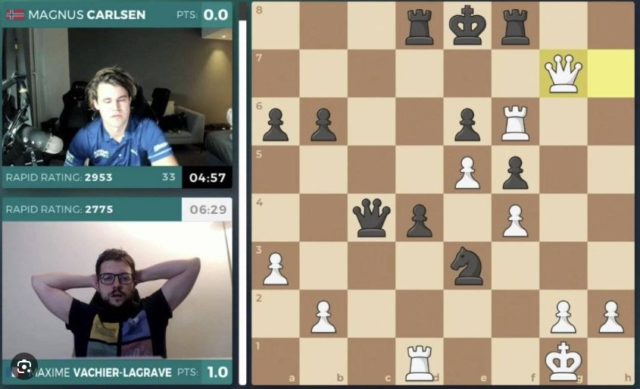 29…Rxf6 30.exf6 1-0.
Instead of 27…Qxc4?, if he had chosen 27…Ke8! 28.Rxe6+ Kd7, I'd still have had to fight for the half-point synonymous of final victory, and the fact that the machine here delivers its perennial verdict at 0.00 says nothing about the difficulty of white's task in practice.
With this 2-0 win in the final match, I won the AI Cup and I must say that I've had a very, very good week overall. In terms of results and level of play, of course, but also in terms of the confidence I've built up.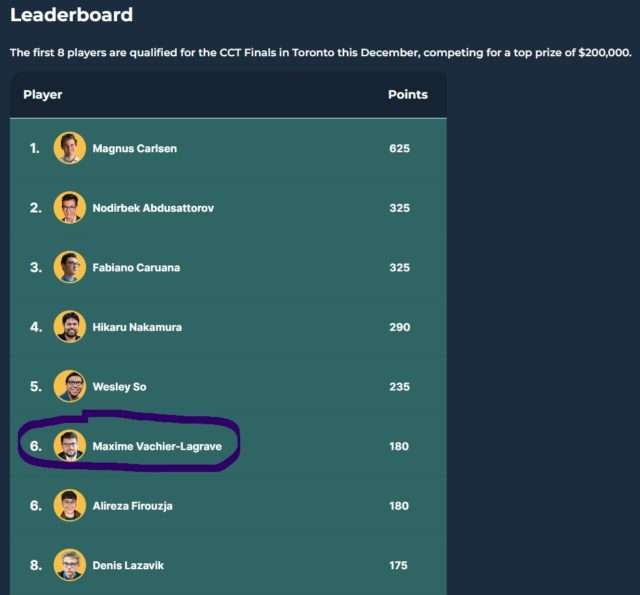 But early the very next morning, I was on a plane for Albania 😊, where I still had to make the most of my renewed form in classical games…
European Club Cup, Durres (Albania)
Another unit on my list of countries visited! Our Asnières team had a new recruit in Martyrosian, and on paper, we were clearly among the favorites.
I didn't play in the first two matches. The team did the job properly and I made my debut against the Turkish team Gokturk, against Sanal (2603) :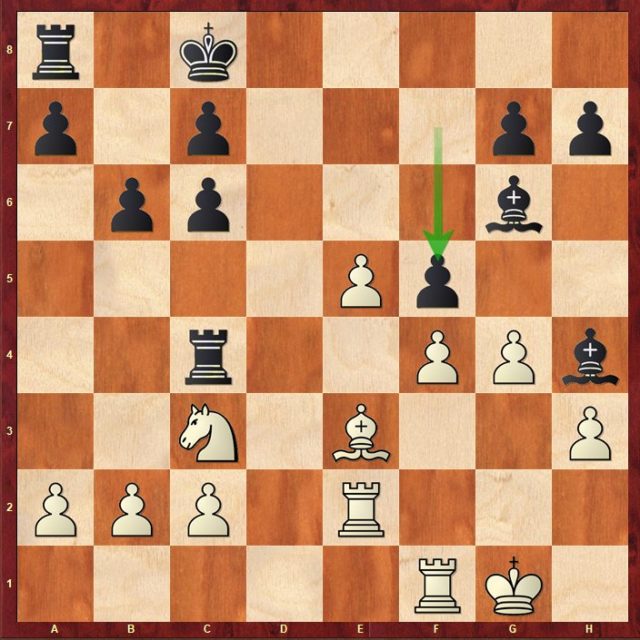 A position arising from the famous Berlin endgame, which I haven't played much lately, and which has seen a resurgence of interest in this European Cup.
Here, I felt I could try to take advantage of the acrobatic position of his Rook on c4. My first thought was 22.Rf3, but simply 22…Be7 followed by 23…Bb4. I then evaluated 22.g5 but couldn't make it work; the trapped Bh4 is unassailable and Black will always have a …h6 somewhere.
In fact, there happens to be another, stronger idea: 22.Rd2! Kb7 23.Rd3, to play 24.b3 without fearing 23…fxg4 24.f5!. But this maneuver is rather counter-intuitive in the position, to say the least! Even if he tries 23…Rd8, after 24.Rfd1 Rxd3 25.cxd3 Rb4 26.b3, it's still hard for black to play. It's a somewhat atypical position because the Rook never ends up on c4 or b4 in this variation. From then on, new themes emerge. But black lacks the Rook on the open d-file, for which he paid dearly a little later.
In the game, I preferred 22.exf6 Bxf6 23.f5 Bf7 24.Bf4 Rb4 25.Nd1.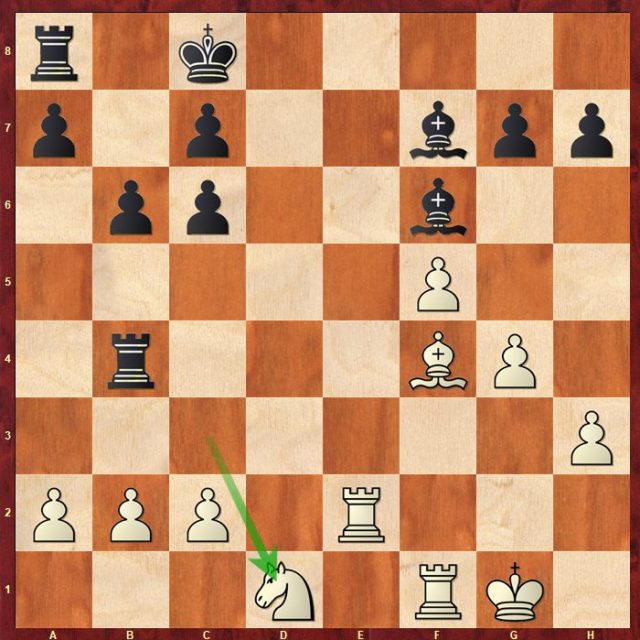 Here, you had to see that 25…Bc4! 26.Re4 Bxf1 27.Rxb4 Be2 28.Ne3 (it looks like it's better for white, at least that's what I thought during the game…) 28…Bf3! leads to equality, after 29.Kf2 (29…c5! intermediate) as after 29.g5 (29…Be7 and 30…Bc5).
Sanal missed this not at all easy opportunity and opted for 25…Kb7 26.b3 Rd4 27.Be5!. He probably wanted to play 27…Re8 but from the look on his face when I played 27.Be5, I think he forgot 28.Bxf6!. After 27…gxf6 (27…Rxd1 28.Rxe8 Rxf1+ 29.Kxf1 Bxe8 30.Bxg7 +-) 28.Rxe8 Fxe8 29.Re1, the endgame left little hope.
He therefore settled for 27…Bxe5 28.Rxe5 Rad8, but after 29.Re7, the endgame remains just as difficult to defend (1-0, 58 moves).
I suffered to draw my second game against Sarin (2694) because I wasn't precise enough in my Queen's Gambit Accepted. But the team signed its fourth victory, and it was now time to face the #1 seed, the Romanian team Superchess, sponsored by Superbet and led by Rapport and Anand…
In this match, I doubled black against Rapport (2752). I manoeuvered very well in the middle game, in which we took turns taking risks, but the wind shifted in my favor after some good strategic decisions:
I was happy with the way I had played to reach this position, notably with the exchange of the black-squared Bishops on h6, as well as the tricky maneuvers to gradually increase the pressure on the weak e4 pawn. Unfortunately, I missed the knockout here…
The pawn endgame was won after 36…a3 37.b3 f5! 38.Qf4 (I had seen 38.exf5 Qxf3+ 39.gxf3 Rxe2 40.Rxe2 Rxe2 41.Kxe2 and the key 41…g5!) 38…fxe4+ 39.Rxe4 Rxe4 40.Rxe4 Qxe4+ 41.Qxe4 Rxe4 42.Kxe4. At some point when he plays Ke4 with my king on f6, I'll reply …g5! and I obviously knew that in that case the game would be won. That's why I need to gain the opposition, because if I can get my king to e5 or f5, the game is over. What I missed in limited time was understanding how to prevent white's King from staying on e4 and f4. In fact, you have to triangulate with the King, for example 42…Kf6 43.Kf4 Ke7! 44.Kf3 Kf7, and repeat the maneuver if he plays 45.g3.
I missed a second clear-cut chance later in the ending: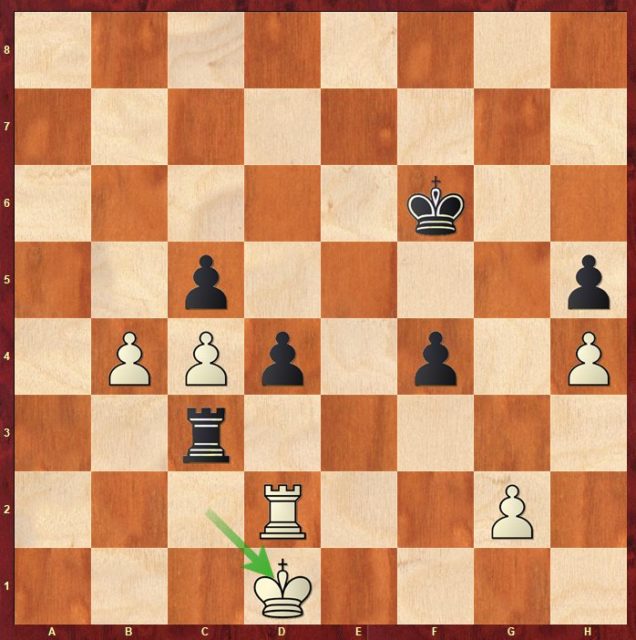 There are always hidden resources in Rook endgames!
My choice of 52…Rxc4? 53.bxc5 Ke5 was not the right one: 54.Re2+ Kd5 55.Re8! Rxc5 56.Kd2 and the white's Rook will succeed in a permanent harassment from behind (1/2, 67 moves).
However, there was a way! 52…cxb4! 53.Rxd4 b3 54.Kd2 (54.Rxf4+ Ke5 55.Rf2 Rxc4 wins, black pieces are too active) 54…Rc2+ 55.Kd3 and it almost becomes a study whose main line would be 55…Kf5! 56.Rd5+ Kg4 57.Rg5+ Kxh4 58.Rg8 Rc1 59.Rb8 Kg3 60.Rxb3 Kxg2 -+. But during the game I wasn't sure of myself and didn't make the right choice.
In fact, in this game, each time I had two tempting choices. I wanted to go for the simplest and each time I went for the most complicated (a great classic 😊).
Unfortunately, this missed half-point prevented us from snatching a draw in this top-of-the-table duel.
We got our revenge the next day by beating the Israelis from Beersheva. I won against Mikhalevski (2527).
The competition concluded the next day with a match of all possibles against the Norwegian team of Offerspill, led by world #1 Magnus Carlsen: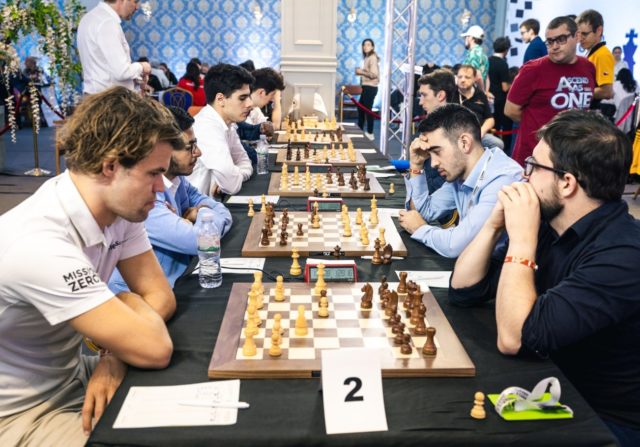 I played a good game, thanks to a good preparation with black, which very quickly brought me to the following position: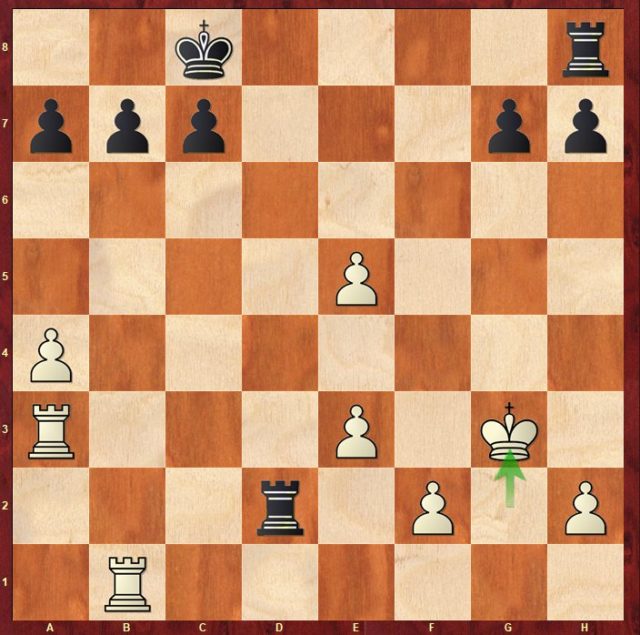 This endgame was actually a little trickier than I first thought when I got into it.
A normal move, e.g. 24…Rhd8, would have been possible provided I activated my majority on the Queenside. But in that case, his two Rooks would have come into play. Exchanging a pair of Rooks, for example on d3, would not have been an option, as his e-pawn would then have become too strong. With the 4 Rooks, he could easily have played Rg1 to force …g6 and then continue with h4-h5. His King would have found himself on e4 relatively protected, ready to infiltrate f5 and support the e-pawn. As long as there are all 4 rooks on the board, I can never play …b6 and …c5, as white responds with a5-axb6 and hits the b-pawn, while infiltrating the a-file, after which his e-pawn advances on its own. So, above all, I had to prevent h4.
I mobilized myself, took my time organizing the defense, and found the right moves, starting with the good sequence 24…Rf8 25.f4 g5! (preventing h4 – blocking white's pawn phalanx) 26.a5 (26.fxg5 Rf5 ; 26.Rb4 c5! 27.Rb5 b6 28.a5 Kc7 29.axb6+ axb6 30.Ra6 – otherwise 30…Kc6, black's King supports its pawns and all three results become possible! – 30…gxf4+ 31.exf4 Rd3+ 32.Kg4 Rd4, we'll exchange all the pawns and stay good friends!) 26…gxf4+ 27.exf4 Rd4 28.Rf3 Rf5! and I've managed to create the conditions for a white-square blockade (½, 47 moves).

Unfortunately, the team lost by the slimmest of margins, after a match that came down to nothing. Instead of a podium finish, or even a final victory on the wire, we had to settle for seventh place. The Cup – Championship – European Cup triplet didn't happen, but I think Asnières can still be proud of its team's results this season! And let's not forget to congratulate Offerspill's squad for becoming European Champions!
On an individual level, I'm now preparing for the Isle of Man Grand Swiss (October 25 – November 5), which will offer 2 new places for the 2024 Candidates, just before heading off to the American continent for a rather long tour, since the return to Paris is scheduled for December 18!
Maxime's games in Speedchess :
Maxime's games in the AI Cup:
Maxime's games in Tirana:
Jean-Philippe Toussaint, a prolific author who has won numerous awards, including the Médicis in 2005, has often peppered his work with references to the game of chess. In fact, his first book is entitled «Echecs». At the beginning of September, as a well-informed German speaker, he published a new French translation of Zweig's famous work «The Chess Player», which he renamed «Echecs» («Chess»). At the same time, Jean-Philippe Toussaint has also published an autobiography that he himself hopes will be «the chessboard of [his] memory». Entitled «L'échiquier» («The Chessboard»), it contains numerous accounts of his passion for the game and his encounters with chess personalities. On the occasion of this publication, «Philosophie Magazine» organized a (long) interview between Jean-Philippe Toussaint and Maxime, during which many themes were discussed. Chess and writing take center stage, of course, even if the interview occasionally drifts towards other metaphysical shores!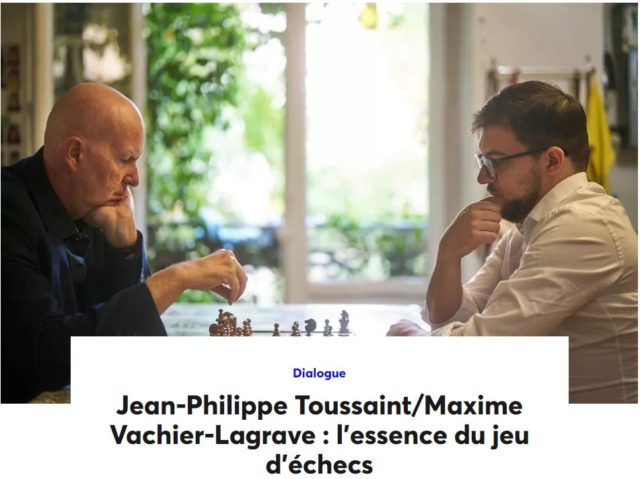 Image : Philosophie Magazine