After a first stage in Leuven (Belgium), the 2018 Grand Chess Tour caravan stopped in Paris, Canal + studios, for almost a week…

Day 1
The first of three days of Rapid games. I started against Karjakin, who repeated what he had played in Leuven a few days ago. But this time, I was prepared, and I gave a pawn for the initiative. As the position was easier to play for black, I got a slight pull, but he defended well. I don't know if I missed something. A good game to begin with, even if with a bit of luck, I could have earned the whole point.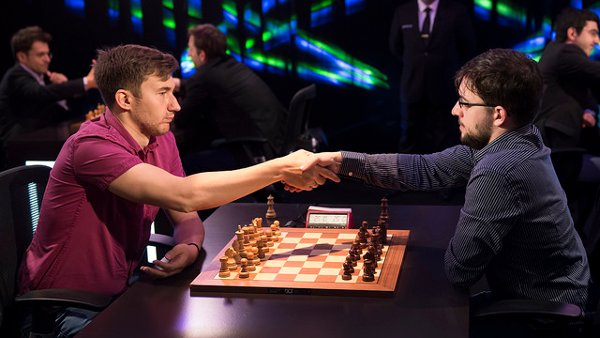 Against Caruana, I had the impression I was pressing, but nothing really concrete. Then, against So, the disaster…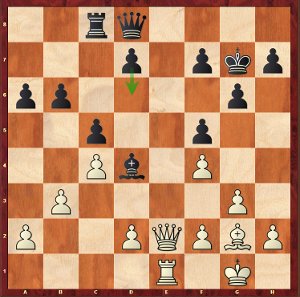 Almost any other move than 20…d6?! would have kept the position equal, whereas after 21.Qe7 Bf6 22.Qb7 a5 23.Bd5 Rc7? (23…Qc7 was still acceptable) 24.Qxb6 Re7, I had completely forgotten 25.Rxe7! Qxb6 26.Rxf7+ with a nightmarish endgame for black. Indeed, I could have resisted had I played 29…Qb4 instead of 29…Qd4?, but I was still shaken by my miscalculation.
Day 2
I played against Grischuk what I had previously tried against Caruana, in the new fashionable e3/Be2 line against the King Fianchetto. This type of Benoni structure is perhaps not objectively the best, but it offers unbalanced positions that I like best. In the spirit of the position, I sacrificed a pawn on a7, but I only played19…Nxd5? because I had completely forgotten about 20.Ne4!. Nevertheless, the position remained double-edged, and in the critical position after 28.Re1, my intuition told me to play the natural 28…Dd7. Unfortunately, I only saw the problem with my 28…d4? just after I had played the move. While he was thinking, I understood that 29.Rxg7! would be a cold shower for me.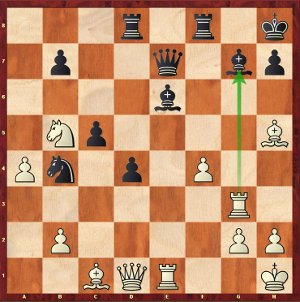 I had anticipated 29.Bg4 Bxg4 30.Rxe7 Bxd1 31.Rgxg7 Bc2!, but not the simple 29.Rxg7! Qxg7 (29…Kxg7 30.f5 Rxf5 31.Qg4+) 30.Rxe6 with two pieces for the Rook.
After two losses and two blunders in a row, I tried to tighten my play against Nakamura. He ran into difficulties on his own, by massing his pieces on the Queenside.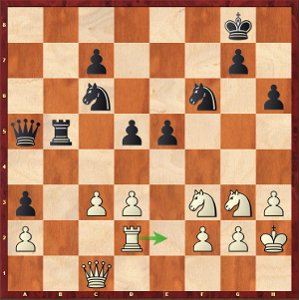 I should have chosen 27.Re2 instead of 27.d4, which leads to the exchange of four Knights and to an equal heavy pieces ending. After 27.Re2, the position would have remained unbalanced, though white would have kept a tiny pressure.
Next round, I played my best Rapid game, with black against Anand. I took over the advantage step by step in a Najdorf.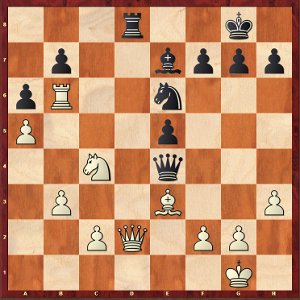 Here, Vishy played 28.Qe2, as I had planned a nice trap on the expected 28.f3; 28…Qxc4! 29.Qxd8+ (29.bxc4 Rxd2 30.Bxd2 Bc5+ 31.Kf1 Bxb6 32.axb6 and the a6 pawn is very dangerous) 29…Bxd8 30.bxc4 Bxb6 31.Bxb6 and black is better in the endgame. After the exchange of Queens, I think I was very close to the win, and maybe I missed it somewhere, but it was really not easy in any case.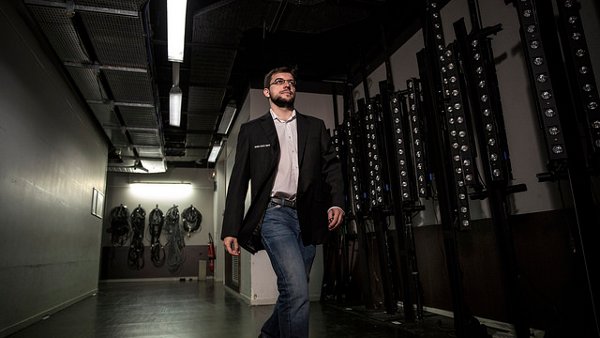 Day 3
In the subvariation of the Spanish chosen by Mamedyarov, I decided to improvise by 7.h4, as I was seduced by the idea.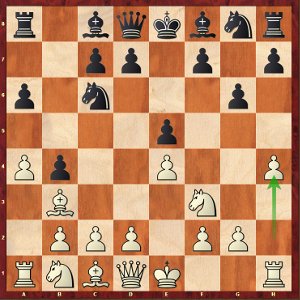 Later, he allowed me to transfer my Knight from b1 to f3 with tempo, which was quite nice ! Therefore my position, though not really superior, was becoming easier to play.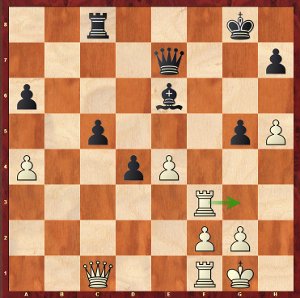 I'm rather happy with my wrapping up 29.Rg3! followed by 30.f4-f5, which didn't allow him to advance his pawns, whereas the other option 29.e5 c4 30.Rf6 was far less convincing.
Not a lot to say about the following black draw against Kramnik, who tried every possible thing till the end, without exceeding limits as he sometimes does.
In the last Rapid game, against Aronian, I succeeded in making my initial Bishop pair advantage grow. One could say that I extracted the maximum from the position.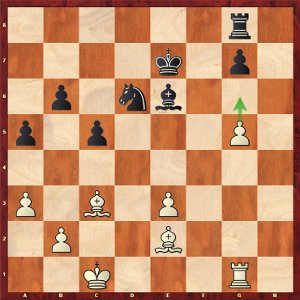 When my g pawn landed on g6, I understood how difficult it had become for black. The simplest way out would have been to recognize that he had to defend the R+B vs R ending, when the opportunity occured. But he wanted an easier draw, and that was fatal.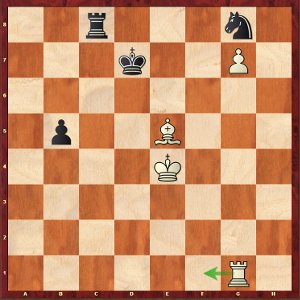 Day 4
First half of the blitz portion, quite successful for me on the whole, with 6/9 and things under control. After an uneventful draw against So, I took over the advantage against Caruana.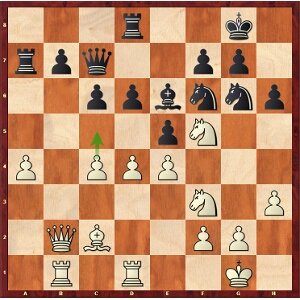 But instead of the simple 29.dxe5 dxe5 30.Rxd8+ Qxd8 31.Nxe5, I rendered things complicated with 29.c5?, completely underestimating, after 29…dxc5 30.dxe5, that black would have a strong initiative with …c4 et …b5. The remainder of the game was a huge tactical mess where I was more or less dead lost throughout !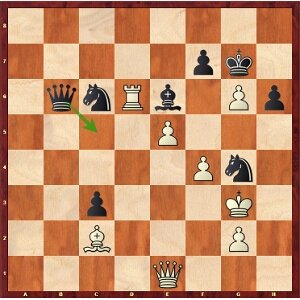 And Caruana ended up being flagged while playing 54…Qc5, just when the position was going my way at last !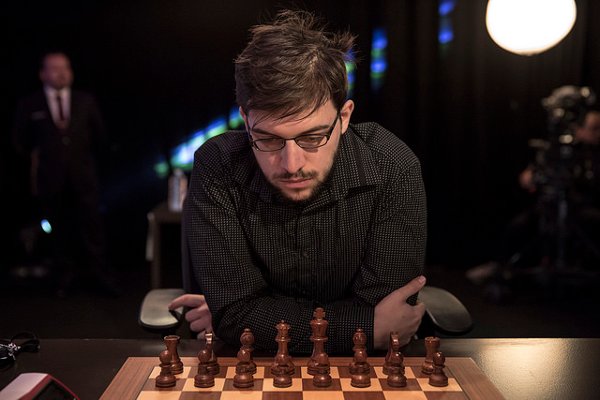 Contrary to what had happened in the Rapids, Anand efficiently countered my Najdorf and got an edge. But by letting me pushing my pawn up to b3, and above all, by allowing 26…e4! which revives my Bf6, he took incomprehensible decisions leading to a quick deterioration of his position.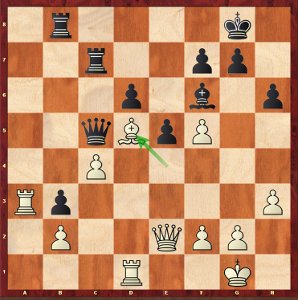 Against Nakamura, in a kind of g3 Dragon, I first set the small trap 11…Ne5.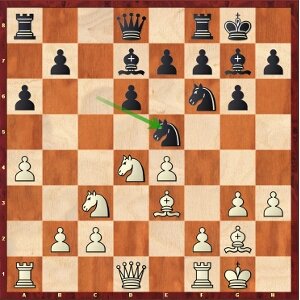 If he prevents …Nc4 by 12.b3?, then 12…Qc8 attacks both h3 and c3 ! After the correct 12.Nde2, the position remained balanced.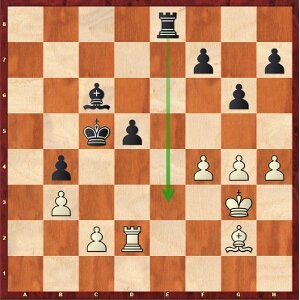 Despite my slight space advantage, I couldn't do anything, …d4 being impossible, and the manoeuver …Re3+-Rc3 countered by Bf1-d3.
In the next game, I got a large advantage against Aronian.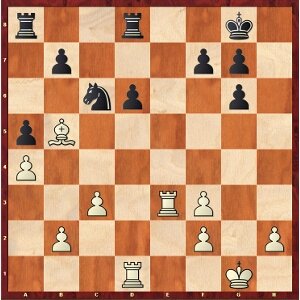 But instead of winning the d6 pawn by 26.Red3, I thought I could take a more technical approach by 23.f4, avoiding any disturbance from his Knight via e5. But « if it ain't broke don't fix it », as I finally had to satisfy myself with a draw after 23…Kf8 and the Knight transfer to f5, via e7.
An off-form Mamedyarov was then put back into the tournament thanks to my first blunder of the day!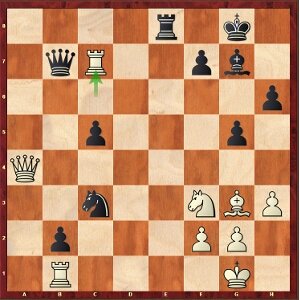 In this very complex position, I chose 28…Qb8?, forgetting 29.Qd7! Rf8 30.Rb7 and white wins, as the b2 pawn is also going to fall after 30…Qxb7 31.Qxb7 Nxb1 32.Be5!. The alternative was 30…Nxa4! 31.Rxb7 c4 with a ferocious fight between the two connected passed pawns and the Rook !
It should also be noted that later, Mamed almost played 33.Qxb2?.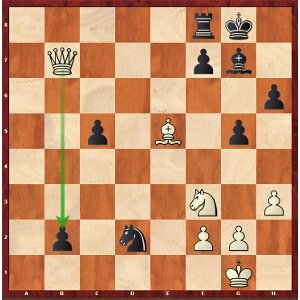 He would then have fallen into a nice blitz trap, 33.Qxb2? Nc4 34.Qc3 Nxe5 35.Nxe5 Re8 36.Qxc5 Rxe5 with a probable fortress !
Then I got back on track in the tournament against Karjakin, although he had accumulated victories in the previous rounds ! I felt he had a lot of confidence, for instance when, in the following position, he played such a move as 22…Qd6! instantly !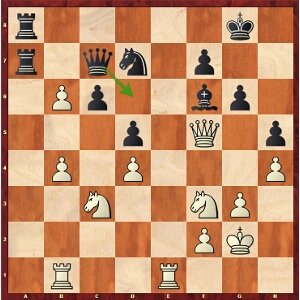 He took a slight edge, until he allowed a nice combination: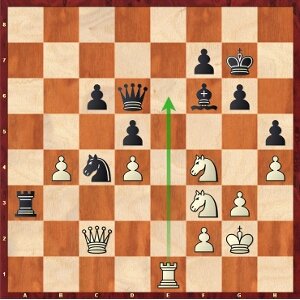 After 29.Re6! Qd7 (29…fxe6? 30.Qxg6+ with a decisive attack) 30. Ne5, I took over the initiative. He didn't like the position and commited a mistake by transposing into an ending with 30…Qa7 31.Nxc6 Ra2, after which I played with the maximum safety as I didn't have much time left – about ten seconds. These technical endgames are always difficult to play with few time on the clock, and it's very easy to panick.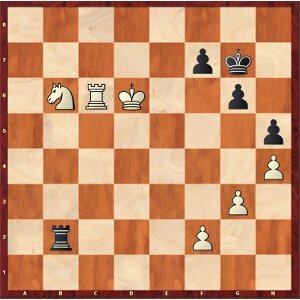 For instance here, not having the time to calculate 54.f4 Tb3, dropping out g3 to attack f7 with both Rook and Knight, I hesitated a few seconds between 54.Nd5 and 54.Rc3, before realizing that the latter would have left the Nb6 en prise… Not the most technical!
Against Grischuk, I quickly had difficulties and he played really well, until the following endgame position: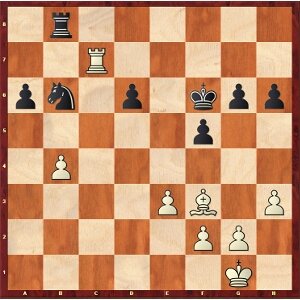 Here, the simple 40.Rb7 Rxb7 41.Bxb7 g5 42.Bxa6 Nd5 43.b5 Nc7 should be enough to win, but Sacha didn't like to have the b5 pawn and the Bishop a bit paralyzed. Otherwise, 40.g3 followed by Kg2 would also have done the job, as black has no moves. Instead, he played 40.Ra7?, but 40…Nc4 forces an immediate draw.
For the last game of the day, against an off-form Kramnik, I decided to play real fast, in order to create as many problems as possible.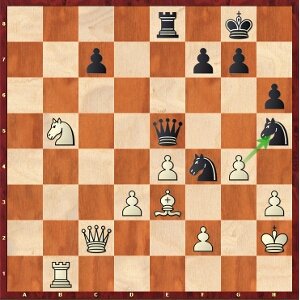 My position is a winning one, but I decided to avoid 29.Qxc7 Qg5, even if I suspect that a move like 30.Nd6 easily wins. In the game, I preferred the funny 30.gxh5, with no useful discovery for black.
Day 5
Unfortunately, it didn't take long before I understood that things wouldn't go my way on that last day, particularly after I stupidly lost the first round against So. I played badly and went into an opposite-coloured Bishops endgame a pawn down that might look drawish at first sight, but which is awfully difficult to defend. I didn't succeed.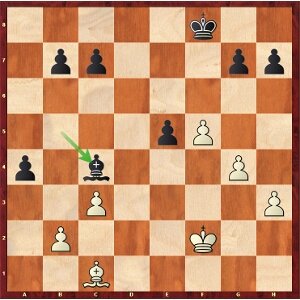 The next games didn't reassure me. Against Caruana, I drew by miracle at the end of a long fight, after having played the freeing …c5 one move too late.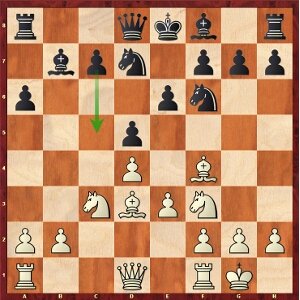 After 9…Be7? 10.Na4! c5 11.Nxc5 Nxc5 12.dxc5 Bxc5 13.Rc1 Bd6 14.Qa4+, white is up several tempi.
Against Anand, I improvised on the board a subvariation of the Scotch (7.e5), forgetting that after 9.Bf4, 9…g5! is the well known best move. I then chose to sacrifice a pawn for limited counterplay, but it worked perfectly well, and I even got a winning advantage rather soon: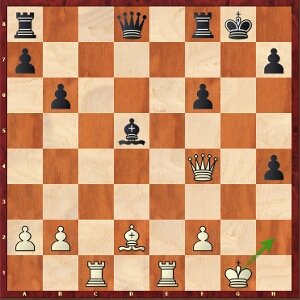 Unfortunately, I played the terrible 25.Rc7?, which gives back the advantage to black after 25…Rf7 and a further exchange of Queens, even though I ended up drawing this game. After 25.Kh2! instead, folowed by Rg1 and Bc3, white would have had a decisive attack on the black squares.
But my day of misery was not over yet, the next game against Nakamura being a complete failure.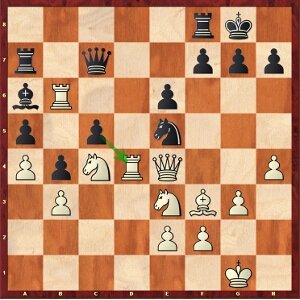 With my Rook locked on b6, black just has to exchange on f3, or even on c4 first, before to gobble the exchange. For instance 28…Bxc4 29.Nxc4 Nxf3+ 30.exf3 cxd4 31.Qxd4 Rd8 remaining an exchange to the good. But Naka played too fast and preferred 28…cxd4?, allowing 29.Qxe5 Qxe5 30.Nxe5 dxe3 31.Nc6! and I maintained the balance by winning the exchange back.
After a more or less correct draw with Aronian, I again messed it up, this time against Mamedyarov.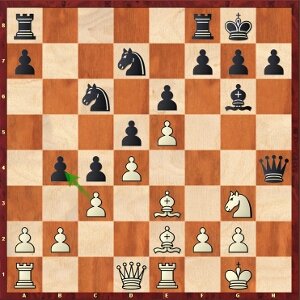 played 17.cxb4? because I forgot that d4 remains en prise after 17…Nxb4 18.Qd2 Nc2, preventing the intended 19.Bg5 which traps the Queen because of 19…Qxd4. Fortunately, after 19.Rac1 Nxe3 (19…Nxe1?? 20.Bg5) 20.Qxe3 followed by a quick b3, I got a bit of counterplay. I then decided to speed up the rythm, and he cracked a few moves later. My first win of the day, and not a very glorious one!
I then scored a second win against Karjakine, who didn't anticipate an original Knight manoeuver: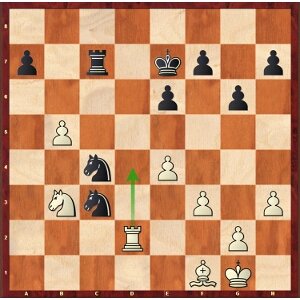 35.Bxc4 should have been enough to draw, but after 35.Rd4? Na3! 36.Rb4 Nc2!, white loses the pawn on b5. I smoothly converted the advantage.
Despite a poor level of play, I was back, near the top of the tournament standings two rounds before the end. I hoped I could end up on the podium but unfortunately, it was not to be.
After a long closed game against Grischuk (draw), the very last game I lost to Kramnik looked like a sketch, including the exceptional 27…Bxe3? In the following position: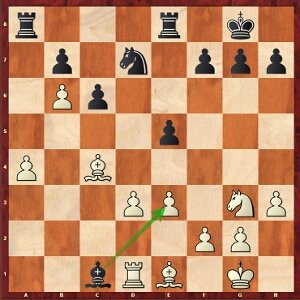 After 27…Bxe3? 28.fxe3 Nxb6 29.a5 Nxc4 30.dxc4 Red8, I forgot that the Knight would end up on c5, via e4, demolishing black's position. The other version of « Rook vs two minor pieces » coming from 27…Nxb6 28.Rxc1 Nxa4 would have been less of a disaster, but the simple 27…Ba3 28.a5 was the lesser evil, even if white also keeps an edge there.
Congratulations to Hikaru Nakamura, who wins Paris for the second time.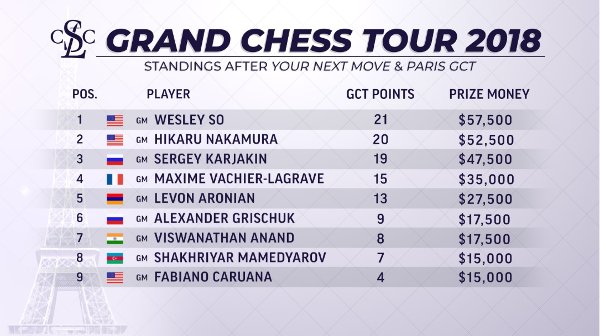 On my side, I'm 4th in the Grand Chess Tour (GCT) rankings after the first two tournaments, and before the Saint-Louis Rapid and Classic, which will take place one after another from August 11th to 27th. This year, only the top 4 finishers out of the 9 GCT players, will qualify for the London finals, scheduled in December.
[otw_shortcode_quote border="bordered" border_style="bordered" background_pattern="otw-pattern-1″]Seul, ou parfois même accompagné

In Leuven, Maxime was on his own, while some other players had chosen to bring a second. Grischuk was helped by Vlad Tkachiev, Karjakin by Denis Khismatullin, Giri by Erwin L'Ami, and Nakamura by Kris Littlejohn. In Paris, Maxime decided to call upon Etienne Bacrot as, unlike last year, France #2 wasn't offered a wildcard to participate. This is the reason why Etienne spent five days in the rest room of the tournament, ready to give advices and boosts…[/otw_shortcode_quote]
Official site : https://grandchesstour.org/2018-grand-chess-tour
Maxime's games in the rapid tournament:

Maxime's games in the blitz tournament: