After the end of the Gibraltar tournament on January 31, my schedule of February and March has been rather light. But it allowed me to recharge the batteries and to train more deeply, before to dive into an 8-month period, between April 20 and Christmas, which I expect to be the most intense in my career. But I won't be alone here, as a lot of my colleagues will also have to go through the same agenda!
That's because of an international calendar which could not be harmonized, and forces us to play all FIDE tournaments (Grand Prix, World Cup and Grand Swiss), all Grand Chess Tour ones, as well as private tournaments and French Team Championships, between end of April and December!
In the early days of April though, I had a foretaste of what's awaiting me in the crazy 2019 schedule, which will begin on April 20 when I play the Grenke Classic with the likes of Carlsen, Caruana, Anand and Aronian…
It began on April 4, when I spent the day with an Eurosport crew for a TV shoot, which should be on air pretty soon.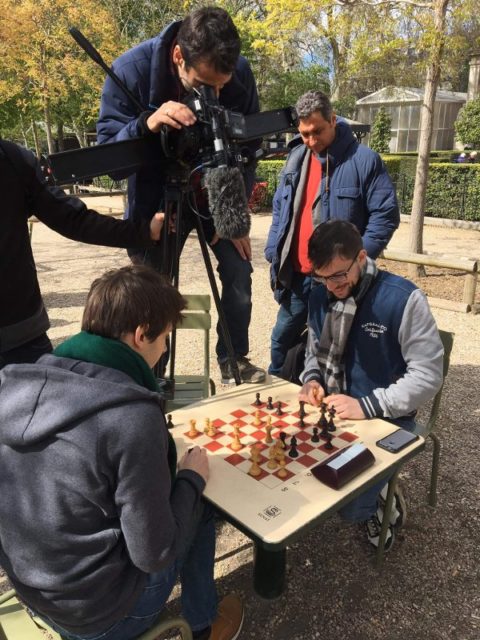 Next day at noon, I caught a flight for Düsseldorf, as I had to join my Baden-Baden teammates some 30 kilometers further, in Solingen, for the last Bundesliga weekend of the season. The decisive match against Solingen was precisely scheduled on the afternoon of Saturday.
On the first board, I faced India #2, Pentala Harikrishna (2723):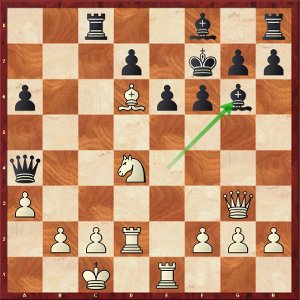 Until there, Hari had followed my game against Anand, played last year in Grenke Chess (1-0, 39 moves).
A surprising choice, as he had already thought for quite a long time, and I was wondering where he expected to improve black's play. But in the diagrammed position, I was the first to deviate with 19.Ree2. Indeed, I remembered that against Anand, after 19.Bxf8 Rhxf8 20.f4, black could have played 20…Qc4! 21.Qxd7 Bf7! and the double threat of 22…Rfd8 and 22…Qa2 allows him to keep the balance. I knew that 19.Ree2 was the best move, but I needed time to understand why it was the case after 19…e5! I finally found the cunning 20.b3 Qa5 21.Qh3!, and if 21…Qc3 22.Qxd7+ Kg8, which looks strong for black, I have 23.Rd3! on hand, freeing d2 for the KIng (23…Bxd3? 24.Qe6 mate). So he opted for 21…Rd8, but I earned a huge edge after 22.b4 (the Qh3 protects a3!) 22…Qa4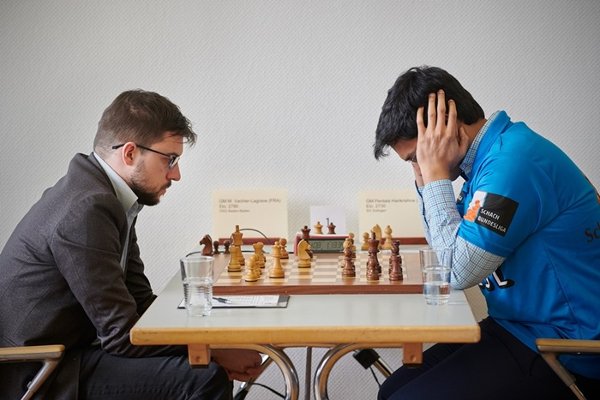 23.Qb3+! Qxb3 24.Nxb3.
Unfortunately, I played badly in the technical phase. I wanted to avoid complications and any hint of black counterplay, but in doing so, I let him come back into the game, until a moment when he could force a clearcut draw, which he missed!
Then we ended up playing the following ending: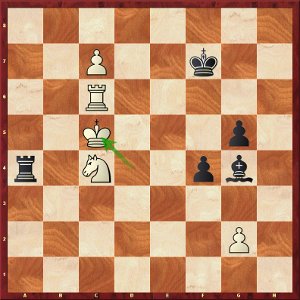 Here, black's last chance was 57…Kg7 58.Ne5 Ra5+ (58…Bc8? 59.Rg6+) 59.Kd6 (59.Kd4 Bc8 60.Rg6+ Kh7 61.Rxg5 Ra7! and the pawn on c7 falls) 59…Bc8 and the outcome remains unclear. In contrast, after Hari's choice 57…Ke7?, I was able to play the simple 58.Rg6 Ra2 59.Rxg5 after which I was almost certain to win, especially when seiing my opponent becoming more and more feverish (1-0, 67 moves).
So we won against Solingen, and the next day, we had to confirm against a theoretically weaker team (Düsseldorf), in order to guarantee the Bundesliga title. A match which gave me the opportunity to play against a chess legend for the first time in my life, Jan Timman (2549), still active at 67.
I played quite quickly with black, trying to avoid drawish lines and keep the position alive. Timman reacted quite correctly, and kept the game afloat until we reached the following position: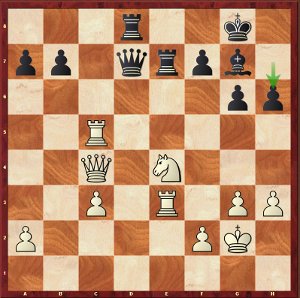 Here instead of 29.g4 or 29.h4, Timman chose the catastrophic 29.Qb3? which loses material. It is not obvious at first glance, but after 29…b6 30.Rb5 (30.Rc4 Kh8! and white shouldn't survive the threat 31…f5) 30…Qc6!, the pin on the long white's diagonal happens to be decisive. The game ended after 31.Rb4 (31.f3 Rxe4! followed by 32…Rd2+ and 33…Qd7 with a mating attack) 31…Kh8 32.Kh2 f5 33.Ng5 Rd2! 0-1.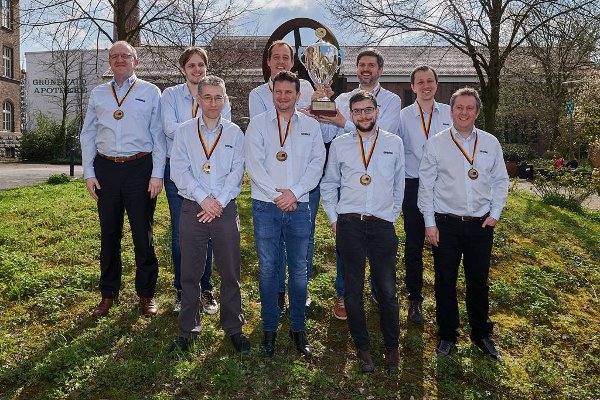 The calendar being what it is, www.chess.com couldn't find an ideal date to fit its first online Bullet Championship. It finally took place at the same time than the last Bundesliga weekend, though in the evenings. Bullet, especially without increment, is a merciless format (one minute each KO). It puts the emphasis on calculation speed, use of the mouse, and « premove » science! (ie. anticipate one's own move before to see the opponent's one, in order to win extra time). Therefore, hierarchy is not necessarily the same, and real Bullet experts, like the Ukrainian Oleksander Bortnik or the young Iranian prodigy Alireza Firouzja, have earned their place in the 8-player final bracket.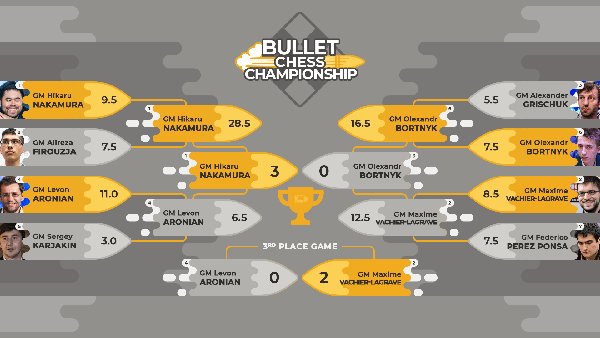 My « real » Saturday game against Harikrishna had been quite a long one, so the time left was scarce in order to be in my room for my scheduled ¼ final match against GM qualifier Federico Perez Ponsa, from Argentina! Just enough time to have a quick bite and I won very narrowly in overtime (8.5-7.5). Later in the evening, I played Bortnyk in the semi-final. I already had the opportunity to play Bullet series against him a long time ago, with a very tiny overall lead. But maybe this very long day of chess was a bit too much  and I lost the match 12.5-16.5.
The next evening, after having completed the Bundesliga weekend, my follow-up was the Bullet Championship third-place match against Aronian, played best of 3 sets of 6 wins. I won (6-2, 6-0) while a few minutes later, Nakamura easily clinched the title against Bortnyk (6-1, 6-2, 6-1).
It was time for me to go to bed, because the Marathon was not over yet! The next morning, I had to travel to Gonfreville l'Orcher, near Le Havre, where I was expected to attend the closing ceremony of their 50th International Open, and then give a simultaneous display on 28 boards.
Under the leadership of Cyrille Vaugeois, the sympathetic Norman club is renowned for its organizational abilities, and I could indeed witness it with my own eyes when I came to Gonfreville as a spectator for the 2016 French Youth Championships.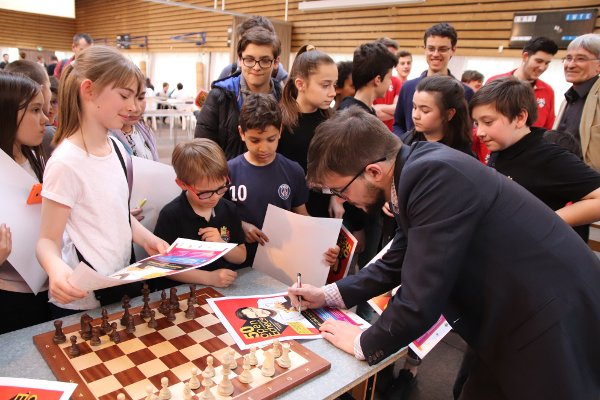 Of course, the result of a simultaneous display remains anecdotical, but I have to point out that Rouen player Bilguun Bat (2163), who is 12 years old or not yet, was the only one to earn a draw, though it would have been no scandal had he won the game! Other youngsters tried to trick me with timely draw offers, but I remained merciless ! 🙂
After the signing session, the cocktail, and the unavoidable night blitz games, I was taken back to my hotel and could enjoy a well-earned rest, after five intense days!
Playing an online chess tournament is not always easy. You need a reliable connection, a good mouse, a quiet environment… Playing from an hotel abroad doesn't necesarily help either. Yet this is what Maxime's Bundesliga teammate Levon Aronian and himself had to do from Solingen's Hotel Maritim lobby, in order to play the Bullet Championship. Having both lost their ½ final match, they were supposed to meet for the third-place match the next day. Fortunately, they were able to avoid an online duel 2 meters away from one another – which would admittedly have been funny – as Maxime had booked an hotel room at Düsseldorf airport, to be sure not to miss his plane on the next morning (6,40 am !), and to reach Gonfreville l'Orcher on mid-day!
Mxime's Bundesliga games:

Bullet tournament games :