For the second year Brest, France's most western city – at the tip of Brittany – was hosting the Top 12, Elite division of the French Team Championships. So twelve squads of eight players each fought in an 11-round robin tournament, May 18-28. For the first time, I was playing for Asnières, newly promoted from Nationale 1 division, but who offered solid guarantees though, with the arrivals of Matthieu Cornette, Jules Moussard, Pentala Harikrishna and myself…
It's been a while since I last stayed during the whole Top 12, and I have to say it was pretty cool and refreshing, compared to the usual Top tournaments; indeed, I came across a lot of old acquaintances, that I rarely get the chance to see elsewhere!
Most Asnières players were accomodated in a big house at the seaside, just a 30-minute drive away from the playing hall. The place was nice, which is quite important for such a long stay. Besides chess preparations for the games, we could easily entertain ourselves; billard, card games, board games (Time's Up!® and especially Bluffer® have prevailed!). We sometimes had small getaways outside on the coast, including a few aborted climbing tries with buddy Jules (Moussard), which I will not elaborate on!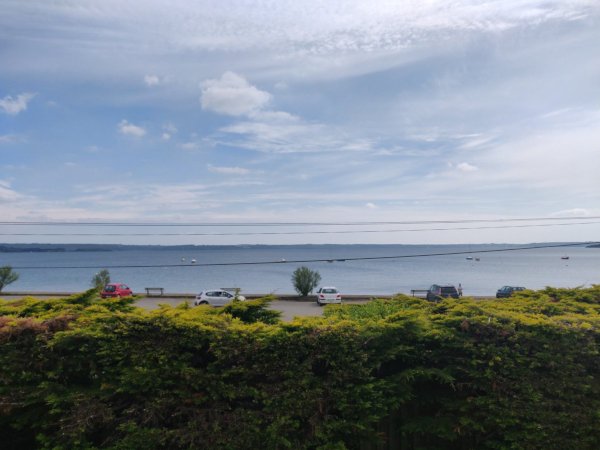 Let's have a look at the 5 games I played in Brest:
METZ-ASNIERES (Round 1)
Malakhov (2660) – MVL 1/2
A very average start, as I messed up badly in the opening!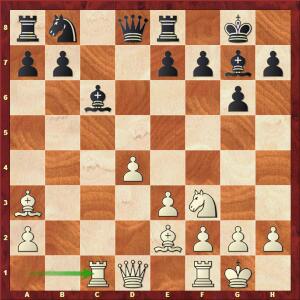 Here, I played 13…Qa5 against Nakamura, in the decisive game of the 2018 Grand Chess Tour final, and I quickly lost.
So I changed with 13…e6?!, which is not really better and above all, was not the intended improvement! After 14.Nd2 Nd7 15.Bf3, I understood that my position was becoming troublesome, and I decided to give a pawn. The ensuing ending was still a tough one to defend, but I ultimately succeeded, in spite of a few scares (1/2, 56 moves).
ASNIERES-CLICHY (Round 4)
Mvl-Amin (2704) 1-0
This time, the opening went very well, against the Spanish Breyer of Africa #1. I was able to rely on an old prep, according to which black is in serious trouble if he can't prevent white to play f4 under good circumstances.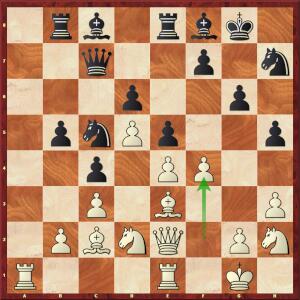 After 25…exf4 26.Bxf4 Nf6 27.Qf1 Nfd7?! (he had to look for counterplay with 27…b4) 28.Nhf3, white has a huge advantage (1-0, 42 moves).
GRASSE-ASNIERES (Round 5)
Santos Ruiz (2549)-Mvl 1/2
I was very surprised by the young Spanish GM's choice of 1.e4. Therefore, I decided to deviate from my usual repertoire in the Najdorf 6.h3, with 6…e5 7.Nde2 b5 (instead of 7…h5), which was probably not a great idea. On move 28, I felt that I should avoid to go crazy, that I would never win this game anyway, and thus I offered a draw.
Après 25…exf4 26.Fxf4 Cf6 27.Df1 Cfd7?! (il fallait tenter le contre-jeu par 27…b4) 28.Chf3, les blancs ont un net avantage (1-0, 42 cps).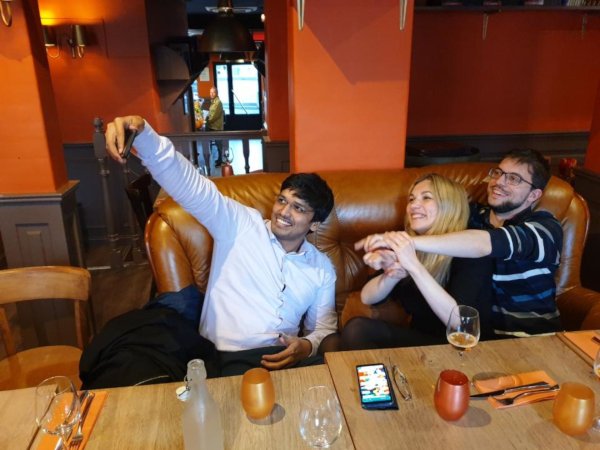 NICE-ASNIERES (Round 8)
Mvl-Lagarde (2600) 1-0
Against a dangerous team, it had been decided that I would go down on board 2 with white. I liked what I got from the opening, but Maxime reacted very, very well, especially when he sacrificed a pawn…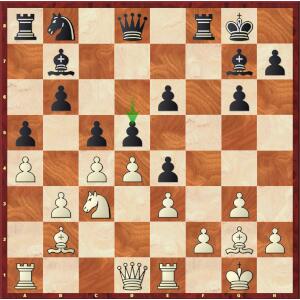 15.dxc5 Na6!. Until then, I thought my position was fine, but I have to admit I missed this move. By the way, I never felt worse in the whole game, which probably helped me! However, I probably face a few problems objectively after 15…Na6!, even though the position remains highly complicated. If 16.cxb6 Nb4 17.Bf1 (I rejected on principle 17.cxd5 Nd3 18.dxe6, a line the machine serenely considers though!) 17…d4! didn't appeal to me, and so I chose to give back the pawn with 16.c6. With Maxime taking a lot of time thereafter, I tried to take benefit from his zeitnot, and we probably both missed things. I won the exchange, but thanks to a very strong pawn on f3, it is likely that black had enough compensation.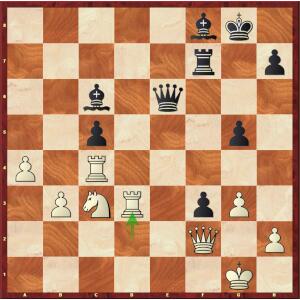 Here, with very little time left, and complicated choices to make for his last three moves before the time control, I did suspect that Maxime's task would be tough. And he actually collapsed on move 40 🙂 ; after 38…g4 39.Re3 Qd7 40.Ne4 h5? (40…Qf5!) 41.Nxc5 Qf5 42.Ne6!, black's position is in ruins (1-0, 46 moves).
It is rather incredible that, despite Hari and me winning on the first two boards, we still lost the match!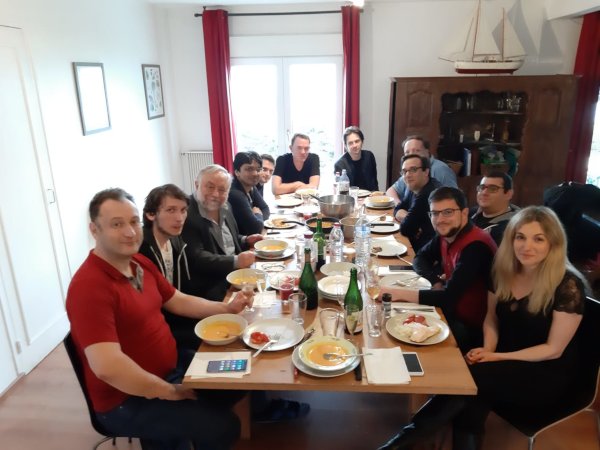 BISCHWILLER-ASNIERES (Round 10)
Mvl-Fressinet (2640) 1/2
Once again, I played on board 2 with white, in a match that would be decisive for the title. I think we chose a good team composition, which I had been making the previous evening. For the sake of efficiency, I didn't take into acount any colour data from the previous nine rounds…
I didn't really expect to play against Laurent (Fressinet) on board 2, so I hadn't focused on him during the preparation. Still, the Spanish Moeller was one of the options I had vaguely considered. I must admit I didn't get a lot from the opening, but anyway, I managed to put a little bit of pressure progressively.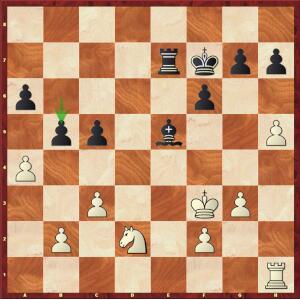 Here, I didn't play 36.axb5 axb5 37.Ne4 because of 37…b4, and I preferred 36.Ce4 immediately. Though I had totally forgotten 36…bxa4!? played by Laurent, it doesn't change the whole evaluation that white remains slightly better. Unfortunately, I took a wrong decision at a critical juncture a few moves later…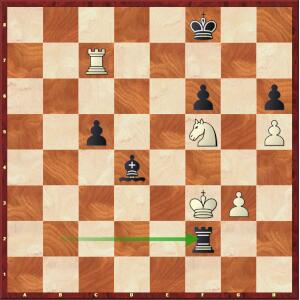 Should white's King go to e4, or to g4? I had foreseen 45.Kg4 Re2 46.Nxh6 Re4+ 47.Kh3 (47.Kf3 Re3+ 48.Kf4 Be5+ 49.Kxe3 Bxc7 should be a draw) 47…Re5 48.g4 Re3+ and black escapes. That's the reason why I finally chose 45.Ke4?, but after 45…Re2+ 46.Kd3 Rg2 47.g4 Be5 48.Rxc5 Ff4, black sets a fortress much easier to defend than I thought it would be. I can never implement the winning plan of bringing my King to g6. In view of the match situation, I still tried for a long time, all the more so since it is never easy for black to defend on the board, but Laurent was up to the task…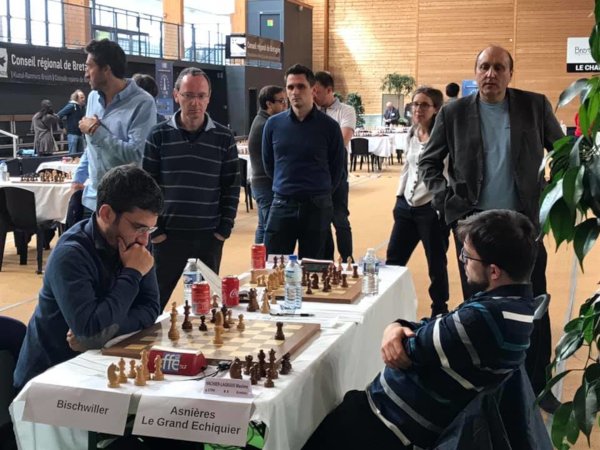 It's only after the game was over that I was told about the sequence 45.Kg4 Re2 46.Rc8+! Re8 47.Rc6! followed by 48.Nxh6, which is certainly winning, because c5 is under control, the King will activate through the white squares, and the h pawn is a terror. This little Rook manoeuver is not so difficult to understand, the only thing is to be able to consider it!
All that remains is to congratulate Bischwiller's team, who kept his national title in an indisputable way, if you look at their 11 wins for as many matches! For our part, the team had a very fine first half, with victories without any scare, if not brillant. Unfortunately, we cracked in the last third, against Nice and Bischwiller…
That being said, to be vice champion when the team has just been promoted in the Top 12, remains a very fine result for Asnières. I hope that the town, as well as our partners, will continue supporting us in 2020, when we will again fight for the French champion title.
Eurosport has broadcast on May 19 « 24h with MVL », a documentary that had been filmed in Paris a few weeks before. Lasting 3'30'', it briefly describes a world-class chess player's life. The doc was released in several languages (english, german, spanish, italian), and is available in replay in a slightly shortened version. You will find above the english doc, kindly provided by Eurosport channel.
TOP 12 official site: https://brest2019.ffechecs.org
Maxime's games :