2019 Grand Chess Tour has begun in Africa, a premiere for a world class tournament. By the way, it was also a first for me… The tournament itself took place in the Pullman Hotel, where we were also accomodated. From this point of view, nothing new under the sun, as everything was on par with western standards, with the addition of a local flavor in the food that was welcome. Of course, our luxurious surroundings were sort of clashing with Abidjan's reality. And yes, I had the opportunity to visit the town during the tournament, which doesn't happen very often! Indeed, organized in collaboration with Vivendi and Canal+ teams – as will be the Parisan leg – this tournament has given place to another premiere; the filming of a 26-minute, two-part documentary for French-speaking audiences, with large highlights on my own tournament course. The second part will be filmed during Paris Grand Chess Tour leg, at the end of July. Thus, I had the opportunity to visit Abidjan during the first days, helped by the fact that games were scheduled at 5pm. I had a lot of good moments with Ivorian people; we played blitz sessions in the middle of nowhere, memorable though improvised football games with kids 🙂 , or simply had a drink somewhere.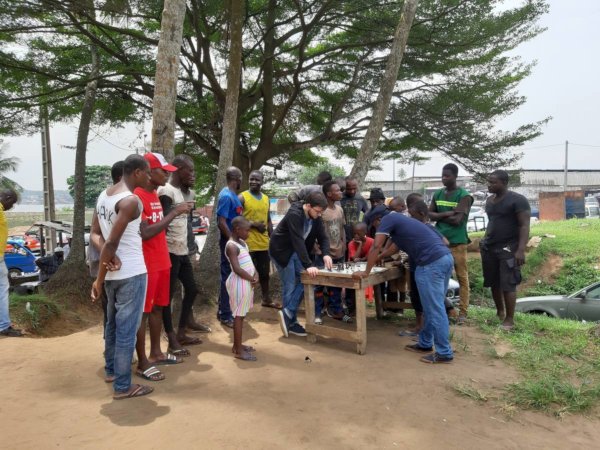 Beyond the Grand Chess Tour itself, organizers really tried to popularize chess in this part of the world, with the participation of Africa top player, Amin Bassem, but also by planning a side team event for players of Western Africa.
Coming back to the tournament itself, it was my first Rapid since Saint-Louis last August.
After the first two days, I said that despite a very average result (2.5/6), I felt the content of my games was correct anyway. At the end of the day, I'll be proven right 🙂 .
Let's now have a look at some important moments in my games;
It is never plesant to begin with a loss…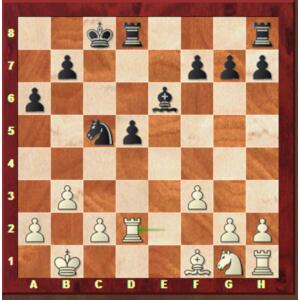 In this position, I had planned 18…d4 19. Ne2 d3 with easy equality. Except that actually, 20.Ng3! controls f5 and wins a pawn for white. So I had to content myself with 18…Rhe8 and I never fully equalize, even if I certainly could have put up a stiffer resistance afterwards (1-0, 52 moves).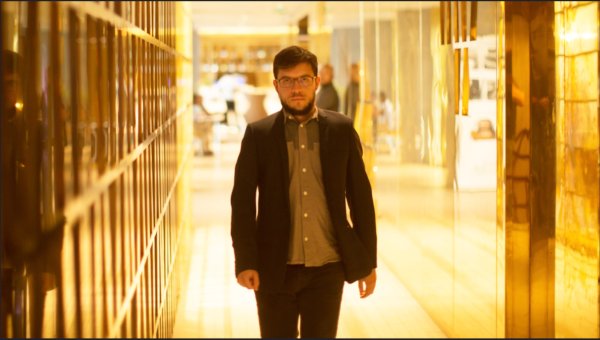 The second day began on better grounds, with a smooth technical win on the Bishop pair theme: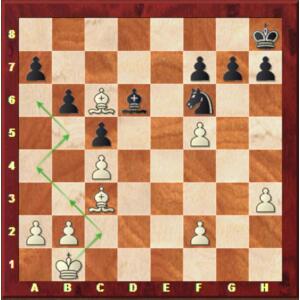 After 27.Kc2, with the idea to bring the King up to a6 to take a7, I knew that his only chance was 27…Nh5 in order to generate counterplay on the Kingside. But he tried to bring his King back to the Queenside, and this plan doesn't work at all; I had already calculated that after 27…Kg8 28.Kb3 Kf8 29.Ka4 Ke7 30.Kb5 Kd8 31.Ka6 Kc7 32.Bd5!, it's curtains (1-0, 43 moves).
Against Carlsen, I created difficulties for myself, as I didn't remember at all the theory – let alone the correct lines! – of this specific 6.Be3 Ng4 Najdorf variation. By the way, on more general terms, almost everybody in Abidjan tried to catch me in the Najdorf, each one of my opponents having prepared his specific line, and I must confess that it's never easy for me to remember eveything. This being said, despite a few precarious positions, I don't think I should blame the opening itself in all these games 🙂 .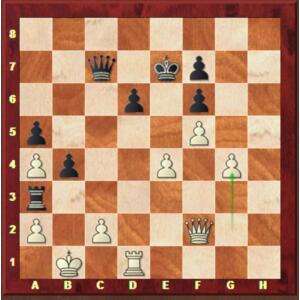 At the end of a very complex middlegame, I had the feeling I got out unscathed, until we reached this critical position where Magnus had just played 33.g4. My answer 33…Rxa4? has been criticized a lot, and quite rightly so, as I'm totally lost after the opening up on my King 34.g5!. This being said, what seems obvious when looking at the comp is much less clear on the board where, despite the blatant danger looming, you can easily imagine that defensive ressources will show up.
But there's also another explanation for this mistake. First of all, I realized that the move I planned – 33…Qc4 – didn't work because of 34.Qa7+ Kf8 35.Qa8+ Kg7 36.Qd5!. I also briefly saw that 33…Ke8 didn't fix anything. And then, I didn't evaluate properly plan B 34…Qc5 35.Qxc5 dxc5 36.Rd5, assuming I would suffer in this Rook ending, whereas it gives good drawing chances after 35…Rc3. Hence my default choice 33…Rxa4?, to try fishing in murky waters (1-0, 42 moves).
A last draw against So closed a not so brillant two-day run in accounting terms. But I remedied the situation the next day, by winning my last three games!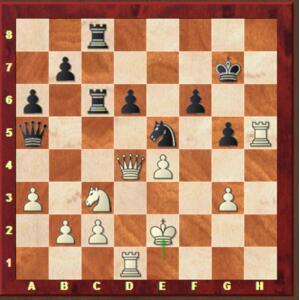 After a rather well played opening, in which I quite liked the consolidating manoeuver …Rc8-c6, I got this position, certainly winning, but assuming you find the correct path! 27…Rxc3! 28.bxc3 Rxc3 29.Rd2? Qb5+ 0-1. I still had to make sure that 29.Rdh1 wouldn't have been enough: 29…Qb5+ 30.Kd2 Nf3+ 31.Kxc3 Nxd4 32.Rh7+ Kf8 33.Rh8+ Ke7 34.R1h7+ Ke6 (black's Queen covers e8!) 35.Kxd4 and as white has too many weaknesses, the Queen will dominate white's Rooks.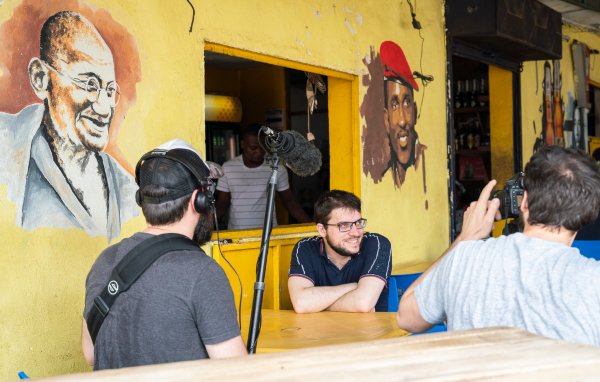 This nice day was concluded by a victory against the African leg's local, Amin Bassem. But not without a few scares, in particular in the following position!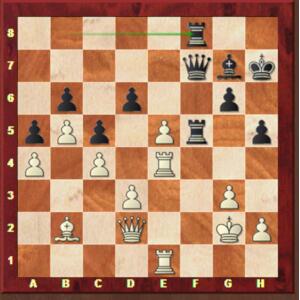 Here, Amin played the terrible 32.R1e2? and black wins after 32…dxe5, the pawn being immune because of …Qf1 mate after the exchanges. However, had he played 32.Rf4, I assume I would have lost that game! Not because my position would have suddenly become terrible, but simply because I had already planned, against an opponent down on time, to unfold the pretty variation 32…Bh6 33.exd6 Bxf4 34.gxf4 Rxf4 35.Re7 Qxe7 36.dxe7 Rg4+ followed by 37…Rf1 mate or 37…Rf3 mate; and after 33.Rxf5 (instead of 33.exd6), I thought I had the clearance check 33…Qb7+ 34.Kg1 Bxd2; unfortunately, this latest variation is mined! 35.Rxf8 Bxe1 36.e6!, and the double threat 37.Rh8 mate and 37.Rf7+ is decisive. Would have I found it out in time? Nothing could be less sure!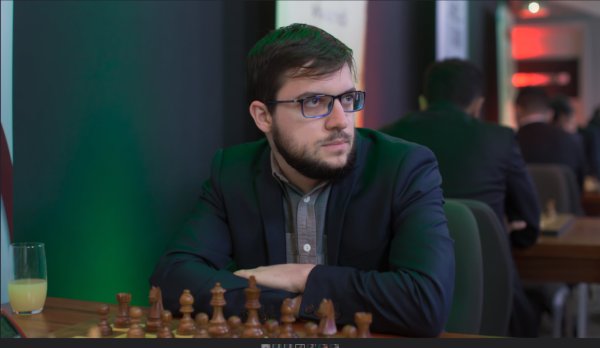 With 5,5/9 in the Rapid, I was able to approach the Blitz part more smoothly, and I began it with 5 straight wins, bringing to 8 the number of my consecutive wins. I know it remains anecdotal, but it is rare enough to be worth mentionning! Series like this one are also based on details which go in the right direction, as I was completely lost in the first blitz against So, and clearly worse in the second against Carlsen!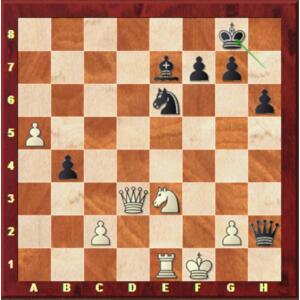 Here, the world champion lost track with 43.a6? (43.Nd5!) 43…Bh4! 44.Qd2 Nf4 0-1, as the mating attack is unstoppable.
The following round against Nakamura, I was able to uncork a long home-cooked prep in the Berlin Wall, that I had in store for previous tournaments!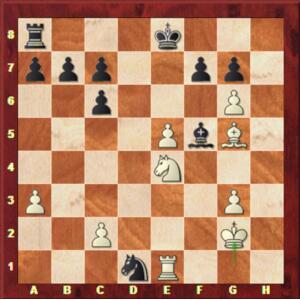 I knew 24…fxg6 was correct, because the King will need square f7, but Naka played 24…Bxg6?, which loses after 25.Nc5 b6 (25…Nc3 26.Rh1! is the point, black's King has no square!) 26.Na6, targeting simultaneously c7 and the Nd1. But I misplayed the conversion phase, and almost failed to win, which would have been quite embarassing though… Because I don't think I will ever again have 4 minutes left when Naka only has 15 seconds! (1-0, 88 moves).
It's Ding Liren who put an end to my 8-game winning streak by earning a draw in round 6. This is a fair return though, as I was the one to end his unbelievable 100-game series without losing in classical games!
Then, tiredness took over, and I threw in the towel against Topalov.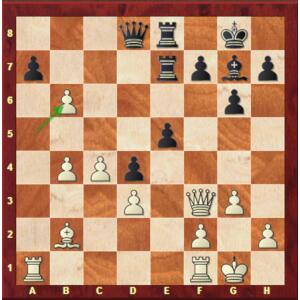 I am unable to recall why I was attracted to 20…Qxb6? instead of the normal 20…axb6. And after 21.Rfe1?! (21.b5! is better), I forgot that 21…Qxb4 was possible, because of 22.Ba3 Qb7!. Though the position wasn't that bad yet, I continued this poor course and lost without real resistance. (1-0, 36 moves).
Two erratic draws against Russians Karjakin and Nepo concluded this first day of blitz, though I was leading it with 6.5/9.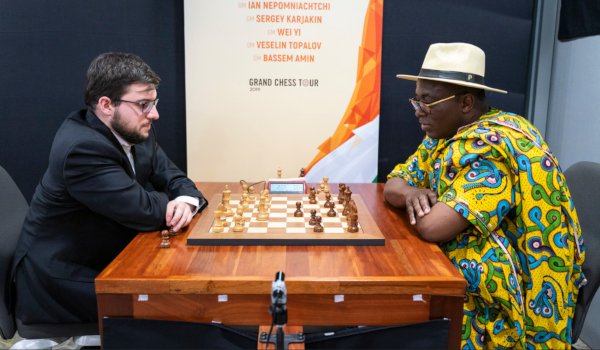 The next day, I lost from the outset against So, pushing a bit too boldly my Kingside pawns, before succombing to a nice tactic. Not a very good way to begin the day, especially when you have to play Carlsen and Nakamura next!
Surely, the world champion wanted to take revenge from the previous day, and even if I probably didn't make all the good choices in the middlegame, the position remained approximately even.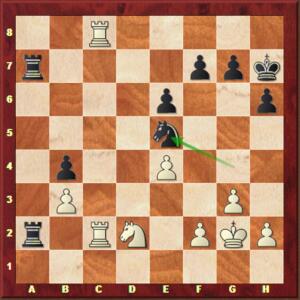 With his last move 33…Ne5, threatening to penetrate on d3, Magnus probably believed he would put me under pressure. But after 34.f4 Nd3 35.Kf1!, I had anticipated that his Knight would be trapped on d3. Magnus blitzed out 35…Ra1+ 36.Ke2 Rd7, and then seemed to panick after 37.Nf3. He took time to ultimately play 37…Rb1 38.Rd2 Rb2? which loses by force, while 38…Rxb3 39.Ne1 Nxf4+ 40.gxf4 Rxd2+ 41.Rxd2 Rh3! would have given him very good drawing chances, as there are not lots of pawns left. In the game, after 39.Rxb2 Nxb2 40.Ne5, I quietly went on to win (1-0, 55 moves).
The topsy-turvy course of this last day continued afterwards. First a loss against Nakamura, then a terrible game with Amin Bassem, despite the win. Against Wei Yi, I won again, but with energy rather than technique. Then came an uneventful draw against Ding Liren, and it's again not cleanly at all that I beat Topalov, in a game full of mistakes on both parts. In the second to last round, I had an ultimate standstill against Karjakin.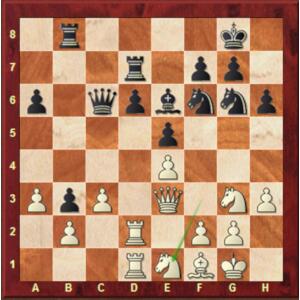 Here, I played the pseudo-freeing move 24…d5?, and after 25.exd5 Rxd5 26.Rxd5 Nxd5 27.Qe4, I found myself with too many weaknesses to defend. I really don't know why I played this move. I was head to head with Naka for the second place, I just said to myself that I had to win this game, and thus play 24…d5. But the follow-up was that I lost my pawns one after another, and I resigned very lately, through sheer inertia.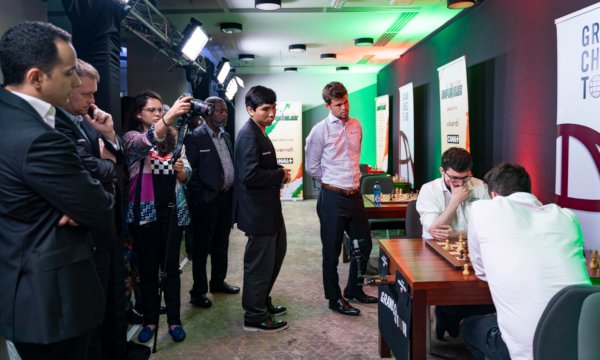 Fortunately, all ended well, with a best-case scenario in the last round. Naka lost with white against Carlsen, though the position looked symetrical and completely equal. On my side, I concluded the Abidjan leg with a fine win against Nepo, which allowed me to catch in extremis the American for second place!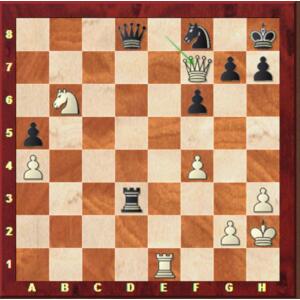 Focused on my game, I hadn't seen that Carlsen had beaten Nakamura. But I knew that anyway, I had to win to entertain hope, all the more as a loss would have cost me nothing. To prevent threats of a Rook infiltration on e7 or e8, black should have opted for 50…Qd6!. Then I would have had to find 51.Re4! in order to keep the advantage. In the game, Nepo tried to figure out a perpetual, but it doesn't exist if white's King demonstrates his fancy footwork! 50…Rd2? 51.Re8! Rxg2+ 52.Kxg2 Qd2+ 53.Kg3 Qd3+ 54.Kh4 g5+ 55.Kg4 Qd1+ 56.Kf5 Qd3+ 57.Kxf6 Qd4+ 58.Kxg5 Qg1+ 59.Kf5 Qc5+ 60.Nd5 Qc2+ 61.Re4 Qc8+ 62.Kg5 h6+ 63.Kh4 Ng6+ 64.Qxg6 1-0, as there will never be any stalemate because of the pawn on h6!
The tournament in Abidjan has obviously been marked by Carlsen's dominant performance, 3.5 points ahead of the field. With 23 points, Nakamura and Maxime share second place, although this score is often enough to win! For sure, Maxime will have drawn a lot of attention with the two blitz games he won against the world champion (see a video excerpt below). But chess lovers have probably also been entertained by the continuous crossover for first place in the blitz live ratings. Carlsen ultimately kept his leadership, but extremely narrowly, as he gets 2922, and Maxime end up only one point short (2921)! Nakamura is third with 2902, while you have to go down to 2827 to keep track of world #4, Aronian!