The sequence of tournaments in recent months has been really difficult to handle. They said here and there that I had played too much; it's true, but I didn't really have a choice! The FIDE Grand Prix and the Grand Chess Tour are unavoidable, but they decided on dates much too late. Otherwise, I could have thought about sacrificing the Norway Chess in June, but I had already signed the contract a long time ago. That being said, it was mainly the Zagreb-Riga-Paris series that was hard, but I'm not going to blame myself for going all the way to the final in Riga!
As usual in recent years, August = Missouri! I arrived in the U.S. a little early… Obviously, I didn't have much time between the end of the Grand Chess Tour in Paris and this long trip; barely four days. The tournament started on August 10th and I arrived on the evening of the 7th, just to have two full days to digest the jet lag and rest.
Anyway, I knew when I arrived in Saint-Louis that I couldn't play 100% throughout the three weeks, it was strictly impossible. Nevertheless, I was still hoping to have a rather acceptable state of form at first. In Rapid and Blitz, it is more important to be in good physical shape, to calculate well, than for long games. In Classical, if you're a little diminished, it's not that bad; you still have time to be careful, and the opening prep will be important, so you can limit the damage in any case. In fact, that's a bit what happened because in the end, I actually saved the day with 5/11 in the Classical part! The way I played, I didn't deserve -1 in terms of chess. But we will come back to this later….
SAINT-LOUIS, RAPID & BLITZ
In the Rapid, it's true that the first game hurt me a lot. I'm much better against Aronian and I lose because of tactical mistakes in the endgame.
Fortunately, there was this spectacular game against Rapport in the third round, which was a good game in the Romantic spirit, but which could also have gone very badly wrong.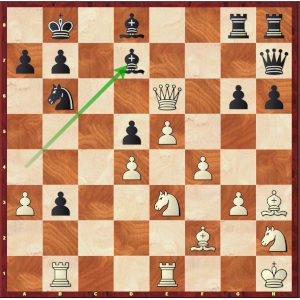 28. Qxd7!?! a speculative Queen sacrifice that will finally bear fruit! (1-0, 50 moves).
Which means I could limit the damage to 50% on the first day. Then I had a very good second day, a little by miracle.
Of course, I play a very good game against Ding. And a rather good one against Mamedyarov, even if at one point I am lost and under no circumstances should I win that one! And then, against Karjakin, the dull and symetric position from which I manage to win is also amazing. 🙂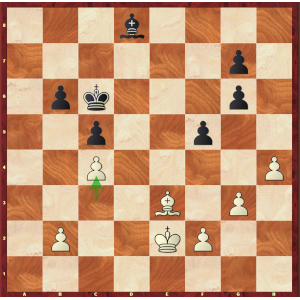 In the Bishop ending, there are now practical chances for white, even though few who would have bet on a white victory ! (1-0, 66 moves).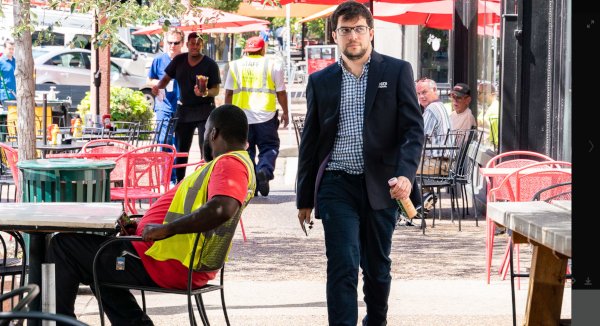 The third day, I lost against Magnus but on the other hand, I didn't demobilize and won the last two, rather good games by the way; against Dominguez first, then against Caruana, out of the loop and who was a bit in tilt.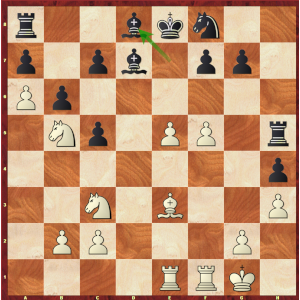 In this Berlin position, which has turned out well for white (you deserve it sometimes ), the thematic 22.e6! fxe6 23.Bf4 puts blacks under considerable pressure (1-0, 44 moves).
In the first day of blitz, I didn't play so badly and I really didn't have luck on my side (4.5/9). I should have scored at least 1.5 points more; against Rapport, I am clearly better and I let myself be swayed by a stupid calculation error. Of course there is also the game against Ding, where I am winning, before playing a wrong combination instead of taking a perpetual check.
But above all, this game against Dominguez where I have a four-minute lead on the clock!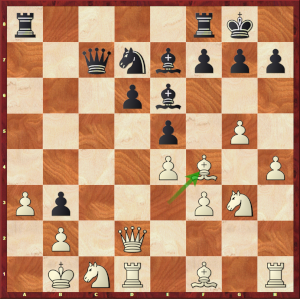 Here, white has just played 20.Bxf4 and I automatically took back on f4, before I noticed that 20…Rfc8! intermediate was much stronger; 21.Bd3 (otherwise 21…Qc2+) 21…exf4, with a much better version than in the game (1-0, 49 moves).
On the second day of the blitz, however, I was completely out of the loop; it's a bit of a miracle that I won the last two, to finally share the overall 2nd place, only half a point behind the winner Aronian. There are some amazing games that day, against Ding for example; against Caruana, I don't even talk about it…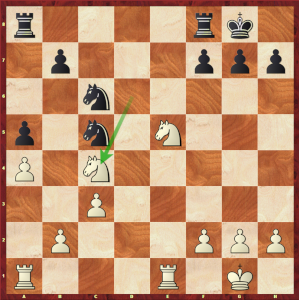 In in my opinion, this game shows well that it is not at all the nerves that are an issue; this kind of endgame, clear pawn up, I win them 99 times out of 100, nerves or no nerves. It was just pure fatigue, a true Way of the Cross (0-1, 67 moves).
Besides, I win the last one against Aronian with black because a draw was enough for him to win the tournament, and he was in a panic, my friend!
All in all, 2nd ex-aequo, it was not so bad as far as points are concerned…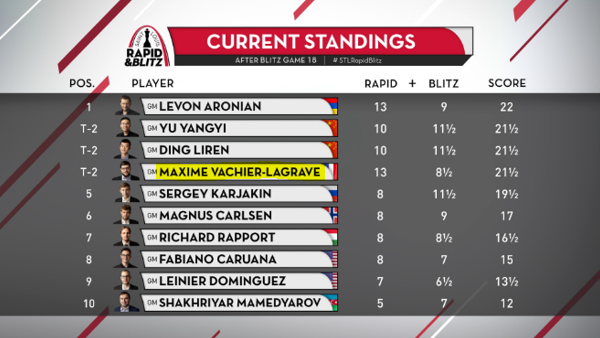 But I was so sure that I would win the tournament… Indeed, after having scored -2 in the blitz in Paris (8/18), I could not imagine a similar performance in Saint-Louis (8.5/18).
Anyway, the calendar this year is a crazy calendar, and it's true that I finished the run of tournaments completely exhausted. And when you're tired, you can see it in Rapid chess, and even more so in blitz. You think at the wrong moments, sometimes you don't think at all, and in the end, you miss simple tactics.
Besides, when you're away like I was for almost 4 months, you can't prepare yourself properly physically. I also had some minor physical problems, especially in Zagreb and Riga, with also a lumbar pain that prevented me from running for a long time.
SINQUEFIELD CUP
A tournament that brings together precisely the top 10 players in the world, not easy when you're running on empty, at the end of the road! I started by making seven draws i a row. But psychologically, I had a sharp blow to my morale as soon as in the first game against Aronian.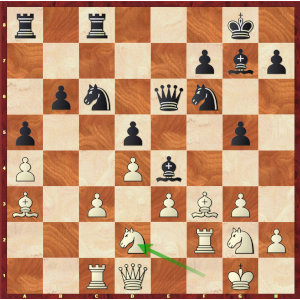 Instead of 25…Bd3?!, repeating the position a third time, I could play 25…Bg6 followed by the manoeuver …Ra7-c7, with a dominant position. In fact, I repeated moves because I didn't think I was especially better. However, it's just a butchery as soon as I double on the c-file! Normally, I would have continued the game, but I didn't feel fit, so I didn't feel especially better; which shows that I wasn't fit by the way!
After that, I gradually settled into the tournament; I played some good games, for example against Ding.
Against So and Anand with white, I didn't shine in the opening. Generally speaking, in this tournament, I remembered my preparations very badly, with a lot of surprising omissions; once again it is always linked to the same thing, the general state of fitness…
Round 6 game against Caruana was very correct, a real theoretical debate at high intensity on the Najdorf.
But the bad mistakes began the next day, against Mamedyarov…
Well, there ! The position I'm getting! I came out of the opening with a nice advantage; a pair of Bishops, space, and an off-side Bh5.
And then how I managed to sabotage it! In fact, I immediately regretted playing 20.Bb2. The Bishop had to stay on c1, and 20.g4 Bg6 21.h4 was the right way. I'm going to play g5 and not him; I'll put the Bishop on b2; then f4, and it's just a terrible position to defend for black (1/2, 33 moves).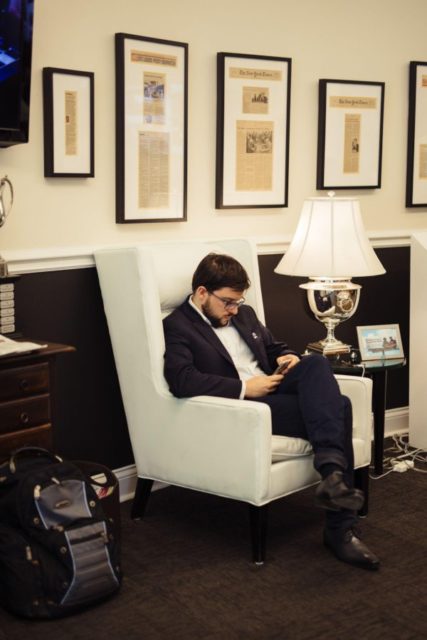 And in round 8, the first decisive game. But I'm on the wrong side of it! Frankly, when I think about this game, it's crazy…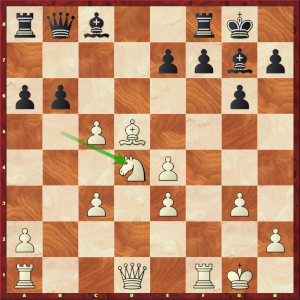 In this theoretical position of the Grünfeld exchange, which I have in my notes, I played 17…bxc5? without thinking; by reflex, thinking mechanically that it was forced. And it leads to a nightmarish endgame to defend. And then I remembered – but too late of course  – that 21…Bh3! was the move of the position! (1-0, 51 moves).
The next day against Nakamura, the ordeal continued, despite a good prep this time.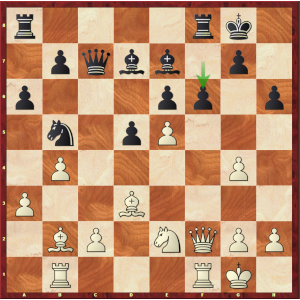 In this position, it's amazing but 20.Qh4!, I didn't even think about this move for a second! However, the Qh5-g6 threat is so powerful that black's position should not be able to resist it. It's a move I would normally play instantly in a blitz. Besides, it's not even a question of playing too fast or not too fast, since I unleashed the insipid 20.Qe3?! in more than 4 minutes. And 20.Qh4!, I just didn't think about it…. Of course, even after 20. Qe3?! I'm still better. Then I decided to go into the endgame because I thought it was better than keeping the pawn. Probably not stupid, but then I got into a muddle anyway (1/2, 59 moves).
The next day, to prove that I wasn't the only one doing stupid things, Nepo gave me a great gift by landing his Knight on the wrong square! My conversion phase was not ideal, but fortunately, there was a huge margin!
Finally, against Carlsen, I didn't want to just force a draw with white. So I chose the Rossolimo against his Sicilian, and I think the opening didn't go so badly, even if the normal plan was obviously to play Nh4 followed by f4.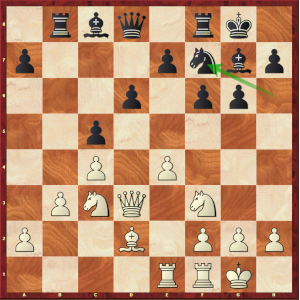 But on 14.Nh4, I didn't like 14…Ne5 15.Qg3 Nc6, with the idea 16.f4 f5! ; even 14…e6 15.f4 g5!? also seemed interesting for him. So, I made the decision to play 14.h4!?, a move that Magnus criticized; but I still believe it wasn't a bad move. After 14…Rb7 15.h5 g5, I hesitated between 16.Nh2 and 16.Ne2. I don't know why, but I chose the first one, which is much worse. After 16.Ne2-g3, I would have more or less forced…e6, and that's where I sinned. I thought that …e6 allowed him to justify his move 14…Rb7, but in this case f6 is actually much weaker, the Bc8 is no longer in play, and he will never have …f5 anymore. For all these reasons, this Knight's maneuver to g3 was much better than my choice of the game 16.Nh2.
After that, I started to be surprised by his moves….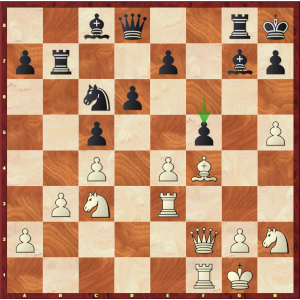 And when 21…f5 arrived, I wasn't really enjoying my position anymore. If 22.exf5, I wasn't afraid to give the exchange in case of 22…Bd4, but the simple 22…Bxf5 dissuaded me, whereas there is 23.Rg3!, that I didn't see. Well, it's true that I didn't give myself time to see it either! So I went back to 22.exf5 and saw 22.Nf3? instead. I said to myself, "It's okay, there's no 22…Bd4, and 22…fxe4 23.Nxe4 suits me. Lastly, there's no 22…e5 either because of 23.Bg5! ". So I played 22.Nf3?, I got up, and when I came back to the board and saw he had replied 22…Bxc3!, I immediately understood that I had already reached the point of no return. I still found 23.Rd3!? to fish in muddy waters, but it was not enough (0-1, 44 moves).
Congratulations to Carlsen, who finished tied for first place thanks to his final sprint. And huge congratulations to Ding Liren, who managed the feat of beating the world champion in a tiebreak!
I am therefore the first player to have completed the 2019 Grand Chess Tour, as all the others will play at least one of the last two tournaments (Bucharest and Kolkata in November). As a result, my chances of taking one of the 4 qualifying places for the final in London are now very hypothetical.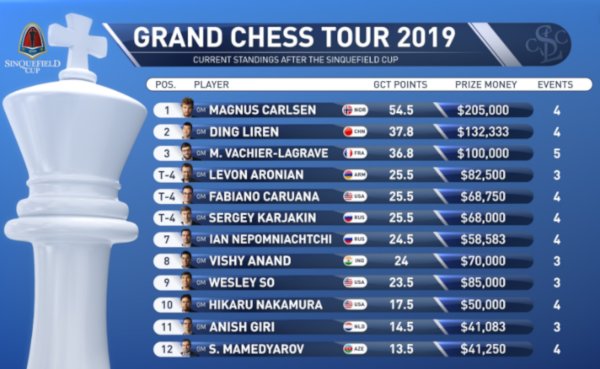 But everything in due course, another important milestone awaits me very soon; the start of the World Cup in Khanty-Mansyisk (Russia) on Tuesday, September 10. The objective is stated: reaching the final to earn a spot for the Candidates' Tournament in March 2020…
On his return from Saint-Louis, Maxime had an evening of rapid games online, as part of the 1/8th finals of the Speed Chess Championship organized by www.chess.com. The format of the 2019 edition is unchanged, with 90 minutes of 5|1, 60 minutes of 3|1, and 30 minutes of 1|1. Paired against the world's number one junior, Wei Yi (2727), Maxime had a very tough start, conceding five straight losses to be led 1.5-5.5 after 7 games! But he didn't demobilize, and he overpowered the rest of the match, notably posting a series of 7 consecutive wins, then another of 5, to finally win the match on the final score of 21-10. In the semi-final – in October – he will face the winner of the match Mamedyarov-So.
Maxime's games at the Sinquefield Cup (Official site) :
Maxime's games in Saint Louis (Official site) :
Maxime's games on chess.com (Official site) :