The World Cup is a format I like… I've played them all since 2009, with two semi-finals and a quarter-final to my credit. First of all, it's a competition that changes a little bit from our ordinary life; there's more show and more at stake every game, it's as well nice for the spectators. But it's also a very difficult tournament of course, and a very long one; unless you're eliminated in the first round of course! But when you go through the whole process, it's almost a month in the same place (in this case Siberia 🙂 ), with the pressure in each of the games, because all are decisive. It has a huge impact on the physical strength of the players; for my part, I think that in Khanty-Mansiysk, I was pretty ok physically until my quarter-final, but then it got worse very quickly. I felt there was nothing I could do anymore in the evening, I was just in autopilot mode to try to get as much rest as I could.
But let's start at the beginning!
Round 1:
MVL – ANWULI (2284) 2-0
A first round against a much lower rated opponent is always an introduction to the subject where you have to show a minimum of application. Though I did it, I still caused myself some minor problems. I'm mainly referring to the first game, where the Rook endgame was maybe objectively drawn.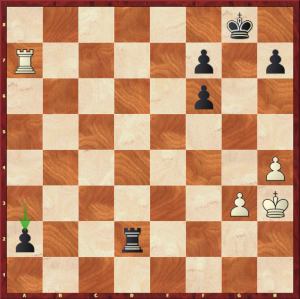 I feel that after 38.g4! (instead of the 38.Kg4? he chose), the best thing for me would have been to get the famous ending with h and f, which remains a theoretical draw, though very difficult to reach.
I did also sputter a bit from a very promising position in the second game. I must say that the Nigerian IM has defended his chances quite well overall. But it's hard when you don't have a real opening repertoire, which is his case :-).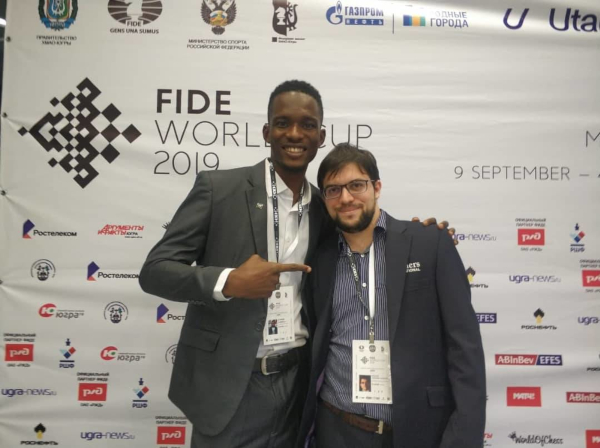 Round 2:
MVL – KOVALENKO (2674) 2-0
I was surprised by his choice in the opening of the first game (a Sicilian with …e6), and he found himself in very big difficulty. Moreover, it is not at all his style to defend positions of this kind.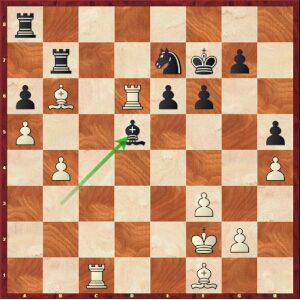 Nevertheless, there was a mistake just before move 40, when I forgot …Rc8 in a critical variation… The worst part is that I had thought long before playing 40.b5? in the diagrammed position. But it turns out the breakthrough is too hasty! It had to be better prepared, because after 40…axb5 41.Bxb5 Rc8! I had to admit that my advantage had evaporated; 42.Rb1 Rc2+ 43.Kg1 Nc8 44.Rd7+ Rxd7 45.Bxd7 and fortunately here, he played 45…Nd6? instead of taking on b6, despite a long reflection! After 45…Nxb6!, I could still have tried 46.Bb5!? – with the idea Bd3-e4 – which still poses problems, even if it is certainly not enough objectively. Apart from this poorly controlled breakthrough on b5, it was still a good game, especially in the middlegame phase when I had to conquer the advantage (24.Ra3!).
In the second game, a draw was obviously enough, which is a rather pleasant situation. Against his slightly baroque opening, 1.e4 c5 2.Nc3 d6 3.Nge2 Nf6 4.f3!?,I probably should have played 4…e5, but on the board, 4…d5 didn't seem so bad. But in fact, the position I obtained was not so trivial….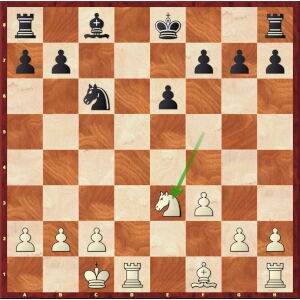 … and even a bit unpleasant after I played 13…Ke7?! a little too fast. On 14.Bb5 Rd8 (originally, I planned 14…Bd7 15.Rhe1 Rhd8 16.Nf5 Kf8 17.Nd6 Rab8, but I had forgotten 18.Nxb7! Rxb7 19.Bxc6) 15.Bxc6 bxc6 16.Rxd8 Rxd8 17.f4, white has a slightly more pleasant endgame. In the position of the diagram, I had also rejected 13…Bd7 because of 14.Nc4 Ke7 15.Nd6, but it was in fact the equalizing line, because I now have the nice comeback 15…Bc8!, justified by the variation 16.Bb5 Rd8 17.Bxc6 Rxd6 =. After that, I think he had ways to press a little harder than what he did. He brought his King to c3 a little too quickly and in fact, it happens to be useless! By the way, he came back to c1 soon afterwards… Then he tried everything possible to complicate matters, but by doing so, he just deteriorated his position from "equal" to "much worse". I gave him the chance to settle for a draw for a long time, but he went so far he even lost it!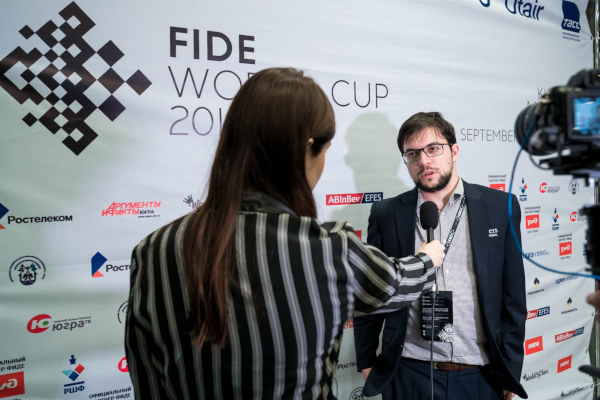 Round of 32:
MVL – JAKOVENKO (2681) 3.5-2.5
A complicated match, against an opponent who is also complicated for me! You have to know that Jakovenko has an excellent score against me and that he therefore has the confidence… And you could see it! He was really there to play his luck to the fullest. Compared to, for example, Svidler in the next round, you clearly feel the difference in state of mind. And it was bad luck for Peter, since apparently he has kind of a monster score against Jakovenko!
The first game didn't go too well, despite the draw… It was the first of a long series of omissions on my part in the opening! Fortunately, he relieved my position by making two bizarre central exchanges.
The Berlin in the return leg was my first game under control, even if not to the end. I took an edge, but from then on, he defended really well. Maybe I missed some opportunities.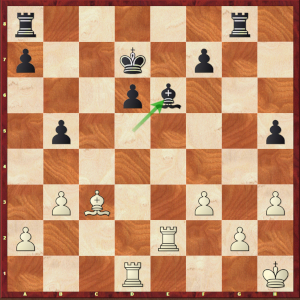 I suspect that at this point after 27…Be6, it is objectively winning for white, but I did not find how. And then I thought what I was doing was ok, but strangely enough after move 40, I just couldn't find the win and in fact, there certainly isn't one anymore…
So, first tie-break!
In the first rapid game, troubles started as soon as I played 11…b6. In fact, that's a constant in my Grünfeld, I forget the possibility that d5 can be strong for white! I made exactly the same mistake against Aronian in London last year. And besides, the game was really very similar: same material balance, same difficulties, and same attempt at counter-play. Except Levon had screwed up at one point, and not Jakovenko!
So, after 11…b6 12.d5, I realized that if 12…Ne5 13.Nxe5 Bxe5, I was going to face the central onslaught f4-e4-e5, like against Levon! Quite obvious of course, but it's like a bug I have on this theme….
Then I had a hesitation on move 19, which was fatal.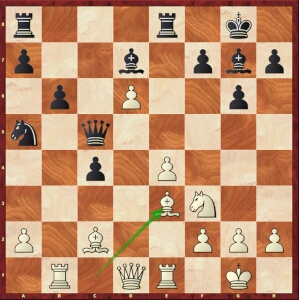 At first, I wanted to play 19…Qa3 without thinking. And then I thought to myself, "19…Qh5 idea 20…Bg4, I have play on the Kingside", and it attracted me.
In fact obviously, 19…Qa3! was the correct move, to keep an eye on d6 and have counter-play on the Queenside. But my misjudgment is that I thought the Queen on h5 was going to be closer for the King's defense; whereas it is the opposite, and it is also too exposed on h5!
Then, he missed a forced win with 25.Rb5!, but it's a computer move, not a natural one, and we both missed it… After that, I didn't have much to blame myself for, I found all the defences, but he just played the perfect game, including in the tricky tactical complications with heavy pieces.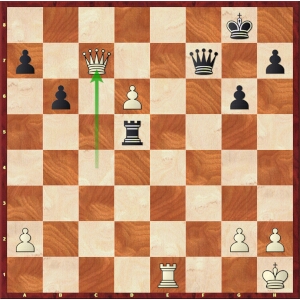 Here, instead of 35…Qe6, I could have chosen the passive defense with 35…Kg7 of course. I let him play 36.Qe7, and then I throw my Queenside pawns forward… But I was pretty sure that at some point he was going to play h3 to parry the back rank mates; then, Qh4 or Qd8, threatening Re7, and I didn't see in which world it could hold this.
As a result, he brilliantly concluded after 36.Qd8+ Kf7 37.Rf1+ Rf5 38.Qc7+ Kg8 39.Rd1 Qe2 40.Qc1! Rg5 (40…Rf8 41.d7 Rd8 offers zero chance of survival) 41.Qc8+! Kg7 42.Qb7+ Kf8 43.Rg1! and the passed pawn decides.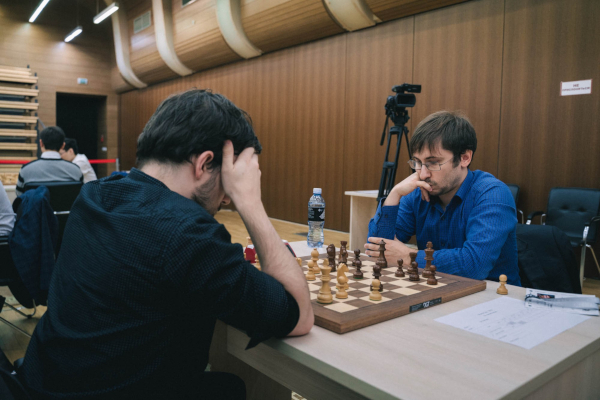 With the back against the wall and in view of how the opening went, it is true that the fact that I tied the match with a win on demand was a miracle! First of all, because I played 15.Qe4 instead of 15.Ne4 as I had planned 🙂 ; it turns out that I would have the opportunity to play this 15.Ne4 move a few days later against Aronian…
Take it from Jakovenko's point of view, and it's always the same old story; you need a draw, you equalize in the opening and then at some point, you want to simplify matters as much as possible. For example, when he went for the Rook + opposite coloured Bishops ending.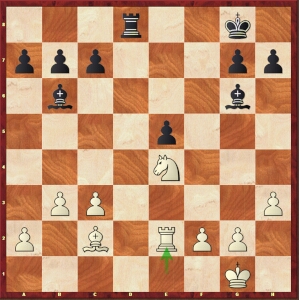 Here, 27…Bxe4 28.Bxe4 c6 was in no way mandatory. It wasn't even necessary, but on the other hand, it simplifies the position and you think you're never going to lose that; basically, he was sitting on the fence, and it's never good to be sitting on the fence! Of course, normally this endgame should still give nothing to white objectively, but it can also easily go wrong. And when I got the position after 29.g3 g6 30.b4 Kf7 31.a4 a6 32.Kg2 Rd7 33.Rb2! with the idea of a breakthrough on b5, I knew that I now had at least a 40% chance of winning. And I actually ended up winning and staying alive in the tournament!
The second set of rapid 10′ games was also tense (two draws), and then finally, I won a nice game with white in blitz.
And in the last blitz, I did the opposite of what Dmitry did when a draw was enough for him! I played my normal, dynamic game, and in fact, these positions with asymmetric pawn structures, you get the impression that it's less drawish but for me, it's so much easier to play!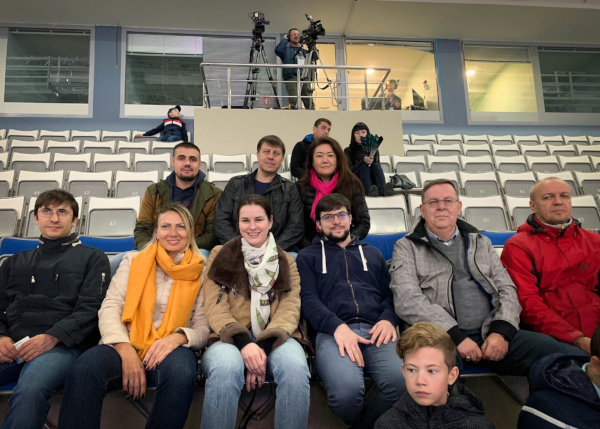 Round of 16:
MVL – SVIDLER (2729) 1.5-0.5
Peter doesn't usually play the Spanish Chigorin. My theory is that he didn't expect me to accept the Marshall Gambit at all, which is now known to be over analyzed and drawish in most lines. So I think it upset him.
So I got an edge quite convincingly out of the opening, leading to what looked like a good pawn up position.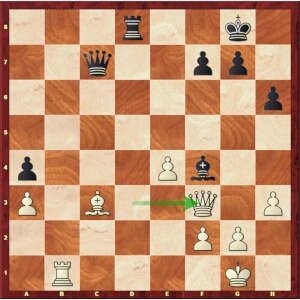 During the game, I had no idea that he could completely equalize with 31…Bd6! as the machine shows. The problem is that in this case, I don't install the Bishop on b4 as in the game, since 32.Bb4? Qc2! would be unpleasant. So after the inaccurate 31…Rc8? 32.Bb4 Qc1+ 33.Qd1 Qc4, I played 34.g3 because I understood that there was a really good chance he would fall into the trap 34…Qxe4? 35.gxf4 Rc6, forgetting the resource 36.f5! Qxf5 37.Bd6!. Besides, I also saw that 36.f3 would probably leave him defenseless too. But anyway, knowing Peter, I felt he was going to take on e4!
After that, I was surprised that he resigned so quickly, even though he's known for that. Because you can still play a little bit in the final position: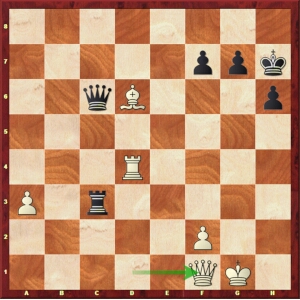 My pawn is only on a3, my King is not yet completely safe, it could have been worth a few more moves…
Overall, I consider this to be a good game of me.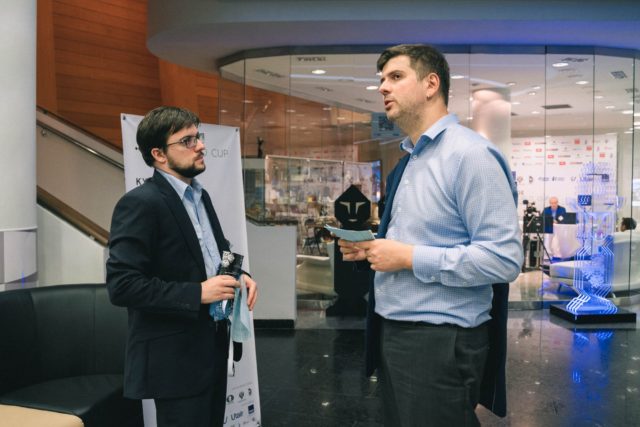 In the second game, Peter made a fine opening choice in the sub-variation of the Najdorf 6.Nb3. I got a little carried away with 7…h5, but I wanted to avoid his prep.
I suspected that it was 7…b5 8.a4 b4 9.Nd5 e6 the critical line. And that's what was in my notes, of course! But I thought to myself, "I don't remember anything more; that's necessarily what he looked at first. So, we're going to get him out of his prep, while playing a move that makes a little bit of sense". 7…g6 8.g4 could quickly become unpleasant, so I decided to improvise completely with this 7…h5.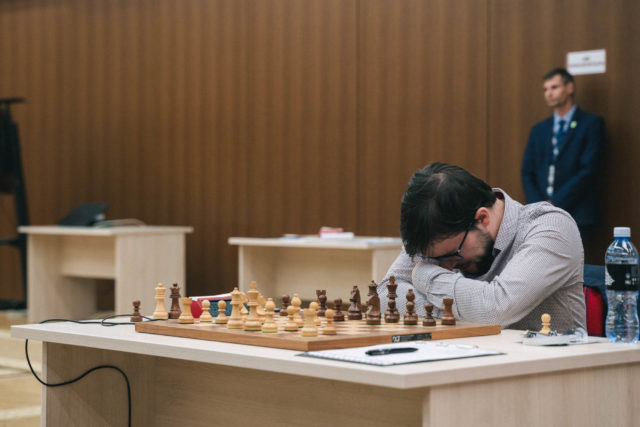 After that, I still think white is a little better, and I was very surprised by his choice of 13.Qd4?!. I also understand that in his situation, keeping a little edge with 13. Na5 seemed less promising to him than a variation that leads to the win of the a6 pawn. However, after 13.Na5 with f4-f5 to come, it could quickly become complicated for me – there have to be some small disadvantages to putting the pawn on h5!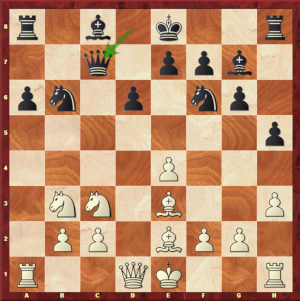 I also think he chose 13.Qd4?! because after 13…Rb8 14.Bxa6 0-0 15.Qd3 Bxa6 16.Rxa6 Nc4, he forgot that he couldn't play 17.Ra7? because of 17…Nxb2!
As a result, he had to fall back to 17.Bc1, and after 17…e6 18.0-0 Nd7, I got the dream position. His pieces are not coordinated, and he cannot redeploy them without losing his Queenside pawns. In fact, he even went too far and found himself much worse. But I preferred to avoid complex variations, even favourable ones, and forced the draw that qualified me for the 1/4 finals.
(to be continued)
The day after his return from the World Cup, Maxime went to Asnières City Hall, where his club organized the "Trophée des Petits As", an invitational competition bringing together eight French hopes under 8 years old. The idea was to offer these young players a context worthy of high level chess, with games played in excellent playing conditions, and broadcast live on the Internet. Maxime came to launch the last rounds of Sunday, then gave a number of tips to the players, including to some of his little clubmates 🙂 .
Maxime's games: