There are still two places to be distributed on sporting criteria for the Candidates' Tournament, via the 2019 FIDE Grand Prix which is coming to an end. The Hamburg tournament has just ended, and the final stage is scheduled from December 11 in the heart of the historic district of Jerusalem.
In Hamburg, it was therefore a question of getting ahead before the sprint… For the occasion, the large port city of northern Germany had made a theatre available for the event. Some have been disturbed by the level of the organization. For my part, I have few complaints about the playing hall. Just that it was a little difficult to reach the toilet level; there was a big staircase to climb, not a very convenient access during a game. But it is true that it was linked to the configuration of the premises, in the heart of an old theatre. For the rest, I didn't have noise problems to deal with, I found the room quiet, quite spacious too, even when there were 16 of us. Maybe a little dark, but hey… It was no luxury, but there was really nothing to complain about, unlike what we saw in Zagreb this summer! (Editor's note, stage of a Grand Chess Tour event).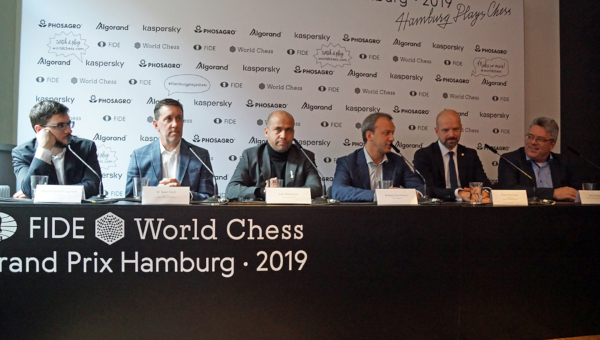 Round of 16:
MVL – WEI YI (2724) 1.5-0.5
In the first game, I was able to place a nice prep against the Najdorf, which had been cooked by Matthieu Cornette during the Top 12 in May. He sent me a file by email during the Norway Chess in June. I liked the idea of playing 6.g3 without putting the Bishop in g2, and I decided to try it at the next opportunity! So it worked well and I took and advantage out of the opening.
Later, I wasn't sure about my move 21.Nd5.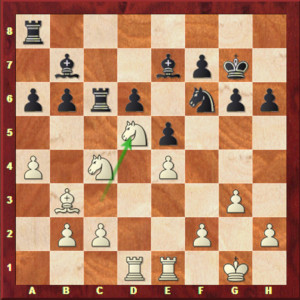 Of course, after 21…Nxd5 22.exd5 Rc7 (if 22…Rc5 23.Nxb6 Rd8 24.Bc4! followed by b4-a5 is very favorable to white) 23.Nxe5 (now 23.Nxb6 would be worse because of 23…Rb8 24.a5 Bc8!, idea …Bg4 and he has counterplay) 23…dxe5 24.d6 Rd7 25.dxe7 Rxe7 26.Rd6, with a clearly superior endgame, but not sure it is objectively winning. Before the pure Bishop endgame, I'm not sure what I could have done better? I had considered 35.Rxe5 (instead of 35.Bf1) 35…Rc1+ 36.Bf1, but he has 36…Kf6! and after 37.Re3 Bd5 38.Ra3 (and not 38.Rd3? as I had initially planned, because of 38…Bc4 39.a7? Rxf1+!) 38…Bc4 39.a7 Bxf1 (39…Rxf1+? was loosing very nicely after 40.Kg2 Rd1 41.a8=Q Bd5+ 42.Rf3+! counter-check 🙂 ) 40.f3 Bc4+ 41.Kf2 Bd5 and draw.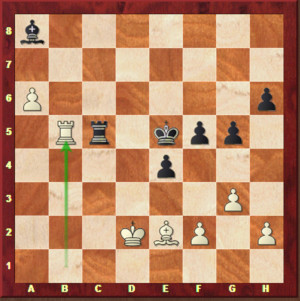 In the transition to the Bishop endgame, he stumbled with 42…Kd4? 43.Rxc5 Kxc5 44.Re3 +-, while 42…Rxb5 43.Bxb5 f4! should have guaranteed the draw. During the game, I was counting on 44.g4!?. Unfortunately, that probably wouldn't have been enough; after for example 44…Kd4 45.Bd7 Kc5 46.Bc8 Kb6 47.Kc3 Kc7 48.Bb7 Bxb7 49.axb7 Kxb7 50.Kd4 Kc6 (but not 50…e3? 51.fxe3 f3 52.Kd3 Kc6 53.Kd2! Kd5 54.Ke1 Ke5 55.Kf2 Ke4 56.h3! zugzwang, while 53.e4? would have missed the target: 53…Kd6 54.Ke3 Ke5 55.Kxf3 Kd4 56.h3 Kc5! – only move – 57.Ke3 Kc4 =) 51.Kxe4 Kc5 52.Kf5 Kd4 53.Kg6 Kd3! (not the other route 53…Ke4? 54.Kxh6 Kf3 55.Kxg5) 54.Kxh6 Ke2 55.Kxg5 f3 56.h4 Kxf2 57.h5 Kg3 58.h6 f2 59.h7 f1=Q 60.h8=Q Qf4+ =.
All in all, I would say that it was a pretty controlled game (1-0, 51 moves).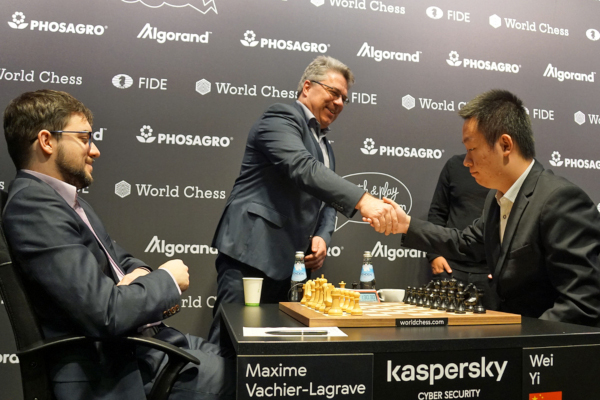 Najdorf again, but with reversed colours, for the second leg. In the 6.Nb3 variation, it was Peter Svidler who explained to me after my match against him in the World Cupthat the easiest way was 6…e6. I was obedient and actually got a good position pretty quickly, before even taking over.
I know there are people who didn't understand why I often accepted draws in favourable positions during these mini KO matches. First of all, because the Elo race from the Candidates' perspective has been over for me for some time . Secondly, because in this context, ensuring the bonus point remains the most important. And finally, I have no reason to spend two more hours playing, because the energy saved for the next round is also a factor. (1/2, 27 moves).
¼ Final:
MVL – TOPALOV (2740) 1,5 – 0,5
In the first game, I played a kind of delayed Benoni with black. I managed to keep delaying taking on d5 for a long time, and I regretted finally doing it on the 14th move.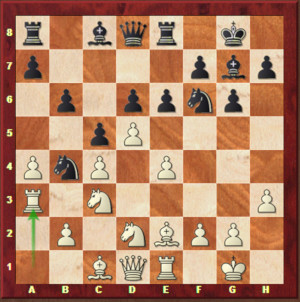 If I had started with 14…a6, I would have allowed 15.Nf1 exd5 16.exd5 with a structural change, even if 16…Ta7 now would still have been comfortable for me. So, I preferred 14…exd5 15.cxd5 (15.exd5 Bf5! would now be inferior) 15…a6 16.Bf1 Nd7 (now that the c4 square is free, after 16…Ra7, white would have 17.Nc4 Rae7 18.Bg5! h6 19.Bh4 g5 20.Bg3 and if 20…Nxe4 21.Nxe4 Rxe4 22.Rxe4 Rxe4 23.Nxd6 with a clear advantage) 17.Na2 (I was rather expecting 17…f4, but as a good Benoni player himself, Topalov felt it was dangerous after 17…Bd4+ 18.Kh2 Nf6 19.Nf3 Bg4! 20.hxg4 Nxg4+ 21.Kg3 Bf2+ 22.Kh3 Qd7, like after 18.Kh1 Nf6 – or even 18…f5!?) 17…Ra7 18.Nc4 Ne5 with a balanced position.
The critical moment afterwards was when he decided to give the exchange with 28.Re3!?.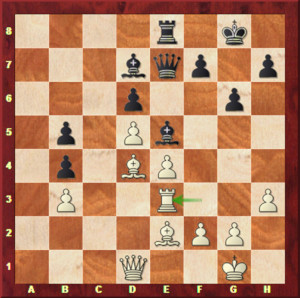 An interesting sacrifice in practice, especially since 28.Rd3 f5 was not particularly attractive to him. After 28…Bf4 29.Bf3 Bxe3 30.Bxe3 Rc8 31.Qd4, I saw the variation 31…Qe5 32.Qxb4 Rc3 33.Ff4 Rxb3! 34.Qxb3 Qxf4 more or less forced the draw, with the other move order looking identical 31…Rc3 32.Qxb4 Qe5. Except that starting with 31…Qe5?! gave him the extra option 32.Qa7!, and the position really gets out of control; 32…Be8 33.g3 Rc3, and then he should have played 34.Ff4!, even if it's counter-intuitive not to put the Bishop on the long diagonal. After 34…Qf6 35.Qb8, I would have had to find 35…Rxf3 36.Qxe8+ Kg7 37.e5 Qf5 38.exd6 (38.e6 fxe6 39.dxe6 g5 40.Be3 Rxe3!) 38…Qxd5! 39.d7 Qd1+ 40.Kg2 Rxf4! – only move – 41.gxf4 Qd5+ 42.Kg3 Qd3+ 43.f3 Qd1! with perpetual.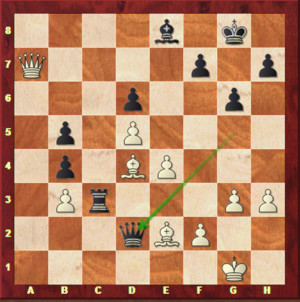 In the complications, he erred with 36.Bf1? Rxb3 and white can no longer generate counterplay. (0-1, 44 moves).
I had seen that 36.Kg2? didn't work either, because of 36…Qxe2 37.Qe7 Qf3+! 38.Kh2 Rc8. But the paradoxical move 36.Kh2! would have saved white: after 36…Rc7 (certainly not 36…Qxe2? now, because of 37.Qe7 Rc8 38.Qf6 Kf8 39.Qxd6+ Kg8 40.Qf6 Kf8 41.d6 +-) 37.Qxc7 Qxd4 38.Kg2 Qxe4+ 39.Bf3 Qe5 40.Qa5! =.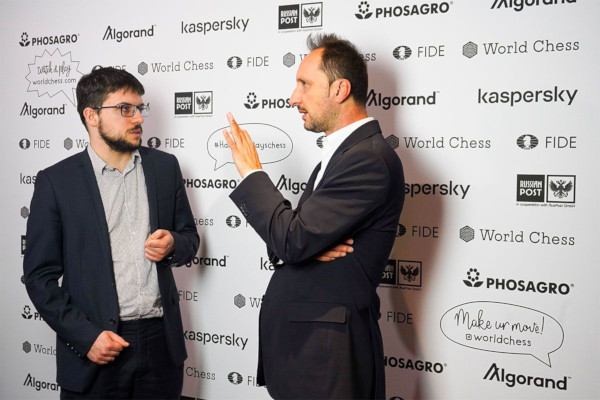 I controlled the secong game with white pretty well, playing the Exchange variation against the French, recently used a few times by Etienne Bacrot.
I locked everything up, but the important thing in these cases is to play with a plan, however basic it may be, and not to wait stupidly; in this case, a4 then b4-b5.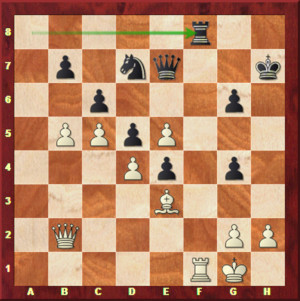 Dans la position finale, je ne me suis pas rendu compte que 27.Ta1! était si fort. Mais encore une fois, si je gagne ça ne change vraiment rien… (1/2, 26 cps).
In the final position, I didn't realize that 27.Ra1! was so strong. But again, if I win it doesn't really change anything… (1/2, 26 moves).
1/2 Final :
MVL – GRISCHUK (2771) 0.5-1.5
With white, I was surprised by his choice of the Arkhangelsk Spanish. As a result, I hesitated between 13.Bc2 and the resulting ton of theory, and 13.Be3, which is less risky. I chose the latter and got a very small plus, but I started making small miscalculations…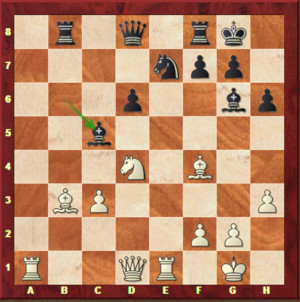 Especially when here I played 23.Ba4?! and instantly noticed that I was allowing 23…Nd5!. What Sacha and I both missed is that after 24.Nc6, black doesn't only have 24…Qh4 25.g3, but also 24…Qf6! 25.Qxd5 Qxf4, and the position turns in his favor. So, while Sacha was thinking, I had decided, in case of 23…Nd5, to go for 24.Qf3 with a slight advantage for black.
Maybe if I had focused a little more on the position, I would have chosen 23.Ba2 with the idea Qd2-Rad1, and a microplus for white.
The rest of the game was a quick path towards the draw (1/2, 27 moves).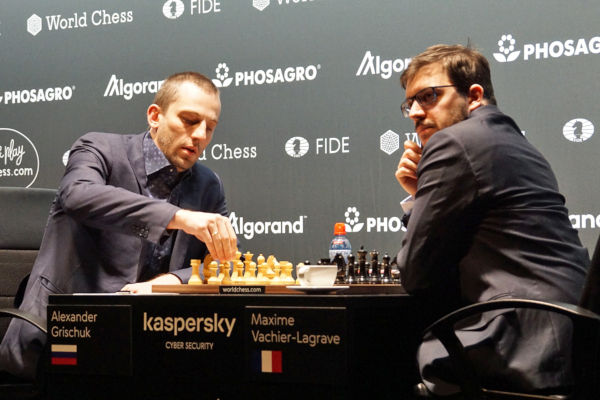 In the second game, in my usual English line with black (1.Nf3 Nf6 2.c4 c5 3.Nc3 d5 4.cxd5 Nxd5 5.e3), I had decided before the beginning of the tournament that I would not play again 5…Nxc3, but rather 5…e6.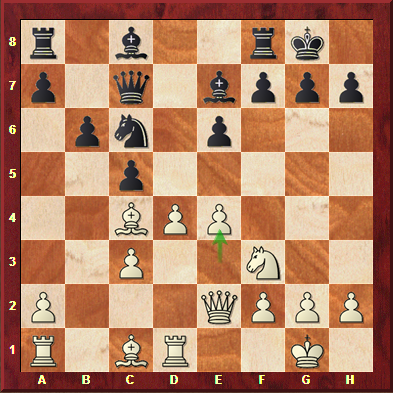 During the game, I chose to avoid 12…Bb7 13.d5 exd5 14.Bxd5 Rad8 15.c4, even if it seems to be ok for black. I preferred 12…Rd8, with the idea that in case of 13.d5, I was ready to play 13…Na5 14.Bd3 c4 15.Fc2 e5!?.
After 13.Be3 Na5 14.Bd3 Bb7 15.h4!, I realized how unpleasant this kind of position was. So I played 15…b5!?… and after 16.Bxb5 Bxe4, I was all focused on 17.Ng5. He didn't play it because of 17…cxd4 18.cxd4 a6, but I was rather on 17…Bf5!? 18.g4 Bg6 19.h5 Bxg5 20.Bxg5 Rd5 which seemed very messy to me. So when he played 17.dxc5, he took me by surprise and I reacted badly with this inopportune 17…Bxf3?, which I analyze as being just a bug in the understanding of the position. I thought about 17…Bd5, first choice of the machine, but I didn't believe it… On the other hand, I rejected the natural 17…Bxc5 because of 18.Rxd8+ Rxd8 19.Bg5 Rb8 20.Qxe4 Rxb5 21.Rd1 and with such badly placed pieces, the position looked suspicious to me.
After 18.Qxf3 Bxc5, we both missed the 19.Bg5 Be7 20.Rd7! refutation, which was hard, but not impossible to find: 20…Rxd7 21.Bxd7 Rb8 22.Bxe7 Qxd7 23.Qg3 Nc6 24.Bf6 g6 25.Qf4 with great danger on black squares.
Nevertheless, after 19.Bf4 Qb7 20.Qe2, white remained better. But I thought to myself that, since the opening was not successful, I was bound to have a bad time, but maybe not so catastrophic.
Then, it seems he missed a machine win with 26.Qe4! instead of 26.Qd1?!. He didn't play it because of 26…Qc1+ 27.Kh2 Rf8, and if 28.Rxa7 Qc5! with quadruple attack, but the computer improves this variation with 27.Bf1! Qc6 28.Qd3, and claims that white's advantage is decisive.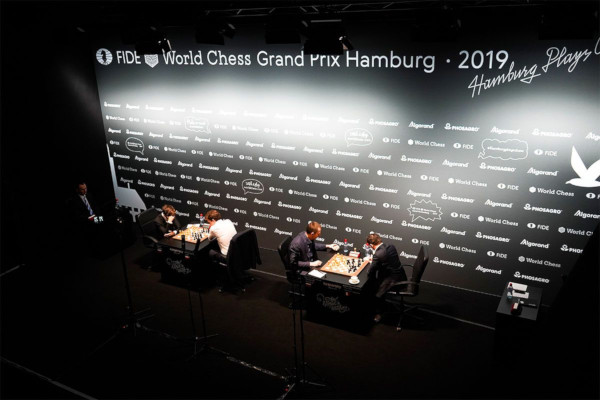 In the game, after 26…h6 27.g3 Rf8 28.Rxa7 Nc6 29.Rd7 Ne5 30.Rd8, I saw this endgame Q+N vs Q+B with the passed a pawn coming, and thought I should find some resources. The truth is that it's really hard to be precise in this position, a very difficult one to play. I chose the endgame transition 30…Qc7 31.Rxf8+ Kxf8 32.a4 Ke7;in fact, I wanted to have the King in the center, and not cornered after 30…Rxd8 31.Qxd8+ Kh7. I thought it was more important than keeping my Queen active; but again, these are really extremely difficult decisions to make.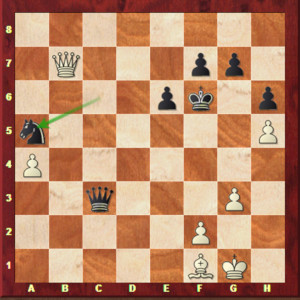 Then, he offered me a little respite with 37.Qd7?! ; I had seen that in case of 37.Qa8!, threatening to take my King for a walk, I would have been in dire straits!
After move 40, I realized that if I kept Queens, I wasn't going to hold the position. It is counter-intuitive, because normally you tell yourself that the Queen will allow you to generate counterplay and leave the white's King at a distance. But in reality, as my Knight is out of the game, it is actually the Q+B couple that does too much damage, especially after forcing me to weaken the white squares by touching my f7 pawn!
After that, the resulting minor pieces ending is too hard to evaluate, I still don't know if it is a win or not.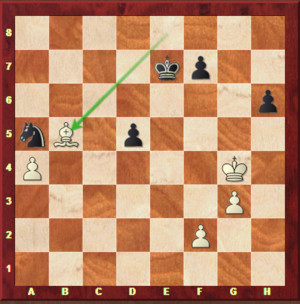 What is certain is that I should have played 47…Ke6! (instead of the defensive withdrawal 47…Kf6? 48.Kh5 Kg7 which gives white a clear plan to win: attack the d5 pawn on the long diagonal, force it to move to d4, then come back with the King towards e4 to surround it) 48.Kh5 d4 49.Kxh6 Kd5 and if it exists, which is well possible, it would take Sesse to show us the win ! It's too hard, there's too much to calculate 🙂 .
Anyway, Sacha played very well in this game. Sometimes you just have to accept that you haven't played a good game and that your opponent has. (1-0, 53 moves).
All in all, even if it ends on a bad note, the tournament is not a bad one either. I am currently in second place, a qualifying one for the Candidates. I am a little ahead of my pursuers, and my fate in my hands before the last tournament in Jerusalem.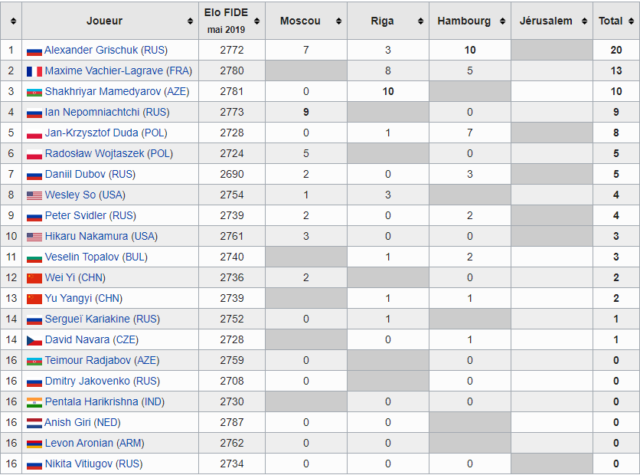 But what's rather funny is that as far as the qualification for the Candidates is concerned, it doesn't really change much whether I'm eliminated in the first round in Jerusalem, or whether I make the semi-finals! If Mamedyarov or Nepo go far, I better go far too. Otherwise, I can still score 0 and qualify. The difference in percentage of chances of qualifying between losing in the first round and going to the semi-finals may climb from 40 to 80%, whereas we have the impression that it should be from 20 to 100%! Finally, it should not be forgotten either that all players who have between 1 and 5 points in the overall ranking still have a theoretical chance to qualify, certainly infinitesimal for the former!
What is certain, however, is that clearly, the drawing of lots will be decisive…
I will also say a word about the announcement made by the Russian Federation concerning the famous wild card for the Candidates….
In principle, giving this privilege to a Russian is not a big concern in itself. Not only was it quite expected , but I'm not that fond of qualifying through this method; I think the wild card should definitely be deleted…
On the other hand, the timing of the announcement was really crazy. As in 2017, they do not wait for the tournaments to be completed, they do not wait for the cycle to be completed. As a result, they generate an unclear situation. What happens if, for example, Karjakin or Jakovenko is 3rd in the Grand Prix?
And then, why make us play a match for third place at the World Cup? I played that match, I won it, and it's no use at all.
I will end on a positive note by congratulating Sacha Grischuk on his success in Hamburg, and for what looks like a quasi-qualification for the Candidates!
<iframe width="560" height="315" src="https://www.youtube.com/embed/JsyEX9iIN-I" frameborder="0" allow="accelerometer; autoplay; encrypted-media; gyroscope; picture-in-picture" allowfullscreen></iframe>
The Ile-de-France Chess League and the Beaux-Arts de Paris organized, within the framework of the autumn festival and Anna Boghiguian's exhibition « The square, the line and the ruler », several chess activities. Especially on October 31, for Halloween, there was a « Meeting of Spells » in the form of an Escape game « Arts, chess and mathematics », in which Maxime participated, a few days before his departure for Hamburg.

Played in the Chapelle des Beaux-Arts – staged for the occasion – this Escape Game consisted in solving mathematical, logical and artistic puzzles using the game of Chess, and this in limited time.

By the way, Maxime's team won… 🙂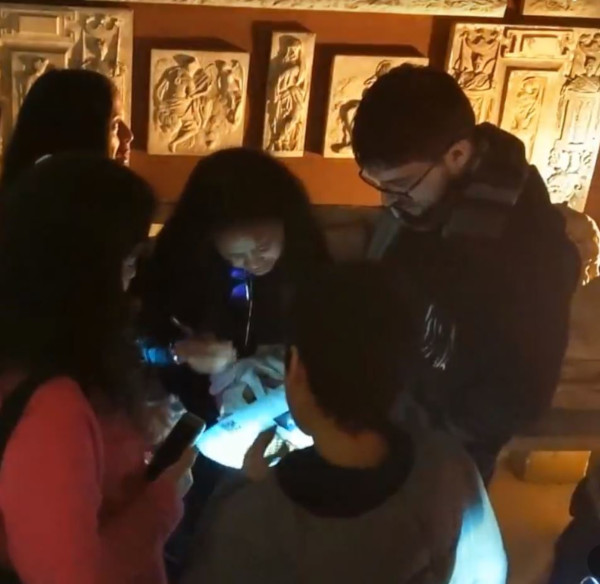 Maxime's games :