Not mine, of course, but the one in my home – the air in my Parisian flat. Indeed, the sponsor of the second Champions Chess Tour tournament was the company Airthings, which specialises in air analysis. As a result, all the participants received a small box that allowed the commentators to give a regular overview of the quality of the air the players breathed 🙂 . With around 800 ppm of CO2, I think I was in a good average!
The Airthings tournament was the first of the 3 Majors of the circuit, guaranteeing a double prize fund and Tour points. That said, in terms of preparation, I must confess it's not easy to start a tournament right after celebrating Christmas 🙂 .
Generally speaking, I didn't play very well in the Preliminaries, especially since I missed the few opportunities I had.
PRELIMINARY PHASE
I owe my qualification to a last-minute miracle, combining an improbable (and unique) last round victory with black against Grischuk with other results – all in my favour! Qualifying 8 players out of 12 participants seems like a lot, but in the end, as I had a round 4 accident against Nepo, I found myself in a bit of trouble early on. I managed to get some more chances against Dubov and Aronian, but in the end I only scored one point out of these three games! So after eight rounds I was still at a winless -1. It was clear that it wasn't going to be enough, especially since my last day was set to be difficult. I first lost a game against Giri in which we were both all-in, before I made an unexpected rescue against Radjabov and finished on this unexpected black win against Grischuk.
So the turning point for me was this 4th round, where not only did I miss a direct win, but I even ended up losing that game!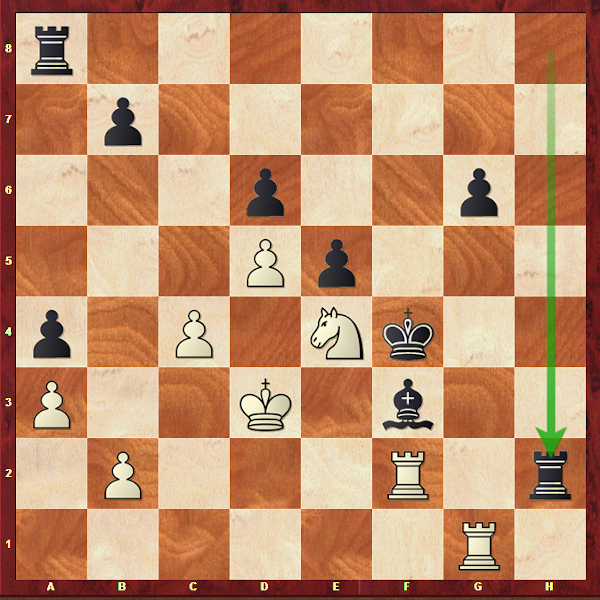 In spite of his spectacular Rook move to h2, Nepo has his King in a mating net, and the simple 37.Rxg6! would have put an end to the game: if 37…Rxf2 38.Rf6+ Kg4 39.Nxf2+, and if 37…Rf8 38.Rxh2 Bxe4+ 39.Kc3 Bxg6 40.Rf2+ (the move I had forgotten) regains the Rook, with a clear exchange up in both cases.
Instead, I played 37.Rxh2? Bxe4+ 38.Kd2, but the ending was not easy at all, although obviously the loss was not necessary at the end 🙂 . In fact, I pushed too hard to win, and I made a few risky decisions, because I thought I would always have a draw somewhere in the worst case. It didn't happen like that and the moral is that you shouldn't be stubbornly looking for what doesn't exist! (0-1, 69 moves).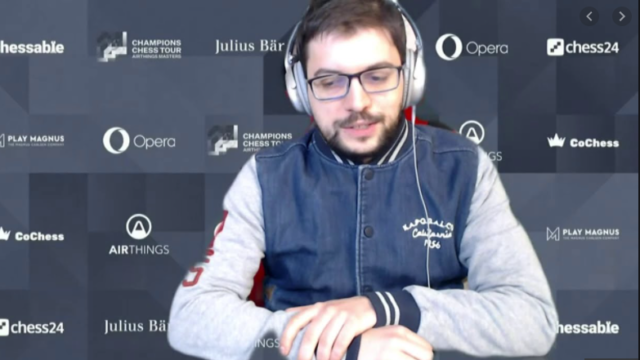 1/4 FINAL : MVL – SO 2-1
After this hard-fought qualification, my match against So started almost in the best possible way. Because if with white, I wasn't majestic against the Berlin (in spite of promising positions), I caused some damage with the Najdorf 🙂 .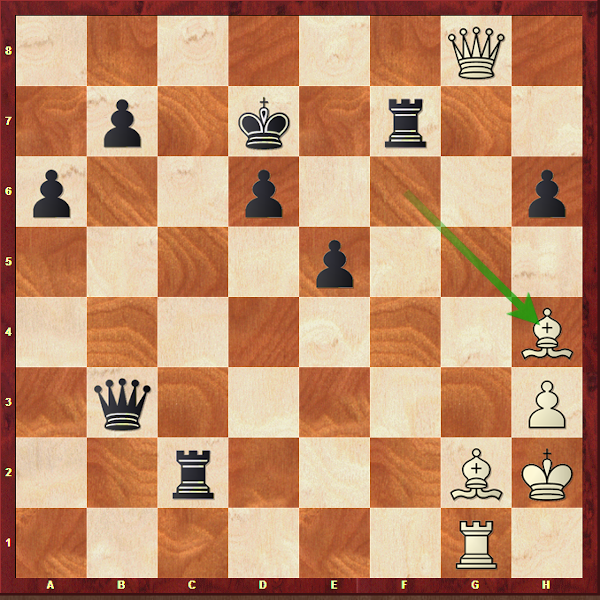 After a struggle of rare complexity and – I believe – very high quality play, we reached the position of the diagram. Impossible to summarize the first 40 moves otherwise than by a complete bazaar on the board after bold risks taken by Wesley. Here, it is the spectacular move 41…Rf3!, threatening mate in one while cutting the Bg2's diagonal, which allowed me to change the game for good. After 42.Qd8+ Kc6 43.Bg3 Qe6! I control as many squares as possible and in practice, the position becomes a nightmare for white to play. He immediately cracked under the pressure with 44.Rb1? which allows the liquidation sequence 44…Rxg2+! 45.Kxg2 Rxg3+ 46.Kxg3 Qg6+ 0-1. The machine claims that 44.Kh1! was still holding, but I think it would have been very, very hard for him anyway.
I also won the second Najdorf in the last game of the set, after a big mistake from him in the opening.
In the second set, it was more complicated, especially with this defeat in the first game, a Grünfeld where I did everything wrong in the opening. Then I brought myself to a good defensive performance, and I even almost succeeded to reach a draw, although I ended up losing. He defended the Berlin very, very well in the second game and didn't try his luck in the third with white. By winning the fourth, I would have equalized the set and won the match without any tie-break; I felt that I had a big advantage, but I didn't manage to make it work. Then I even found myself slightly worse because I pushed too hard and then lost the trend. But it was at the moment when it became easier for him that he let me back into the game, losing his pawns one after the other, until he had to transpose into an inferior endgame. But kudos for his tenacity in this opposite-coloured Bishop endgame which seemed very delicate to hold (1/2, 92 moves).
In the tie-break, I was able to shoot his Berlin wall, before losing the return blitz by missing an obvious move in the opening.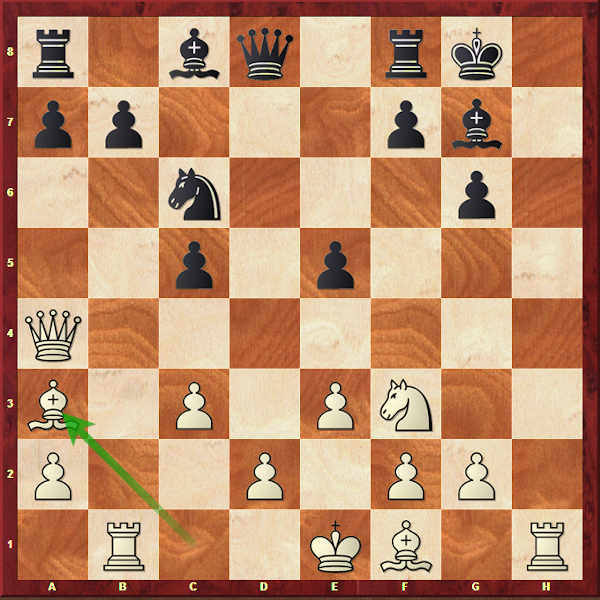 Here, 12…e4! refuted white's opening by forcing the horrible 13.Ng1 (13.Qxe4? Ff5!). After this miss and 12…Re8? 13.Bxc5 e4 14.Nd4, I never had enough compensation for the pawn (1-0, 34 moves).
So, everything was going to be decided in the Armaggedon. Many were surprised by So's choice to take white, even though we know his solidity and his ability to hold positions. But I had a feeling he would opt for the extra minute and the move, as he had been in trouble with black in our match, and to defend a Berlin with 4 minutes against 5, good luck! I understand that in general the sample is rather in favour of Black so far, but it is only a small sample and we have to take into account the specificities of each confrontation. In any case, I think his choice was fully justified, and if it had been up to me to choose, in a situation that would have been kind of symmetrical, I would have opted for white as well. So I myself had a strong decision to make, because I had also been in trouble with black in the Anti-Grünfeld. So I finally took the gamble of changing – albeit risky – to a Hedgehog, theoretically more solid. I suffered, it wasn't perfect, but I held the draw and won the right to face my friend Levon in the semi-final.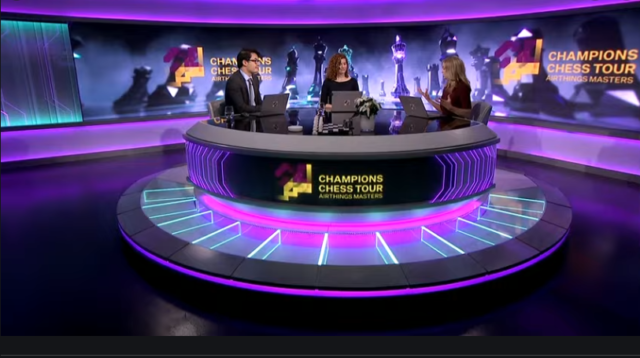 1/2 FINAL : MVL – ARONIAN 0-2
I was immediately in difficulty with a first loss with white, after having clearly overestimated my position; note the very efficient conversion of Levon.
Then there were two draws, the second one being a real defensive performance from him, with moreover little time on the clock. The last game of the first set was therefore for me a must win with black, which can't work every time 🙂 .
I didn't have so many problems in the second set. But once again, Levon defended very accurately and it is true that he won the match on his quality to hold difficult positions, since I never managed to score against the Berlin. It could have passed at least once if he hadn't performed some little miracles in defence. Especially in the second game, with all his weak pawns and the opposite-couloured Bishops.
In the third game, which would turn out to be the last one, a too quick choice in the opening will have been fatal for me: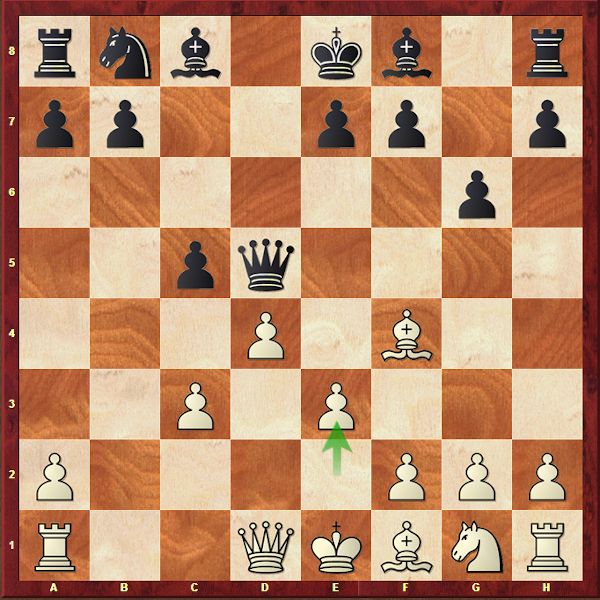 Here, I knew 8…Bg7 was the move, but I quickly decided to swap on d4 first, to take away options like 9.c4 (which wouldn't have been good anyway). But after 8…cxd4? 9.Qxd4! (the bad news, instead of 9.cxd4 Bg7 which transposes into a normal variation), I found myself compelled to exchange Queens, which is really not the idea of the position 🙂 9…Qxd4 10.cxd4 Nc6 11.Nf3 and white is simply better. Then I defended as I could – rather ingeniously, by the way – until I finally cracked at the moment when the draw was within reach!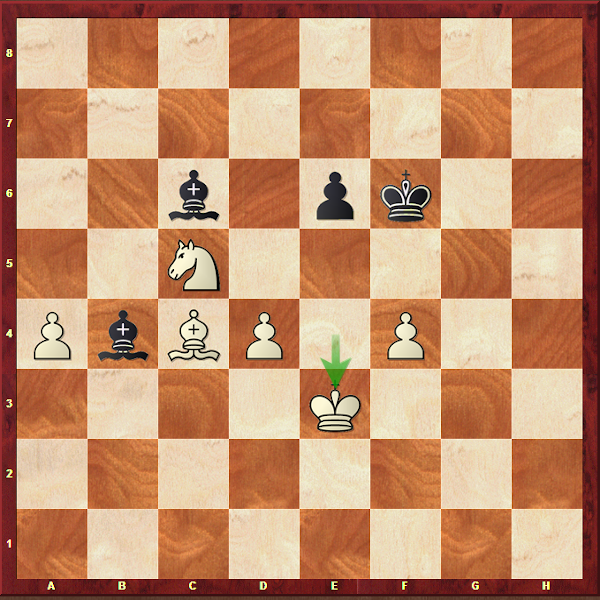 In this position, I missed a simple liquidation because it had not been possible a few moves before, when the King was on e7 because of Kd4 Kf6 / Bd3 and Black is prevented from playing …e5. But here, simply 67…Bxc5! 68.dxc5 Bxa4 69.Bd3 (69.Kd4 Kf5 =) 69…e5! 70.f5 Fd7 followed by 71…Bxf5 and we can sign the draw. My move 67…Ke7 may not have been a definite loser, but it was too complicated to defend and Levon won the game, the second set and thus sealed the match (1-0, 113 moves).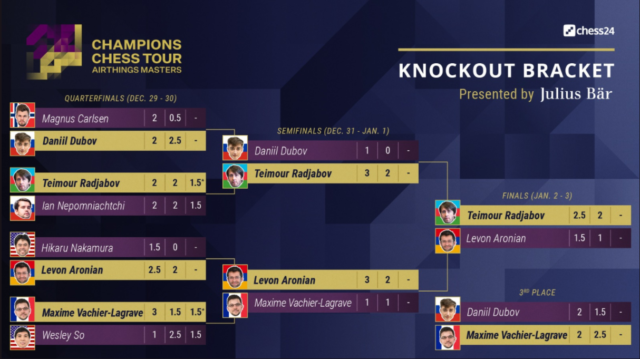 MATCH FOR THE 3rd PLACE: MVL – DUBOV 1.5-0.5
I have to admit that I am not a fan of the « little final » because the competitive aspect comes down after a defeat in the semi-final, and this is where the fatigue is really felt by the way. So I didn't have much fun in this match because I couldn't motivate myself.
Then, I obviously understand the idea of setting up a match for third place. It's not a marathon either, like my match against Yu in the 2019 World Cup, which was scheduled over one week 🙂 .
I still managed to have a surge of motivation and energy in the first set, after being led 0-2.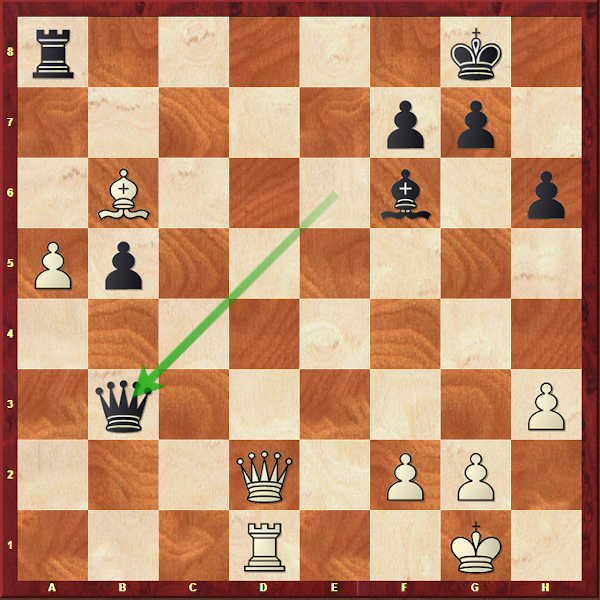 Here, I first looked for a win with the natural 27.Qd5, but I didn't find it; 27…Qxd5 28.Rxd5 b4 29.Rb5 Bc3 30.Kf1 and it seems that White will win by bringing the King, but in fact it's not enough: 30…Ra6! 31.Ke2 b3 32.Kd3 (32.Rc5 Ff6! 33.Kd3 b3 and I couldn't find how to win with the black pawn landing in b2) 32…Be1! and I didn't see how to progress either; if 33.Re5 Bb4, and if not I can never play Kc4 because of …b2! exchanging the a and b pawns. An exchange which would not be possible with the King on d3 because of …b2?/Rc2, but Black would then be happy to do nothing, and I have no way to make progress. So I reviewed the initial position, and I then found 27.Qd3! which blocks the b-pawn further on. After 27…Qxd3 (on a move like 27…Qc4, 28.Qf3! and the a-pawn becomes a monster) 28.Rxd3 b4 and I was now able to bring the King decisively: 29.Kf1 Kf8 30.Ke2 Bc3 31.Kd1 Ke7 32.Kc2 Ke6 33.Kb3 (1-0, 51 moves).
In the last game of the set, a draw with white was enough for him, but I don't think it's Dubov's style to change his play. He always does his normal stuff – that is tense play- and doesn't care about the result. So he opted for a pawn sacrifice in the 3.Bb5+ Sicilian. I made a mistake and he immediately had an objectively overwhelming but still complex position, in the sense that there are almost too many attractive options for white. He didn't choose the most radical one and the position then turned into irrational, a gift from heaven when you are in a must win situation with black! I ended up winning and tied 2-2 the first set, a small miracle that wasn't deserved at all.
In the second set, I started by winning the first game with black from a losing position again, because of the same combination « fatigue = playong too fast ».
But my quality in quick games is to know how to complicate the position to the utmost, even in the most desperate situations; and there it paid off. There has to be an advantage in playing fast, after all!
In the second game, I managed to find myself slightly worse out of an Italian with white. But there, I took a good practical decision by giving a pawn right away to get out without too much damage, and I drew.
In the third game, I tried to play more solid chess and then I finally did an incredible thing in the following position: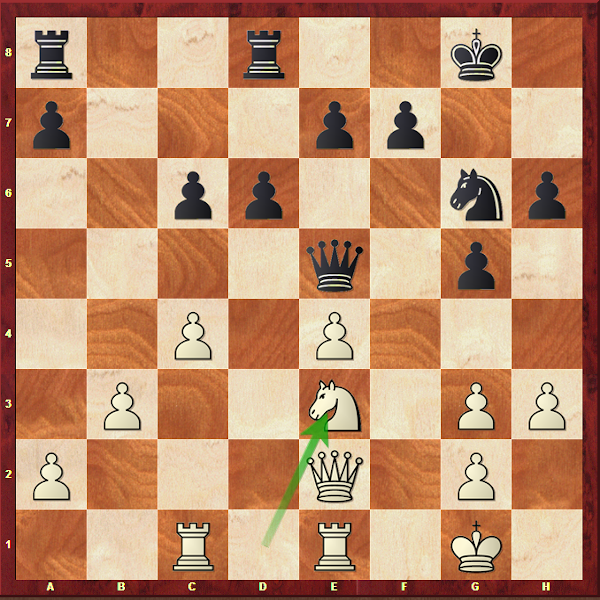 I instinctively rejected 23…Qxe4 because of 24.Qh5, whereas the simple 24…Ne5! 25.Qxh6 Qg6 26.Qxg6+ Nxg6 was enough, because with the control of the e5-square, I risk nothing in this simplified position. After this mistake, I degraded my position again and ended up letting him equalise the set (1-0, 59 moves).
Luckily, I came to my senses in the last game with white, as I succeeded in taking my time at the right moments. I don't think I would have been able to keep my full concentration in all 4 games of the day, but knowing that this one could be the last, I managed to focus (1-0, 46 moves).
In the end, I finished third in the tournament, earning a correct 5th place in the Tour rankings. I will have to improve in the Preliminary phase, because I came very close to the trap in each of the first two tournaments. Next stage of the Tour, now called Meltwater Champions Tour, will be from February 6th to 14th.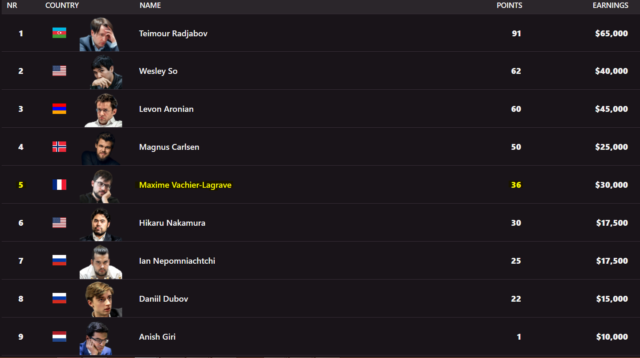 Finally, a short word about the year 2021 which is just beginning. We obviously remain a little bit in the vagueness of the pandemic, especially in relation to the resumption of the Candidates. This is of course the deadline that I have in my sights, even if we are still waiting to know the modalities, the place, the dates etc… Clearly, this will be the main objective of my year. Although, if I was to win the tournament, there would then be a new and even more important challenge for the end of the year 🙂 .
In the meantime, there are a number of other tournaments coming up, in addition to the online Meltwater Champions Tour, and I sense that the calendar for the year is going to be very busy!
In any case to start 2021, I will be happy to make my comeback on the wooden chessboard on the occasion of an Elite competition in Wijk aan zee. I haven't been back there since the 2015 edition, which I finished in 2nd place – half a point behind Carlsen.
I arrived this Thursday 7th in the small Dutch seaside resort, where a ten-day quarantine awaits me before the start on January 16th 🙂 .
This tournament will allow me to get back in touch with my thinking mechanism in front of the board, which is obviously quite different from the one we deploy during online competitions.
Maxime's games :
In the context of the Telethon last December, Maxime took part in the « Stars Solidaires  » (in french) operation, a tombola to win prizes offered by celebrities. Alongside many artists, but also some of the biggest names in French sport – M'Bappé, Parker, Gasly… – Maxime contributed to the overall collection of nearly €2.2M for the Telethon, thanks to 600 tickets sold under his name. In February, he will have the pleasure of welcoming the winner of his prize, Benoît, for a private masterclass.
Article on the involvement of French sportsmen: https://oran.ge/3pXOHcb (in french)