After my long stay in the United States, I finally came home on September 12. I was able to reconnect with the pleasures of French life 🙂 . I could see a lot of people again, because after 2 months in the United States, there were plenty of them that I had not been able to meet during the summer.
I was offered a wild-card to play the Champions Chess Tour Final for which I was the first non-qualifier. I had indicated beforehand that I didn't want to go to Oslo and inflict an extra trip on myself, especially in view of the Grand Swiss in Riga and the preparations to be fine-tuned. Fortunately, the organizers agreed that I could play from Paris.
I also wanted to be in a more « studious » setting than my living room. After my manager contacted all the parties involved (town hall, club and FFE – French Chess Federation), I was able to play all my games from the Château d'Asnières, where the FFE headquarters are located, in a room that was kindly lent to me. It was also more convenient not to play from home, because the presence of a referee was mandatory. Joëlle Mourgues and Loriane Lebret shared the thankless task of watching me for nine days!
I had already played two tournaments on the Internet while not at home: in March, where I played from my training place in the Alps, and where Internet access was a bit complicated. And of course, in St. Louis this summer, just after the Sinquefield Cup, where I played in the club premises. But that was a little different too, because the games were played very, very early…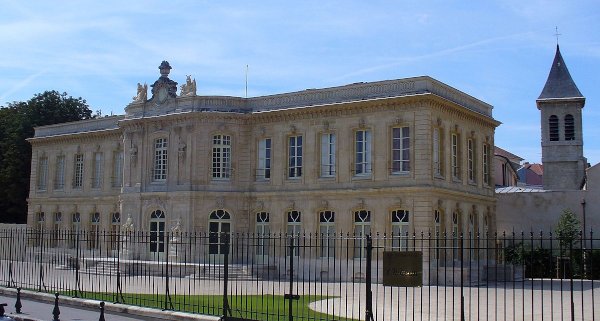 This final of the Champions Tour online was pretty uneven on my part. I think I got into the swing of things pretty well and had some good matches at the beginning. Then I got tired because of the intensity of the matches. Also, I was playing different openings, which made me overwork during the games, since I was in positions that I wasn't very familiar with. Of course, I didn't play randomly either, I knew a few things 🙂 .
MVL-Aronian: 4-3
A very interesting match, where I came back well in the last long rapid game (15 min + 10 is like a long game 🙂 ). There was a lot of bouncing around in the blitz, but I managed to win the Armageddon in the finish.
MVL-So: 2.5-0.5
My tournament was off to a good start, especially since I followed it up with a second win, this time against Wesley So. A short match (3 games) but it was quite intense in terms of games.
MVL-Carlsen: 2.5-3.5
I lost the third round to Magnus in a tie-breaker. The content of my games wasn't bad, but I could have certainly done better to win this match.
MVL-Mamedyarov: 1.5-2.5
My first real regret was that duel with the Azeri… I missed a few chances to finish it off, and in general I didn't play well because of the fatigue that was beginning to show. I wasn't happy with myself after that match.
MVL-Duda: 2.5-0.5
Just before the rest day, I had a convincing win against Duda.
MVL-Artemiev: 2.5-3.5
A very tight match against the Russian player. I made some questionable decisions, including playing the Dutch in the second blitz game, after having missed the win in the first one with 3 minutes against 10 seconds!
MVL-Nakamura: 3-4
The spring broke in this match. I missed an elementary win in the second game, when I had come back from a difficult position: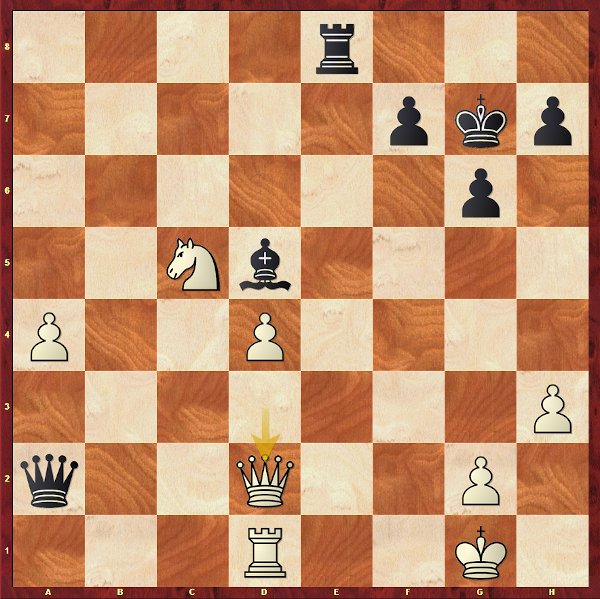 Instead of 43…Re2?, 43…Re1+! would have won on the spot. It hurt, because it was an easy opportunity to end the match.
In the third game, I made a « misclick » on the very first move (1.e3 instead of 1.e4!) which is a bit unpleasant, but finally I got away without damage 🙂 .
The fourth game was completely crazy; a kind of King's Indian attack where his pawns were about to Queen. In the next position, I felt like I had the opportunity to launch a mating attack: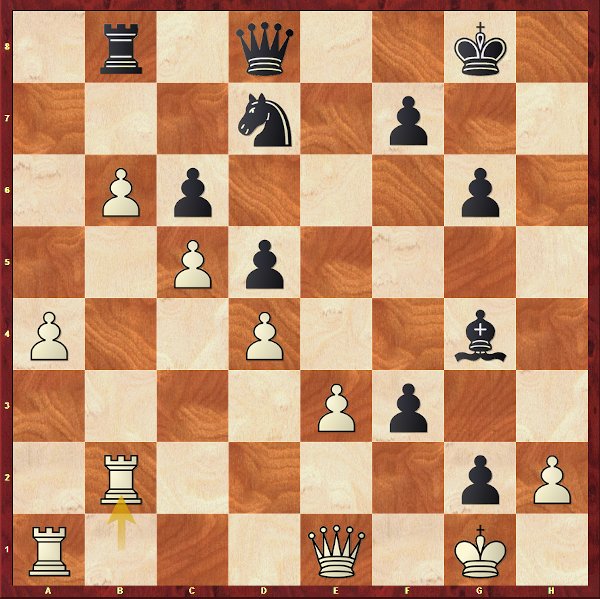 Unfortunately I made a mistake with 29…Nf6?. The right way to attack would have been to first bring the Queen with 29…Qg5!. And after 30.Qg3 Bh5? (30…Qc8) 31.Qd6! Qe8 32.Qe5 Qd8 33.a5, I could not generate any more play on his King. From then on, he found all the right moves and won convincingly.
After winning the first blitz, I lost the second one due to questionable choices, and in the final Armageddon, I just blundered horribly.
MVL-Giri: 1.5-2.5
After the missed opportunities against Nakamura, fatigue took over. I made a non-match against Anish Giri, where I couldn't find anything with White against the Petroff. And with Black, I lost a stupid game in the opening by playing 9…Tb8?! when I knew the right move was 9…Bb4.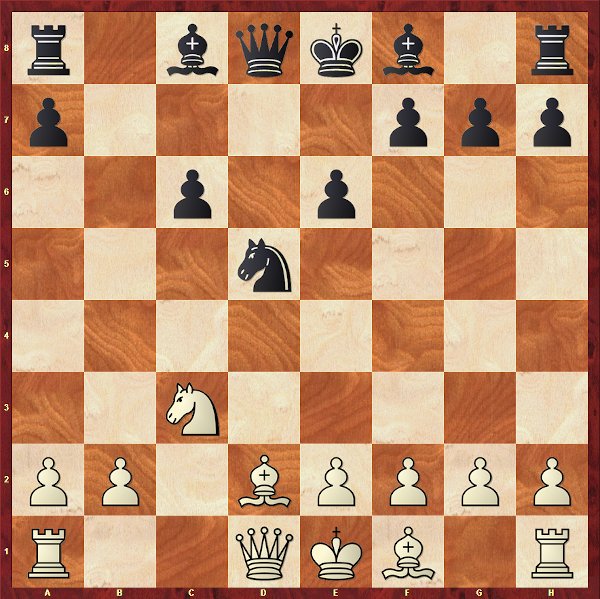 MVL-Radjabov: 0.5-2.5
This last match was like the previous one. I couldn't understand what he was getting at with his Berlin. However, I couldn't find the means to take an advantage, even putting myself in danger stupidly, especially in the first game.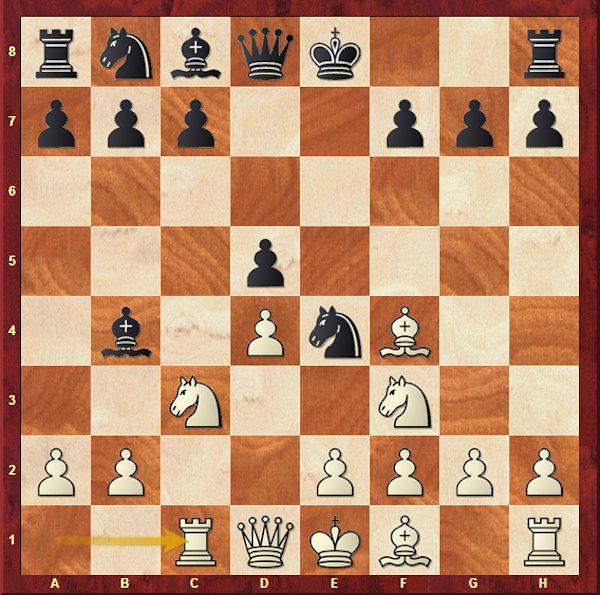 In the second game, I experimented with a Ragozin that went very badly, actually getting the kind of position I wanted to avoid 🙂 . In the diagrammed position, I knew that the theoretical continuation, which had been played the day before by Mamedyarov against the same Radjabov, was 7…Nc6 8.Nd2 g5!?. I wanted to try to play solid, even if it meant being slightly worse, with 7…c6 8.e3 Nd7 9.Bd3 Ndf6 10.0-0 Fg4, but my position deteriorated very quickly after 11.Qc2 Bxf3 12.gxf3 Nxc3 13.bxc3 Bd6 14.Bg3 and White threatens e4-e5, and I immediately found myself much worse off.
In the last game, I thought I had a chance, but he found a good defensive follow-up. I could still force a draw by perpetual, but knowing that I would have black in the last game, I tried a rather improbable all-in, which actually had little chance of succeeding 🙂 .
I regret this end of the tournament, which I would have preferred to finish on a better note. I may have underestimated the intensity of this format with 9 rounds of four games, plus possible tie-breaks. It's actually very different from 9 long games. Even if the length of the match is the same, the intensity is different because 4 games, plus possible tie-breaks, means more twists and turns, and more things to digest. And it's true that at the end, it clearly disturbed me. I wanted to play hard-fought and intense chess and I think that's what I did, until fatigue got the better of me. I'm happy with the match against Wesley So, where I was very alert, where I could see a lot. It was my most accomplished match of the tournament.
I must also admit that overall, I held back a bit in this tournament: indeed, it was useless to come out with big preparations for a tournament where Magnus started with a 14-point lead over me 🙂 . That said, when we signed the contract at the beginning of the season, we all knew the format and we knew that this could happen.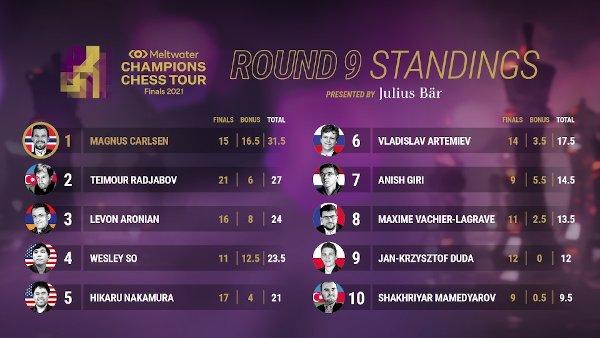 In my opinion, it is certainly normal to take into account the preliminary tournaments, but players like Artemiev who only played 3 of them, were at a disadvantage for the final. I think that while keeping a bonus system at the start of the finals (at what scale, that's the debate…), we could have imagined a play-off with the top 4 at the end. That would have added some stakes and all the players could have tried to play for that 4th place.
As far as I'm concerned, the main thing in the next few weeks will be to prepare myself as well as possible, in order to be ready for the Grand Swiss, which will start in Riga on 27 October. A competition with a huge stake, since it will qualify the first two for the 2022 Candidates Tournament.
If I qualify in Riga, I'll gain three months of preparation! And if I don't succeed, there is always the last possibility, to qualify via the FIDE Grand Prix tournaments, scheduled in Berlin from February to April.
Maxime's games:
Since 2016, New Yorker Ben Johnson has been publishing a weekly long-form audio podcast with a personality from the chess world. Many top players have already revealed themselves on his airwaves, including Anand, Kramnik, Polgar, Nakamura, to name a few. But also authors, streamers, trainers and the list is not exhaustive…
At the end of September, Maxime was the 245th guest of this show, whose success is undeniable. The long format allows you to go more in depth with the guest, but listeners who are in a hurry can just go directly to the themes that interest them, since they are perfectly listed for each podcast.
Listen to the podcast on Ben's website.